Academic Hospital Nuremberg
Department of Adult and Pediatric Radiology, Neuroradiology and Nuclear Medicine (

302936

)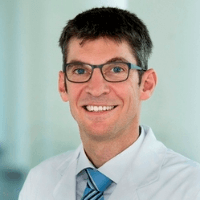 Prof. Dr. med.
Michael Lell
Specialized in: adult and pediatric radiology, neuroradiology, nuclear medicine
About the department
The Department of Adult and Pediatric Radiology, Neuroradiology and Nuclear Medicine at the Academic Hospital Nuremberg offers the full range of diagnostic and therapeutic services at the highest technical and scientific levels. The specialization covers imaging examinations and various types of therapy in patients of all age groups with cancers, injuries and diseases of the musculoskeletal system, brain, etc. The patients receive medical care from the highly qualified doctors with a huge baggage of expert knowledge and rich clinical experience. The cornerstone of successful practice is also the progressive medical and technical infrastructure. The Chief Physician of the department is Prof. Dr. med. Michael Lell.
The department has many prestigious certificates. The most significant are the certification as the Center for Diagnostic Imaging of the Musculoskeletal System and the Center for Diagnostic Imaging of the Cardiovascular System by the German Radiological Society.
All progressive imaging methods and radioisotope diagnostics are available in the department. A competent medical team successfully performs angiography, CT, MRI, PET-CT, SPECT, ultrasound examinations, digital radiography, digital mammography, as well as imaging-guided interventional therapeutic procedures.
A special place in the clinical practice is given to neuroradiology. The specialists in this field are involved in the diagnostics and minimally invasive treatment of diseases of the brain and spinal cord, as well as related or adjacent anatomical structures. The basis of neuroradiological diagnostics are CT and MRI. Such examinations provide the most accurate results in suspected tumors, inflammatory diseases of the central nervous system, multiple sclerosis, stroke or injuries to the brain and spinal cord. In addition, CT and MRI provide important information in the cases of suspected spinal disc diseases and chronic back pain. Minimally invasive treatment methods (minimally invasive catheter procedures) can be used to treat such neurovascular diseases as aneurysms, vascular malformations and severe types of acute stroke.
The diagnostic and therapeutic options of the department include:
Diagnostic radiology

Angiography
Ultrasound scanning
Digital radiography
Computed tomography
Magnetic resonance imaging
PET-CT combined technique
SPECT
Digital mammography
Radiological examinations in children: X-ray, ultrasound diagnostics, MRI, CT scan

Interventional radiology

Treatment of circulatory disorders by means of percutaneous transluminal angioplasty
Dilation of occluded vessels using special catheters, thrombectomy and lysis procedures
Restoration of vascular patency by means of shunt formation
Targeted local therapy of malignant tumors or metastases with chemotherapeutic agents (transarterial chemoembolization) or using irradiation (selective internal radiation therapy)
Uterine fibroid embolization
Prostatic artery embolization for the treatment of benign prostatic hyperplasia
Treatment of portal hypertension and its complications (transjugular intrahepatic portosystemic shunting)
Treatment of bile duct obstruction using drainage and stents
Embolization in acute, life-threatening arterial haemorrhage (for example, in the abdomen and pelvis, lungs, head and neck)
Sclerotherapy for varicocele
Renal artery dilation using balloon catheters and stents in nephrogenic arterial hypertension
Placement of temporary venous filters for the prevention of pulmonary thromboembolism
CT- and ultrasound-guided tissue sampling (biopsy)
CT- and ultrasound-guided treatment of abscesses and haemorrhages
CT-guided neurolysis for severe pain
CT- and ultrasound-guided ablation therapy for the treatment of tumors

Neuroradiology

Diagnostics (CT scan MRI)
Treatment of neurovascular diseases (for example, aneurysms, stroke, vascular malformations)

Nuclear medicine (diagnostics and treatment using radionuclides)

Diagnostics

PET-CT for the detection of tumors and metastases
Scintigraphy, including kidney and skeletal scintigraphy in children

Therapy

Radioiodine therapy for the treatment of benign thyroid diseases
Selective internal radiation therapy for minimally invasive treatment of liver tumors

Other medical services
Curriculum vitae
Since May 2016, Prof. Dr. med. Michael Lell has been the Chief Physician of the Department of Adult and Pediatric Radiology, Neuroradiology and Nuclear Medicine at the Academic Hospital Nuremberg, as well as the Head of the Department of Radiology at the Paracelsus Private Medical University.
Prof. Lell received his medical education at the Universities of Regensburg and Munich. After his doctoral thesis defense (Subject: "Signal changes in magnetic resonance imaging during and after radiation therapy / chemotherapy for the treatment of tumors") in 1998, he became the Assistant Physician and Research Fellow at the Institute of Radiology at the University Hospital Erlangen. In 2003, he had board certification in Diagnostic Radiology and was appointed as Senior Physician there. Prior to work in the Academic Hospital Nuremberg, he worked as a Senior Consultant and Permanent Representative of the Director of the Institute.
Photo of the doctor: (c) Klinikum Nürnberg
Department of Adult and Pediatric Radiology, Neuroradiology and Nuclear Medicine.
Academic Hospital Nuremberg:

Request more information now.
We will be happy to answer all your questions.
---
Certificates