Prostate Cancer Treatment with Lutetium 177-PSMA (program ID:

355871

)
University Hospital of Ludwig Maximilian University of Munich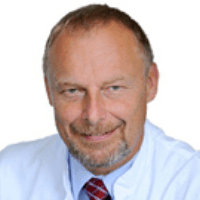 Head Physician
Prof. Dr. med.
Peter Bartenstein
Specialized in: nuclear medicine
Department of Nuclear Medicine
Program includes:
Initial presentation in the clinic
history taking
general clinical examination
laboratory tests:

complete blood count
biochemical analysis of blood
urinalysis
uroflory
TSH-basal, fT3, fT4
definition of PSA
indicator titration possible urogenital infection
indicators of inflammation
indicators blood coagulation

ultrasound of the urogenital system
renal scintigraphy
PSMA-PET-CT (if indicated)
PSMA treatment
full body scintigraphy after 24 hours
full body scintigraphy after 48 hours
symptomatic treatment
cost of essential medicines
nursing services
elaboration further recommendations
stay in the hospital with full board
accommodation in 2-bedded room
Required documents
Medical records
MRI/CT scan (not older than 3 months)
Biopsy results (if available)
Service
Price:
Type of program :
Expected duration of the program:
You may also book

Price:
About the department
The Department of Nuclear Medicine at the University Hospital of the Ludwig Maximilian University of Munich offers the full range of diagnostic and therapeutic services in modern nuclear medicine for both outpatients and inpatients. The focus is on the detection and treatment of oncological, neurological and cardiac diseases. The department is the largest institution of this kind in Germany. The international recognition is approved by ISO 9001: 2015 certification. The Chief Physician of the department is Prof. Dr. med. Peter Bartenstein.
The department specializes in diagnostic and therapeutic procedures in oncology (for example, detection and treatment of malignant diseases, diagnostics of sentinel lymph nodes, pain therapy in bone metastases), neurology (for example, diagnostics and therapy of brain diseases, Parkinson's disease, Alzheimer's disease) and cardiology (for example, assessment of the state of cardiac vessels and heart attack diagnostics).
Since August 2013, the department has a new center for the production of radiopharmaceuticals, which is equipped with a cyclotron and allows for the production of radioactive drugs in compliance with the GMP standard, according to the current requirements for radiation protection and drug prescription. Therefore, the department receives the necessary diagnostic markers and radiopharmaceuticals for the individualized treatment of patients in a shorter time. They are distinguished by higher quality and improved safety. Thus, the doctors provide patients with the best possible treatment.
The diagnostic options of the department include:
Conventional radioisotope diagnostics (scintigraphy)

Detection of the hemorrhage source
Scintigraphy for the detection of inflammatory processes
Brain scintigraphy
Testicular scintigraphy
Bone marrow scintigraphy
Liver scintigraphy

Positron emission tomography (PET)

PET/CT within the oncological diagnostics
PET in neurological / neuro-oncological diagnostics
PET and PET/CT for other diagnostic issues (for example, in the field of cardiology, etc.)

SPECT-CT
Other diagnostic options
Radiopharmaceuticals are successfully used for therapeutic purposes. Along with the treatment of benign and malignant thyroid diseases, the Department of Nuclear Medicine provides pain therapy in skeletal metastases, joint therapy (radiosynoviorthesis, for example, in rheumatic diseases), neuroendocrine tumor treatment, in particular, SIRT in liver metastases. At the same time, these treatment programs are often developed in collaboration with the doctors of other medical specialties (oncologists, endocrinologists, gynecologists, surgeons, orthopedists), for example, within the framework of the Comprehensive Cancer Center (CCC) or Breast Center.
The spectrum of radioisotope therapy:
Treatment of benign and malignant thyroid diseases
Treatment of malignant prostate diseases

Lu-177-PSMA-DKFZ-617 therapy
Ra-223 therapy in bone metastases

Treatment of neuroendocrine tumors
Radiopeptide therapy
MIBG therapy
Selective internal radiation therapy (SIRT)
Treatment of skeletal metastases
Radiosynoviorthesis (RSO)
Other treatment methods
Curriculum vitae
Education and Professional Career
1978 - 1984 Medical School, Universities of Bochum and Bonn.
1981 - 1984 Research work in the Department of Hematology and Oncology, University of Bonn.
1984 - 1985 Clinical Internship in the Departments of Radiology, Internal Medicine and Surgery at the District Hospital Waldbröl.
1985 State Medical Examination, graded "very good" (A+).
1985 - 1986 Military service as a Medical Officer in Andernach.
1985 Dr. med., University of Bonn, graded "very good" (magna cum laude).
1986 - 1990 Assistant Physician in the Department of Nuclear Medicine, University of Muenster.
1990 Professional Board Certification in Nuclear Medicine.
1990 - 1991 Research Fellowship (German Research Foundation) in the PET-Group of the Medical Research Council Cyclotron Unit, Hammersmith Hospital in London.
1991 - 1994 Senior Physician in the Department of Nuclear Medicine, University of Muenster.
1994 Habilitation.
1994 - 1999 Senior Physician in the Department of Nuclear Medicine, Technical University of Munich, and Head of the Group on Neuroimaging.
1999 - 2006 Chairman of the Department of Nuclear Medicine, Johannes Gutenberg University Mainz.
2002 - 2006 Head of the University Neuroscience Center.
Since 2006, Chief Physician of the Department of Nuclear Medicine at the University Hospital of Ludwig Maximilian University of Munich.
Photo of the doctor: (c) LMU Klinikum
---
About hospital
Accommodation in hospital
Prostate cancer
Price:
Program [Description]
Prostate Cancer Treatment with Lutetium 177-PSMA
Hospital: University Hospital of Ludwig Maximilian University of Munich
Type:
access_time Duration:
date_range
There are 20 prostate cancer treatment hospitals on Booking Health website
Show all clinics
Certificates