Multimodality treatment of peritoneal carcinomatosis with cytoreductive surgery and HIPEC (program ID:

364081

)
University Hospital of Ludwig Maximilian University of Munich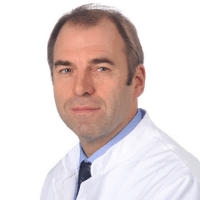 Head Physician
Prof. Dr. med.
Jens Werner
Specialized in: general, abdominal, transplant surgery
Department of General, Abdominal and Transplant Surgery
Program includes:
Initial presentation in the clinic
clinical history taking
review of medical records
physical examination
laboratory tests:

complete blood count
general urine analysis
biochemical analysis of blood
TSH-basal, fT3, fT4
tumor markers
inflammation indicators (CRP, ESR)
indicators of blood coagulation

abdominal ultrasound scan
CT/MRI or PET-CT scan of abdomen
preoperative care
cytoreductive surgery to remove visible tumors
within the abdomen and HIPEC
histological and immunohistochemical
examination of removed tissues
symptomatic treatment
cost of essential medicines
nursing services
full hospital accommodation
accommodation in a 2-bed room
elaboration of further recommendations
How program is carried out
During the first visit, the physician will conduct a clinical examination and go through the results of the available diagnostic tests. After that, you will undergo the necessary additional examination, such as the assessment of liver and kidney function, ultrasound scan and tomography of the abdominal organs. Based on the results of the examination, the physician will choose the surgical technique and the type of anesthesia. After that, preparation according to the preoperative standard will start.
Cytoreductive surgery begins with general anesthesia. The intervention is performed as open surgery, i.e. through the incision in the anterior abdominal wall, so that the surgeon can carefully examine the peritoneum and the surface of the abdominal organs. The surgeon removes affected by the malignant process areas of the small intestine and peritoneum, metastases in other internal organs. This stage of the operation can take several hours, since the overall effectiveness of the treatment depends on the completeness of the malignant tissues removal.
At the next stage of the operation, the surgeon inserts several catheters into the abdominal cavity. Through the catheters, a heated solution of a chemotherapy drug is pumped inside. The special system maintains the required temperature (42-43 degrees Celsius), pressure and circulation rate of the medicinal solution. The solution mechanically flushes out blood clots and remnants of malignant tissues, and a heated chemotherapy drug destroys micrometastases in internal organs and lymph nodes (micrometastases can't be detected by the naked eye).
After 1-1.5 hours, the chemotherapy drug is removed from the abdominal cavity and the abdominal cavity is washed with saline. After that, the surgeon removes the catheters and sutures the incision of the anterior abdominal wall.
After the completion of the operation, you will be transferred to the ward of the intensive care unit, under the round-the-clock supervision of doctors and nurses. In 1-3 days after the operation, your drains will be removed and you will be transferred to a regular ward for further recovery. The whole treatment takes 10-12 days on average.
Finally, the attending physician will evaluate the results of control examinations, schedule the date of discharge from the hospital and give you detailed recommendations for further follow-up and treatment.
Required documents
Medical records
MRI/CT scan (not older than 3 months)
Biopsy results (if available)
Service
Price:
Type of program :
Expected duration of the program:
You may also book

Price:
About the department
According to the Focus magazine, the Department of General, Abdominal and Transplant Surgery at the University Hospital of Ludwig Maximilian University of Munich ranks among the best departments in Germany specializing in bowel cancer treatment!
The department covers the full range of services in these medical fields and holds the leading position at the national and international level in terms of the number of surgical interventions performed and their success rate. Of particular interest are operations to treat cancer, organ transplants, as well as minimally invasive surgery. The department is headed by Prof. Dr. Jens Werner.
The highly professional medical team works with the patients. Its priority is to provide optimal medical care, as well as understanding and respectful attitude towards the patient. The surgeons are fluent in all advanced surgical techniques, work with state-of-the-art robotic and computerized systems that guarantee the best possible accuracy and efficiency.
The main clinical focuses of the department include:
Minimally invasive surgery

Gallbladder removal (cholecystectomy, including single-port surgery)
Hernia treatment (also postoperative)
Treatment of pathological heartburn
Appendicitis removal (appendectomy)
Reflux disease treatment
Spleen removal (splenectomy)
Removal of adrenal glands (adrenalectomy)
Removal of esophageal diverticulum
Surgery to treat esophagus dysfunction (achalasia)
Biopsy of the abdominal organs for the diagnostics of malignant tumors
Laparoscopic and endoscopic surgeries with the help of "rendezvous" technique
Suturing on the stomach and duodenum
Minimally invasive oncological, colorectal, hepato-pancreato-biliary surgery
Bariatric surgery (installation of a gastric balloon, gastric banding, tubular gastroplasty, bypass surgery)

Hernia repair surgery

Inguinal hernia

Shouldice technique
Lichtenstein technique
Rutkow technique

Incisional hernia

Laparoscopic surgery with the imposition of Gore Tex Netz intraperitoneal mesh

Femoral hernia
Umbilical hernia

Hernia resection
Imposition of a special mesh (in large hernias)

Endocrine surgery

Treatment of thyroid diseases
Treatment of parathyroid diseases
Treatment of adrenal diseases

Oncosurgery

Treatment of malignant diseases of the esophagus and stomach
Treatment of gastrointestinal stromal tumors
Treatment of malignant pancreatic tumors
Treatment of neuroendocrine tumors
Treatment of malignant soft tissue tumors in the chest wall, thoracic organs, retroperitoneal space and abdominal cavity
Treatment of peritoneal carcinosis
Treatment of metastases and recurrent solid tumors (within a specialized interdisciplinary center)

Hepatobiliary surgery (surgery on the liver, gallbladder and bile ducts)

Treatment of liver metastases
Treatment of liver cancer (partial liver resection and total liver resection followed by transplantation)
Treatment of cholangiocellular carcinoma (radical resection)
Treatment of Klatskin tumor (trisectionectomy)
Treatment of gallbladder cancer (tumor removal (at the late stages also resection of the bile ducts and part of the liver))
Treatment of benign liver tumors
Treatment of echinococcosis
Treatment of calculous cholecystitis and the gallbladder inflammation (laparoscopic removal of the gallbladder)

Treatment of all pancreatic diseases (tumors, acute and chronic pancreatitis, etc.)
Colorectal surgery

Colorectal cancer treatment
Treatment of chronic inflammatory bowel diseases (Crohn's disease, ulcerative colitis)
Treatment of diverticulitis
Treatment of fecal incontinence
Treatment of hemorrhoids and anal fistulas
Treatment of short bowel syndrome

Transplant surgery

Kidney transplantation
Liver transplantation
Pancreatic transplantation
Small intestine transplantation
Lung transplantation

Other medical services
Curriculum vitae
Higher Education
1986 - 1993 Study of Human Medicine in Heidelberg, Birmingham (UK), Baltimore (USA).
August 1988 Study of Physics.
August 1989 First State Medical Examination.
July 1990 Foreign Medical Graduates Examination in Medical Sciences (FMGEMS), Part 1.
January 1992 Foreign Medical Graduates Examination in Medical Sciences (FMGEMS), Part 2.
March 1992 Second State Medical Examination.
May 1993 Third State Medical Examination.
2005 - 2007 Study of Business Administration in Healthcare Management, University of Trier.
18.06.2007 Master of Business Administration (MBA), Healthcare Management.
Professional Career
01.06.1993 - 30.11.1994 Internship, Department of Surgery, University Hospital Heidelberg.
01.12.1994 Admission to medical practice.
01.12.1994 - 30.06.1995 Assistant Physician, Department of Surgery, University Hospital Heidelberg.
14.03.1995 Certificate of Сompetency "Doctor in the Emergency Service".
01.07.1997 - 01.02.2002 Research Fellow, Assistant Physician, Department of Surgery, University Hospital Heidelberg.
18.10.2000 Medical Specialist in Surgery.
10.01.2001 Additional qualifications in Emergency Medicine.
01.02.2002 - 31.12.2013 Senior Physician, Department of Surgery, University Hospital Heidelberg.
19.10.2004 Additional qualifications in Healthcare Quality Management.
09.11.2004 Specialization in Abdominal Surgery.
01.07.2005 First Senior Physician, Department of Surgery, University Hospital Heidelberg.
01.07.2007 - 31.12.2013 Head of the Section of Pancreatic Surgery, Department of Surgery, University Hospital Heidelberg.
01.01.2010 - 31.12.2013 Managing Senior Physician, Department of Surgery, University Hospital Heidelberg.
01.07.2011 - 31.12.2013 Deputy Head of the Department of Transplant Surgery, Department of Surgery.
Since 01.01.2014, Head of the Department of General, Abdominal and Transplant Surgery, University Hospital of Ludwig Maximilian University of Munich.
Scientific Activities
1988 - 1991 Experimental part of the doctoral thesis in the Department of Orthopedics at the University Hospital Heidelberg (Scientific Advisor: Prof. Dr. med. F.U. Niethard).
28.10.93 Doctoral thesis defense at the Faculty of Medicine of the Heidelberg University.
1993 - 2013 Scientific Activities in the Department of Surgery, University Hospital Heidelberg, Working Group "Microcirculation, inflammation and pancreas".
1995 - 1997 Research Scholarship at the Massachusetts General Hospital, Harvard Medical School in Boston, USA, under the direction of Prof. A.L. Warshaw, Chief Surgeon (DFG Scholarship).
June 2002 Habilitation in Surgery, Faculty of Medicine, Heidelberg University. Subject: "Pathophysiology and alcoholic pancreatitis therapy".
28.10.02 Venia Legendi in Surgery, Faculty of Medicine, Heidelberg University.
2004 - 2013 Head of the Working Group "Inflammation and Pancreas".
2004 - 2008 Head of the Working Group "Upper Gastrointestinal System".
03.21.06 Extraordinary Professor, Heidelberg University.
2007 - 2013 Head of the Scientific Working Group "Pancreas".
February 2010 Course for Surgeons, Heidelberg, KKS.
Photo of the doctor: (c) LMU Klinikum
---
About hospital
Accommodation in hospital
Ovarian cancer
Program [Description]
Multimodality treatment of peritoneal carcinomatosis with cytoreductive surgery and HIPEC
Hospital: University Hospital of Ludwig Maximilian University of Munich
Type:
access_time Duration:
Price:
date_range
There are 31 ovarian cancer treatment hospitals on Booking Health website
Show all clinics
Certificates