Surgical treatment of osteomyelitis (program ID:

30607

)
Academic Teaching Hospital Luisenhospital of the Aachen University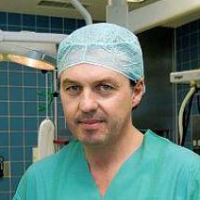 Head Physician
Dr. med.
Fridtjof Trommer
Specialized in: trauma surgery, orthopedics
Department of Trauma Surgery and Orthopedics
The program includes:
Initial presentation in the clinic
clinical history taking
physical examination
review of medical records
laboratory tests:

complete blood count
general urine analysis
biochemical analysis of blood​
indicators of inflammation
indicators blood coagulation

x-ray examination
CT examination
preoperative care
resection of necrotic bone and thorough debridement
of intraosseous and soft tissue fistula
symptomatic treatment
control examinations
physiotherapeutic procedures
orthopedic appliances
the cost of essential medicines and materials
nursing services
full hospital accommodation
explanation of future recommendations
Required documents:
Medical records
X-ray examination, MRI/CT scan (if available)
Service
Price:
Type of program :
Expected duration of the program:
You may also book:

Price:
About the department
The Department of Trauma Surgery and Orthopedics at the Academic Teaching Hospital Luisenhospital of the Aachen University in Aachen under the direction of Dr. med. Fridtjof Trommer offers a wide range of treatment for the whole musculoskeletal system ranging from the ankle joint up to the spine. The service range of the department is complemented by the state-of-the-art medical equipment, such as navigation in the diagnosis / treatment of the knee joint or 3D image conversion systems that provide an accurate diagnosis and work processes with millimeter precision.
Among the key focuses of the department is the surgical treatment of injuries and diseases of the spine. In addition to classical spine stabilization operations and decompression interventions, there are also used minimally invasive and endoscopic treatment methods. The department can monitor the intervention by means of a 3D converter. Thus, it is possible to make an accurate implantation and to control the position of the implant – directly during the surgery. As a result, safety during the surgery is increased, while the number of radiological postoperative examinations is reduced.
Another important focus of the department is the implantation of prostheses. The department is part of the certified Center for Endoprosthetics. This center offers the full range of joint replacement surgeries. A professional team of doctors of the department will accompany each patient starting from the moment of making a decision about prosthetics up to the postoperative rehabilitation.
The service range of the department includes:
Cartilage repair
Spine surgery
Trauma surgery
Joint surgery and endoprosthetics
Foot surgery
Treatment of osteoporosis (osteology)
Trauma Association
and other diseases
Photo of the doctor: (c) Luisenhospital Aachen
---
About hospital
Accommodation in hospital
Osteomyelitis
Program [Description]
Surgical treatment of osteomyelitis
Hospital: Academic Teaching Hospital Luisenhospital of the Aachen University
Type:
Duration:
Price:
date_range
There are 114 osteomyelitis treatment hospitals on Booking Health website
Show all clinics
Certificates