Radical mastectomy in breast cancer (program ID:

31029

)
Academic Teaching Hospital Luisenhospital of the Aachen University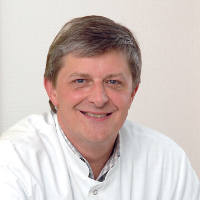 Head Physician
Dr. med.
Dirk Crommelinck
Specialized in: gynecology, obstetrics, mammology
Department of Gynecology, Obstetrics and Mammology
The program includes:
Initial presentation in the clinic
clinical history taking
review of medical records
physical examination
laboratory tests:

complete blood count
general urine analysis
biochemical analysis of blood
inflammation indicators (CRP, ESR)
indicators blood coagulation
tumor markers (CEA, CA 15-3,CYFRA 21-1, NSE)

mammology examination:

breast ultrasound
mammography

MRI of the breast (on indications)
ultrasound examination: pelvis, abdomen
preoperative care
radical mastectomy
histologically examination of the remote tissues
testing for ER and PR
the HER2 status
Oncotype DX test (on indications, additional cost 4000 €)
Mammaprint test (on indications, additional cost 3000 €)
symptomatic treatment
control examinations
the cost of essential medicines and materials
nursing services
full hospital accommodation
explanation of future recommendations
Required documents:
Medical records
MRI/CT scan (not older than 3 months)
Biopsy results (if available)
Service
Price:
Type of program :
Expected duration of the program:
You may also book:

Price:
About the department
The Department of Gynecology, Obstetrics and Mammology at the Academic Teaching Hospital Luisenhospital of the Aachen University in Aachen offers a wide range of services in surgical gynecology ranging from the diagnosis up to the treatment of all benign and malignant diseases. The department has an extensive expertise and a long experience in the field of gynecological endoscopy with a special focus on the treatment of endometriosis of any severity. The department is headed by Dr. med. Dirk Crommelinck.
Breast diseases are treated within the certified Breast Center at the Academic Teaching Hospital Luisenhospital of the Aachen University. The medical team comprised of gynecologists, oncologists, qualified nursing staff and plastic surgeons is always ready to help patients in all treatment issues. Through close cooperation of the departments at the hospital, each patient can receive both comprehensive and tailored treatment.
The department also focuses on hysteroscopic procedures. This treatment can be performed through a natural access. Hysteroscopy suggests a direct visual control and ensures more accurate diagnosis. At the same time, the specialists can perform surgical interventions. As a result, patients can often avoid removal of the whole uterus (total hysterectomy). The technique is sparing and it is usually outpatient.
Particular attention is paid to laparoscopic supracervical hysterectomy (LASH). A sparing LASH procedure allows for uterus to be removed during abdominoscopy. The cervix remains intact. This minimally invasive method has the least number of complications and significantly reduces the duration of inpatient stay.
The team of doctors of the department applies methods in accordance with the latest scientific advances, which are the most sparing and proven. In particular, with an annual number of about 90 procedures, the doctors of the department lead the region in the use of NovaSure method for treating bleedings.
The service range of the department includes:
Breast diseases (Breast Center)

Diagnosis and counseling
Diagnosis of nodes in the breast with a needle biopsy
Breast preserving, ablative and reconstructive surgeries for breast cancer
Removal of the sentinel lymph node
Coordination of the treatment process
Additional explanation of treatment plans before / during / after inpatient stay

Abdominal cavity

Clarification of unclear complaints in the lower abdomen
Sterilization for definitive pregnancy prevention (IGEL)
Sterilization surgery in case of an unrealized desire to have children
Operations on the ovary / fallopian tubes (cysts, benign tumors, usually with organ preservation)
Incontinence
Prolapses
Surgery for ectopic pregnancy (usually with organ preservation)
Surgery due to adhesions after experienced surgery or inflammation in the abdomen
Surgery for endometriosis (pain in the lower abdomen, menstrual pain, childlessness)
Removal of uterine fibroids
Removal of uterus (hysterectomy) – partial removal with preservation of the cervix (LASH)
Complete removal of the uterus (TLH or LAVH)

Vulva

Removal of tumors, cysts, acute condylomas, abscesses
Reconstruction after trauma / scarring / removal of external genital organs / cutting (FGM) / removal of tumors
Cosmetic surgery for congenital / acquired abnormalities of the labia minora, hymen

Oncology

All malignant diseases of the breast, cervix, uterine lining, fallopian tubes and ovaries, labia and vagina

Various surgical techniques and procedures
and other diseases
Photo of the doctor: (c) Luisenhospital Aachen
---
About hospital
Accommodation in hospital
Breast cancer
Program [Description]
Radical mastectomy in breast cancer
Hospital: Academic Teaching Hospital Luisenhospital of the Aachen University
Type:
Duration:
Price:
date_range
There are 52 breast cancer treatment hospitals on Booking Health website
Show all clinics
Certificates