MEDIAN Rehabilitation Clinic Wismar
Department of Orthopedic Rehabilitation (

25910

)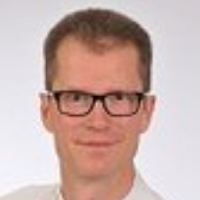 Prof. Dr. med.
Ralph Kayser
Specialized in: orthopedics
About the department
The Department of Orthopedic Rehabilitation at the MEDIAN Rehabilitation Clinic Wismar deals with the rehabilitation of patients after operations, diseases and injuries of the musculoskeletal system, spine, joints. The specialists of the department consider rehabilitation as a holistic process, which implies the interaction of professionals in various fields of medicine. The department is headed by Prof. Dr. med. habil. Ralph Kayser.
Orthopedic rehabilitation primarily aims to improve the functioning of the affected joints or segments of the spine, as well as to improve the patient's mobility and independence. In addition, the department develops individual plans to train patients to perform certain movements that are necessary for daily life and work.
The basis of standards followed by the department in the recovery of patients is the latest scientific achievements in certain areas of medicine, individually adapted to a particular clinical picture. An important component of the successful rehabilitation is the determination of the real goals that should be achieved during the treatment process. The central role is assigned to the objectives related to professional activities and health. For patients of working age, rehabilitation primarily serves as a means of returning to the working process as soon as possible, while elderly patients mainly aim to achieve the best possible independence.
The department is especially focused on emotional and individual rehabilitation of patients with burn injuries. After the discharge from the clinic, many such patients often require repeated interventions and hospitalizations. They have to accept their new damaged body, immobility and reconcile with significant changes in appearance, which are often accompanied by pain. Quite often, physical defects may cause a threat of job loss. The department offers intensive courses of occupational therapy and physiotherapy, which help to eliminate the consequences of such injuries. The possibility of sharing the experience of such patients is of particular importance.
The department offers orthopedic rehabilitation services after the following diseases and surgical interventions:
Intervertebral disc surgery and spondylosis
Bone and joint surgery, including joint replacement surgery
Amputations
Fractures of the musculoskeletal system, incl. spine (conservative treatment as well)
Interventions for rheumatism
Intervertebral disc diseases
Occupational diseases due to mechanical / physical impact on the musculoskeletal system
Malignant tumors and complications in the musculoskeletal system after surgical treatment, chemo- and radiotherapy
Chronic spine and joint diseases
Degenerative spinal and joint diseases
Congenital and acquired deformities of the musculoskeletal system
Fractures of the limbs, spine and pelvis
Functional spinal and joint disorders
Myofascial pain syndromes
Osteoporosis
Postoperative mobilization after interventions on the limbs and spine
Primary and secondary muscle damage
Accidents, including sports injuries affecting the musculoskeletal system
Spinal syndromes with nerve root symptoms
Wound healing disorders, including effects after burns
Department of Orthopedic Rehabilitation.
MEDIAN Rehabilitation Clinic Wismar:

Request more information now.
We will be happy to answer all your questions.
---
Certificates