MEDIAN Rehabilitation Clinic Bernkastel-Kues
Department of Orthopedic Rehabilitation (

334469

)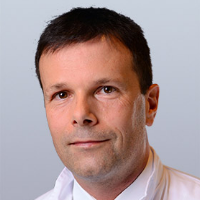 Dr. med.
Thorsten Ohly
Specialized in: orthopedic rehabilitation
About the department
The Department of Orthopedic Rehabilitation covers the full spectrum of rehabilitation services. The department offers high quality, professional rehabilitation on an inpatient, partially inpatient and outpatient basis. The doctors of the department have vast experience and expertise that they use to improve the mobility of joints, increase muscle strength and reduce pain the patients feel after traumas or diseases. The department applies all modern methods of orthopedic rehabilitation to restore patients' mobility. The department specializes in differentiated orthopedic diagnostics. The doctors of the department have modern diagnostic equipment and a laboratory for carrying out all necessary tests. The department is headed by Dr. Thorsten Ohly.
The main focuses of postoperative treatment include:
Condition after spinal surgery in case of scoliosis, spondylolisthesis, kyphosis, spinal fractures, spondylitis and spine tumors, postdyscotomic syndromes, degenerative processes in the cervical spine region
Surgical and conservative treatment after accidents and consequences of injuries
Surgical and conservative treatment after polytrauma
Geriatric traumatology
Corrective osteotomy for the pelvis and extremities
Laser discectomy
Recovery after recently suffered ligament injuries, reconstructive and restorative interventions on the ligaments, especially in the knee joint
Joint replacement surgery (conventional and cementless endoprostheses)
Interventions for rheumatic diseases
Extremity amputation, prosthetics
Acute and chronic diseases of the entire musculoskeletal system
Spinal diseases accompanied by pain
Rheumatism (degenerative, inflammatory, fibromyalgic)
Mental congestion syndromes with musculoskeletal pain
Osteoporosis
Consequences of the disease with impaired musculoskeletal system functioning
And other diseases in this field
Department of Orthopedic Rehabilitation.
MEDIAN Rehabilitation Clinic Bernkastel-Kues:

Request more information now.
We will be happy to answer all your questions.
---
Certificates