MEDIAN Rehabilitation Clinic Bad Sülze
Department of Orthopedic Rehabilitation (

25872

)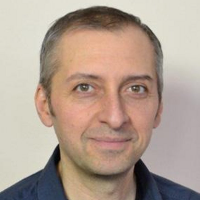 Dr. med.
Emilian Mladenov
Specialized in: orthopedic rehabilitation
About the Department of Orthopedic Rehabilitation at MEDIAN Rehabilitation Clinic Bad Sülze
The Department of Orthopedic Rehabilitation at the MEDIAN Rehabilitation Clinic Bad Sülze offers all modern types of medical rehabilitation to the patients who have suffered musculoskeletal diseases and injuries, as well as rheumatic diseases. The patients are often admitted to the department after joint replacement surgery, spinal surgery and limb amputation. The department's rehabilitation therapists have vast experience in the treatment of chronic back and joint pain. The primary goal of the specialists during orthopedic rehabilitation is to eliminate pain, restore mobility and achieve maximum independence of the patient in everyday life. The young patients are also offered medical profession-oriented rehabilitation, which aims to reintegrate the patient into his professional environment. This type of rehabilitation treatment is preceded by a special examination, which allows for the assessment of the patient's rehabilitation potential. The department is headed by Dr. med. Emilian Mladenov.
Prior to appointing some therapeutic procedures, the rehabilitation therapists carry out comprehensive diagnostics to assess the severity of damage to the musculoskeletal system, movement functions and general health of the patient. For this purpose, the department has in-house diagnostic rooms with state-of-the-art equipment. The patients often undergo such diagnostic tests as ultrasound and X-ray scanning, electrophysiological testing, electrocardiography, isokinetic muscle testing, psychological testing, etc. The diagnostic results allow the department's specialists to develop the most effective rehabilitation program and eliminate any risks to the patient's health. In addition, the patients also regularly undergo diagnostic examinations during the rehabilitation in order to monitor the effectiveness of treatment
The complex of rehabilitation measures is selected individually, but the rehabilitation treatment is usually based on dosed physical activity. In addition to therapeutic exercises, the patients are offered sports therapy, medical training therapy, Nordic walking, training on professional exercise equipment (for example, MILON), water aerobics, etc. Training often takes place in groups, since it is important for many patients to understand that their case is not unique, and there are other people with the same diseases. An integral part of rehabilitation is physiotherapy: classic massage, manual lymphatic drainage, electrotherapy, thermotherapy and other types of treatment. An obligatory component of the rehabilitation process is diet therapy, since the patients with musculoskeletal diseases and injuries lead a sedentary lifestyle, which can cause weight gain. In addition, the importance of psychological support provided to the patients by the department's competent psychologists should not be underestimated. The patients with orthopedic diseases often suffer from depression and lose faith that they will be able to return to their previous life, so the task of psychologists is to help them cope with the pathology and motivate the patient for a favorable treatment outcome.
The department specializes in the rehabilitation of patients after the following orthopedic and rheumatic diseases, as well as surgical interventions on the musculoskeletal system:
Orthopedic diseases

Pathological conditions after surgical interventions for spinal disc herniation and spinal fusion
Pathological conditions after surgical interventions on various anatomical structures of the musculoskeletal system, including joint replacement surgery
Pathological conditions after limb amputation
Pathological conditions after bone fractures, including after osteosynthesis and conservative treatment
Pathological conditions after removing the corset to support the spine after surgery
Pathological conditions after conservative therapy of spinal disc herniation
Complications of congenital and acquired musculoskeletal deformities
Functional diseases of the spine and joints
Degenerative diseases of the spine and joints
Myofascial pain syndrome
Osteoporosis
Back pain due to radiculopathy
Chronic pain in the spine and joints
Musculoskeletal malignancies and pathological conditions after their surgical resection, chemotherapy and radiation therapy
Consequences of musculoskeletal injuries, including sports injuries

Rheumatic diseases

Pathological conditions after surgery for rheumatic diseases, as well as pathological conditions after basic conservative treatment of rheumatic diseases
Rheumatoid arthritis, including various clinical forms of this pathology
Ankylosing spondylitis and other inflammatory spinal diseases
Psoriatic joint lesions
Reactive arthritis
Seronegative spondyloarthropathies
Crystalline arthropathy
Collagenoses
Osteoporosis (postmenopausal, corticosteroid-induced, age-related one)
Chronic pain in the back and joints
Fibromyalgia
Degenerative diseases of the spine and joints (for example, Forestier's disease, Heberden's and Bouchard's nodes)

Other pathologies
The range of the department's diagnostic and therapeutic services includes:
Diagnostic tests

Laboratory tests, including serological tests for rheumatic diseases
Ultrasound examinations
Doppler ultrasonography of the peripheral vessels
X-ray, computed tomography and functional imaging of the skeletal system
Electrophysiological studies
Assessment of the rehabilitation potential of patients who require medical profession-oriented rehabilitation
Electrocardiography and ergometry
Manual and isokinetic muscle testing
Special functional diagnostics prior to ergotherapy
Assessment of the patient's psychological condition

Rehabilitation methods

Physiotherapy

Manual therapy
Osteopathy
Spinal decompression therapy
Gait training

Therapeutic exercises and kinesiotherapy

Brunkow exercises
Proprioceptive neuromuscular facilitation
Kinesio taping
Pilates
Isokinetic exercises
Nordic walking
THerapeutic exercises in groups for patients with the same diagnosis, including water aerobics
Therapeutic exercises to strengthen the back muscles
Ergometer, treadmill, Galileo training, etc.
Medical training therapy in a simulated workplace

Physical therapy

Classic massage
Manual lymphatic drainage
Marnitz massage
Inhalations
Electrotherapy (ultrasound therapy, galvanic baths, TENS therapy for pain relief, amplipulse, selective electrical stimulation, diadynamic currents)

Hydrotherapy and thermotherapy

Mud baths
Mud wraps
Healing baths and contrast baths
Cryotherapy
Warm compresses

Ergotherapy
Psychological counseling
Diet therapy
Pain therapy

Manual therapy/osteopathy
Myofascial release
TENS therapy
Neural therapy and acupuncture
Relaxation techniques

Other diagnostic and therapeutic options
Photo of the doctor: (c) VAMED Rehazentrum Lübeck
Department of Orthopedic Rehabilitation.
MEDIAN Rehabilitation Clinic Bad Sülze:

Request more information now.
We will be happy to answer all your questions.
---
Certificates