Medicana International Ankara Hospital
Department of Adult and Pediatric Dentistry, Oral and Maxillofacial Surgery (

534930

)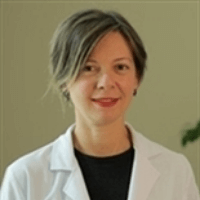 Dr. med. Dr. med. dent.
İrem Göktepe Ateş
Specialized in: adult and pediatric dentistry, oral and maxillofacial surgery
About the department
The Department of Adult and Pediatric Dentistry, Oral and Maxillofacial Surgery at the Medicana International Ankara Hospital offers the full range of services in these medical fields. The doctors of the department specialize in the treatment of diseases of the teeth and gums, as well as perform surgical interventions to correct defects in the maxillofacial area. The aesthetic dental services are also available in the department, for example, teeth whitening, installation of veneers, etc. The Chief Physician of the department is Dr. med. Dr. med. dent. İrem Göktepe Ateş.
The service range of the department includes:
Diagnostic examinations (including radiological ones)
Treatment of oral halitosis (bad breath)
Treatment of the temporomandibular joint dysfunction
Implantology
Dental laser therapy
Aesthetic dental procedures

Teeth whitening
Removal of dental calculus (plaque and tartar)
Aesthetic teeth restoration (teeth shape correction and missing parts restoration)

Periodontology (prevention, diagnostics and treatment of gum diseases)

Treatment of gingivitis
Treatment of periodontal disease
Treatment of periodontitis

Aesthetic dental filling
Pedodontics (treatment of dental diseases in children from 0 to 13 years old)

Treatment of dental caries
Prosthetics, in teeth loss in children
Tooth extraction
Treatment of teeth, which were broken due to an injury
Treatment of root canals

Orthodontics (diagnostics and treatment of various teeth position disorders, dentition shape and the malocclusion of the upper and lower jaw)
Maxillofacial surgery

Treatment of purulent-inflammatory processes in the maxillofacial area
Treatment of facial fractures
Correction of the lower and/or upper jaw deformities
Treatment of jaw dislocation
Malocclusion correction
Removal of maxillofacial tumors

Other medical services
Photo of the doctor: (c) Medicana Health Group
Department of Adult and Pediatric Dentistry, Oral and Maxillofacial Surgery.
Medicana International Ankara Hospital:

Request more information now.
We will be happy to answer all your questions.
---