Medipol Mega University Hospital Istanbul
Department of Cardiology (

302864

)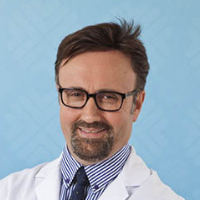 Prof. Dr. med.
Dursun Duman
Specialized in: cardiology
About the department
The Department of Cardiology at the Medipol Mega University Hospital Istanbul offers all the options of modern medicine for the prevention, diagnostics and treatment of cardiovascular diseases. The department's tasks also include rehabilitation in cardiovascular diseases and cardiac intensive care. The medical facility has in its arsenal the informative diagnostic tools, including EEG, treadmill test, transthoracic echocardiography (2D and 3D echocardiography), etc. In addition, it offers the full range of innovative non-surgical treatment methods, which allow the doctors to restore heart health and improve the quality of life of patients. The department's medical services are carried out in accordance with the current international protocols. The Chief Physician of the department is Prof. Dr. med. Dursun Duman.
The department successfully performs interventional procedures, particularly, the implantation of pacemakers, electrophysiological examinations, catheter ablation, etc. Of particular interest is the treatment of mitral valve stenosis – mitral valvuloplasty. Coronary angiography is used for the assessment of blood flow in the coronary arteries. There should be also mentioned other treatment methods, such as percutaneous transluminal coronary angioplasty (PTCA), cardiac catheterization, etc.
The range of the department's diagnostic and therapeutic services includes:
Diagnostics

Electrocardiography
Treadmill test
2D and 3D transthoracic echocardiography
Stress echocardiography
Transesophageal echocardiography, including 3D mode
24-hour Holter ECG monitoring
Heart rhythm assessment using event recorder
Tilt test
Myocardial perfusion scintigraphy (in collaboration with the Department of Nuclear Medicine)
CT angiography and cardiac MRI (in collaboration with the Department of Radiology)

Interventional procedures

Implantation of temporary and permanent pacemakers
Electrophysiological examinations
Catheter ablation for the treatment of cardiac arrhythmias
Mitral valvuloplasty for mitral valve stenosis
Coronary angiography for the examination of coronary arteries
Percutaneous transluminal coronary angioplasty (PTCA) for coronary artery stenosis
Cardiac catheterization
Transcatheter aortic valve implantation (minimally invasive replacement of the affected aortic valve in its stenosis)
Minimally invasive treatment of open oval window
Endovascular treatment of aortic aneurysms
Renal denervation (innovative treatment for resistant hypertension)

Other diagnostic and therapeutic options
Curriculum vitae
Education
2014 Istanbul University, Department of Cardiology.
2008 Department of Higher Education, Cardiology.
2001 Medical University, Department of Cardiology, Marmara University.
1994 Faculty of Medicine, Erciyes University.
Professional Career
2011 Medipol Mega University Hospital Istanbul.
2010 Goztepe Education and Research Hospital.
2009 Member of the European Society of Cardiology.
2003 - 2008 Faculty of Medicine, Yeditepe University.
2002 - 2009 Haydarpaşa Numune Training and Research Hospital.
1994 - 1996 Şarkışla State Hospital.
Electroconvulsive therapy for atrial fibrillation
Left bundle branch block (lbbb) conservative treatment and holter monitoring
Bradycardia conservative treatment and holter monitoring
Department of Cardiology.
Medipol Mega University Hospital Istanbul:

Request more information now.
We will be happy to answer all your questions.
---
Certificates