Pacemaker implantation for carotid sinus hypersensitivity (CSH) (program ID:

317345

)
Medipol Mega University Hospital Istanbul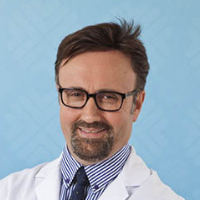 Head Physician
Prof. Dr. med.
Dursun Duman
Specialized in: cardiology
Department of Cardiology
Program includes:
Initial presentation in the clinic
clinical history taking
review of medical records
physical examination
laboratory tests:

complete blood count
biochemical analysis of blood
thyroid function test (TSH-basal, fT3, fT4)
mineral metabolism analysis (Na, K, Ca, Mg)
lipid metabolism (HDL/LDL, cholesterol, triglycerides,
Lip(a), homocysteine)
iron content (ferritin, iron)
blood coagulation analysis (aPTT, PT, INR)
metabolic status (uric acid, total glucose, HbA1c)
inflammatory parameters (CRP, ESR)
cardiovascular disease risk markers

vascular system assessment
lung function test (Spirometry)
resting and exercise ECG
vessel elasticity measurement
Holter monitoring (24h)
body fat and water examination
color doppler echocardiography
color doppler sonography of cerebral vessels​
preparation according to preoperative standard
pacemaker implantation
symptomatic treatment
control examinations
the cost of essential medicines and materials
nursing services
full hospital accommodation
explanation of future recommendations
Service
Price:
Type of program :
Expected duration of the program:
You may also book

Price:
About the department
The Department of Cardiology at the Medipol Mega University Hospital Istanbul offers all the options of modern medicine for the prevention, diagnostics and treatment of cardiovascular diseases. The department's tasks also include rehabilitation in cardiovascular diseases and cardiac intensive care. The medical facility has in its arsenal the informative diagnostic tools, including EEG, treadmill test, transthoracic echocardiography (2D and 3D echocardiography), etc. In addition, it offers the full range of innovative non-surgical treatment methods, which allow the doctors to restore heart health and improve the quality of life of patients. The department's medical services are carried out in accordance with the current international protocols. The Chief Physician of the department is Prof. Dr. med. Dursun Duman.
The department successfully performs interventional procedures, particularly, the implantation of pacemakers, electrophysiological examinations, catheter ablation, etc. Of particular interest is the treatment of mitral valve stenosis – mitral valvuloplasty. Coronary angiography is used for the assessment of blood flow in the coronary arteries. There should be also mentioned other treatment methods, such as percutaneous transluminal coronary angioplasty (PTCA), cardiac catheterization, etc.
The range of the department's diagnostic and therapeutic services includes:
Diagnostics

Electrocardiography
Treadmill test
2D and 3D transthoracic echocardiography
Stress echocardiography
Transesophageal echocardiography, including 3D mode
24-hour Holter ECG monitoring
Heart rhythm assessment using event recorder
Tilt test
Myocardial perfusion scintigraphy (in collaboration with the Department of Nuclear Medicine)
CT angiography and cardiac MRI (in collaboration with the Department of Radiology)

Interventional procedures

Implantation of temporary and permanent pacemakers
Electrophysiological examinations
Catheter ablation for the treatment of cardiac arrhythmias
Mitral valvuloplasty for mitral valve stenosis
Coronary angiography for the examination of coronary arteries
Percutaneous transluminal coronary angioplasty (PTCA) for coronary artery stenosis
Cardiac catheterization
Transcatheter aortic valve implantation (minimally invasive replacement of the affected aortic valve in its stenosis)
Minimally invasive treatment of open oval window
Endovascular treatment of aortic aneurysms
Renal denervation (innovative treatment for resistant hypertension)

Other diagnostic and therapeutic options
Curriculum vitae
Education
2014 Istanbul University, Department of Cardiology.
2008 Department of Higher Education, Cardiology.
2001 Medical University, Department of Cardiology, Marmara University.
1994 Faculty of Medicine, Erciyes University.
Professional Career
2011 Medipol Mega University Hospital Istanbul.
2010 Goztepe Education and Research Hospital.
2009 Member of the European Society of Cardiology.
2003 - 2008 Faculty of Medicine, Yeditepe University.
2002 - 2009 Haydarpaşa Numune Training and Research Hospital.
1994 - 1996 Şarkışla State Hospital.
Photo of the doctor: (c) Medipol Mega University Hospital Istanbul
---
About hospital
Accommodation in hospital
Carotid sinus syndrome
Price:
Program [Description]
Pacemaker implantation for carotid sinus hypersensitivity (CSH)
Hospital: Medipol Mega University Hospital Istanbul
Type:
access_time Duration:
date_range
There are 92 carotid sinus syndrome treatment hospitals on Booking Health website
Show all clinics
Certificates