Diagnosis of partial anomalous pulmonary venous connection (TAPVC) (program ID:

316744

)
Medipol Mega University Hospital Istanbul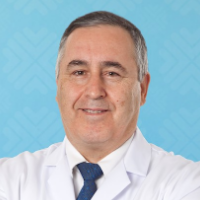 Head Physician
Prof. Dr. med.
Halil Türkoğlu
Specialized in: adult and pediatric cardiac surgery
Department of Adult and Pediatric Cardiac Surgery
Program includes:
Initial presentation in the clinic
clinical history taking
review of medical records
physical examination
laboratory tests:

complete blood count
biochemical analysis of blood
inflammation indicators (CRP, ESR)
indicators of blood coagulation
blood gas analysis

chest x-ray examination
Holter monitoring (24h)
measurement of arterial blood pressure
electrocardiogram (ECG)
pulmonary function test
echocardiography
doppler echocardiography
high-resolution computed tomography (HR-CT)/MRI (on indication 950/1200€)
CT angiography (on indication 1300€)
nursing services
consultation of related specialists
treatment by chief physician and all leading experts
explanation of individual treatment plan
(the cost of medicines is not included)
Price:
Type of program :
Expected duration of the program:
You may also book

Price:
About the department
The Department of Adult and Pediatric Cardiac Surgery at the Medipol Mega University Hospital Istanbul offers the full range of diagnostics and treatment of cardiovascular diseases, including rehabilitation measures. The competence also includes resuscitation in the specialized Resuscitation Units. The department deals with the treatment of patients of various age categories, ranging from newborn babies to the elderly. The modern infrastructure, high-tech operating rooms in combination with the exceptional professionalism of the medical personnel create a solid basis for the best treatment result. The department is headed by Prof. Dr. med. Halil Türkoğlu.
The department's operating rooms are equipped with laminar air flow ventilation systems, heart-lung machines, autotransfusion systems and intra-aortic balloon pumps. Once a surgical procedure is completed, the patient will be transferred to the Intensive Care Unit, where each bed is equipped with monitors for hemodynamic indicator control.
The department's cardiac surgeons specialize in operations for congenital heart defects in children. If such pathologies are detected at the stage of intrauterine development, the operation can be performed immediately after birth. If possible, the surgeons perform minimally invasive interventions, which guarantee rapid postoperative recovery and a better cosmetic result. The department also performs hybrid interventions.
Cardiac surgical procedures in adult patients include coronary artery bypass grafting for coronary heart disease, reconstructive surgery and prosthetic heart valve surgery, treatment of aortic aneurysms with endovascular interventions, interventions for heart rhythm disturbances, hybrid surgery, etc.
In addition, the department provides the surgical treatment for impaired peripheral artery patency, as well as varicose veins, using laser and radio frequency technologies. The patients with traumatic injuries of the heart and blood vessels receive urgent treatment. If necessary, the doctors from other specialties (general practitioners, plastic surgeons, and others) are involved in the therapeutic process.
The department's diagnostic and surgical service range includes:
Diagnostics

Electrocardiography (ECG)
Treadmill stress test
Transthoracic echocardiography (TTE)
3D transesophageal echocardiography
Stress echocardiography
Transesophageal echocardiography (TEE)
3D transesophageal echocardiography (TEE)
Holter monitoring (ECG)
Event recorder (a device, which records ECG at the time of the occurrence of heart disorders)
24-hour blood pressure monitoring (BPM)
Orthostatic test (assessment of the functional state of the heart on an orthostatic table)

Surgical treatment

Implantation of temporary and permanent pacemakers
Electrophysiological procedures
Catheter ablation
Mitral balloon valvuloplasty
Coronarography
Percutaneous transluminal coronary angioplasty
Cardiac catheterization
Vascular dilatation for chronic occlusion
Transcatheter aortic valve implantation
Surgery for congenital heart defects
Renal denervation for the treatment of resistant hypertension

Other medical services
Curriculum vitae
Education and Professional Career
1985 - 1993 Istanbul University.
1979 Hacettepe University, Faculty of Medicine, Department of Cardiac Surgery.
2011 Specialization in Pediatric Cardiac Surgery.
---
About hospital
Accommodation in hospital
Anomalous pulmonary venous connection
Price:
Program [Description]
Diagnosis of partial anomalous pulmonary venous connection (TAPVC)
Hospital: Medipol Mega University Hospital Istanbul
Type:
access_time Duration:
date_range
There are 48 anomalous pulmonary venous connection diagnostic hospitals on Booking Health website
Show all clinics
Certificates