Merian Iselin Clinic Basel
Department of Vascular Surgery (

114109

)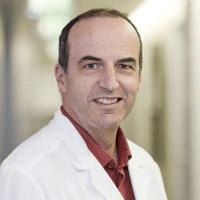 Dr. med.
Marcel Bieli
Specialized in: vascular surgery
About the Department of Vascular Surgery at Merian Iselin Clinic Basel
The Department of Vascular Surgery at the Merian Iselin Clinic Basel offers all the options of modern medicine for patients with diseases of arterial and venous vessels. The department is headed by Dr. med. Marcel Bieli.
The diagnostics is performed using effective studies, such as duplex sonography, oscillography, Doppler sonography and capillary microscopy. Also, the department offers imaging studies, such as CT and MRI. The interventions on large vessels are performed using innovative sparing techniques of endovascular surgery.
The therapeutic options of the department include:
Sclerotherapy for the treatment of varicose veins
Balloon dilatation and stenting for the treatment of arterial stenosis
Treatment of carotid stenosis
Treatment of peripheral arterial occlusive disease of the lower extremities
Other medical services
Photo of the doctor: (c) Merian Iselin Klinik für Orthopädie und Chirurgie
Department of Vascular Surgery.
Merian Iselin Clinic Basel:

Request more information now.
We will be happy to answer all your questions.
---