Department of Mammology (

303795

)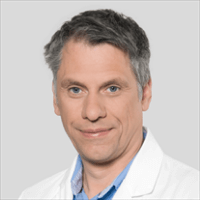 Prof. Dr. med.
Mathias Warm
Specialized in: mammology
About the Department of Mammology at PAN Clinic Cologne
The Department of Mammology at the PAN Clinic Cologne offers screening programs, diagnostics and treatment of the full range of breast diseases in women. The priority focus of ​​clinical activities is the prevention and treatment of breast cancer – the most common type of oncology among women. The experienced team of the department's mammologists aims to detect pathological changes in the breast tissues as early as possible and effectively eliminate them. The department is headed by Prof. Dr. med. Mathias Warm, who, according to the famous Focus magazine, ranks among the top specialists in Germany in the field of his competence!
The availability of modern equipment for classical ultrasound scanning, 3D and 4D sonography, mammography allows the department's doctors to diagnose breast diseases with impeccable accuracy, while the access of specialists of the medical facility to advanced therapeutic methods guarantees a successful treatment outcome. The department's therapeutic options include both conservative and surgical treatments, including plastic reconstructive surgery after partial or total breast resection surgery. The department's doctors give preference to an individual approach to each patient, thanks to which they achieve excellent treatment results.
When a woman with suspected breast cancer is admitted to the department, the first stage of the therapeutic process is diagnostics that includes palpation, ultrasound scanning, mammography and fine needle aspiration biopsy. If the diagnostic results confirm cancer, the department's specialists start developing a treatment scheme. The doctors from related medical fields are often involved in treatment planning, including oncologists, radiologists, radiation therapists and surgeons. Such an approach allows taking into account all the features of a woman's condition and choosing the most effective treatment methods depending on the stage of breast cancer, the patient's general health status, her age, etc.
As a rule, it is almost impossible to avoid surgery for breast tumor resection in the course of breast cancer treatment, while the advanced stages of oncology require a radical mastectomy – total removal of breast tissues. A great advantage for the patients undergoing treatment in the medical facility is that a large number of surgical procedures are performed using sparing minimally invasive techniques, thanks to which women recover in the shortest possible time and do not experience severe pain. If the patient is indicated mastectomy, the doctors also offer her to undergo reconstructive plastic surgery, which will help restore an attractive aesthetic appearance and get rid of complexes. The department's surgeons perform breast reconstruction using both silicone implants and autologous tissues.
However, surgery alone is not enough to cure breast cancer. After surgery, the patients usually undergo radiation therapy to completely destroy the remaining cancer cells and thus prevent recurrence. The specialists use in their clinical practice only modern radiation therapy methods that ensure excellent results. Chemotherapy is also an integral part of breast cancer treatment. Depending on the particular clinical case, chemotherapy can be adjuvant (after surgery) or neoadjuvant (prior to surgery). The department's team of mammalogists uses the very latest chemotherapy drugs with minimal side effects. In some cases, chemotherapy is provided as palliative treatment to alleviate symptoms and slow down tumor growth. The department's therapeutic offer also includes antihormone therapy and antibody therapy.
Since cancer treatment is a difficult process for the patient, women are recommended to undergo a special rehabilitation program to restore the body's vitality and improve work capacity after the basic course of treatment for breast cancer. In addition, the women who have suffered breast cancer have to undergo regular diagnostic examinations (ultrasound and mammography) in order to prevent or detect recurrence at the early stage.
The department's main clinical focuses include:
Diagnostics

Classical ultrasound examinations
3D and 4D sonography
Mammography
Fine needle aspiration biopsy

Treatment

Conservative treatment

Chemotherapy
Radiation therapy
Antihormone therapy
Antibody therapy

Surgery

Classical open surgery
Minimally invasive surgery
Plastic reconstructive breast surgery using silicone implants and autologous tissues of the patient

Other medical services
Curriculum vitae of Prof. Dr. med. Mathias Warm
​Higher Education and Professional Career
1986 - 1992 Study of Human Medicine at the Faculty of Medicine, Ernst Moritz Arndt University of Greifswald.
1992 - 1994 Internship in the Department of Gynecology at the Hospital Stralsund.
1994 - 1997 Assistant Physician, Department of Gynecology at the Hospital Stralsund.
1996 Doctoral thesis defense.
1998 Board certification in Gynecology and Obstetrics.
1997 - 2000 Senior Physician in the Department of Gynecology at the Municipal Hospital in Wolfsburg.
2002 Optional advanced training: "Special Gynecologic Surgery".
2003 Qualified Lecturer of the Course on Breast Ultrasound Diagnostics.
2003 DEGUM II Certificate in Breast Sonography.
2003 Head of the Breast Center at the University Hospital Cologne.
2004 Deputy Head of the Department of Obstetrics and Gynecology at the University Hospital Cologne.
2005 Authorized person with the right to conduct advanced training/retraining within an optional program of advanced training in Special Gynecologic Surgery.
2006 Seminar Leader in the German Society of Ultrasound in Medicine (DEGUM), additional qualification: tumor drug therapy; specialization: gynecologic oncology.
2009 Professional Auditor of the Breast Centers in North Rhine-Westphalia.
2009 Habilitation, Faculty of Medicine, University of Cologne. Subject: "Individual clinical concepts of therapy for patients with breast cancer based on predicting the response to neoadjuvant chemotherapy".
Since 2010 Chief Physician of the Breast Center Holweide, Hospital Cologne-Holweide.
2011 DEGUM III Certificate in Breast Sonography.
2016 Extraordinary Professor at the University of Cologne.
Memberships in Professional Societies
German Society for Gynecology and Obstetrics (DGGG).
Working Group on Aesthetic, Plastic and Reconstructive Surgery in Gynecology (AWO-Gyn).
Working Group on Breast Sonography of the German Society of Ultrasound in Medicine (DEGUM).
Professional Association of Gynecologists.
Lower Rhine-Westphalian Society for Gynecology and Obstetrics.
LebensWert.
North-Eastern German Society of Gynaecologic Oncology (NOGGO), Board Member.
German Society of Senology.
German Cancer Society.
Working Group on Gynecological Oncology (AGO).
German Society for Plastic and Reconstructive Surgery.
GenoGyn Rheinland.
FRANKA, women who have survived cancer.
Breast Cancer Organization Brustkrebs Deutschland, Advisory Board Member.
Scientific Advisory Board Member of the Governing College "Assessment of Mortality within the framework of the German Mammography Screening Program" at the Federal Office for Radiation Protection.
Photo of the doctor: (c) PAN Klinik
Department of Mammology.
PAN Clinic Cologne:

Request more information now.
We will be happy to answer all your questions.
---
Certificates