Department of Neurosurgery (

53

)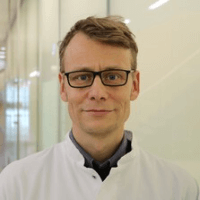 Dr. med.
Dierk-Marko Czybulka
Specialized in: neurosurgery
About the department
The Department of Neurosurgery at the PAN Clinic on Neumarkt is staffed by top-class specialists in the field of diagnosis and treatment of acute and chronic neurosurgical diseases. The department is headed by Dr. med. Dierk-Marko Czybulka.
Within the framework of the Medical Service Center (MSC) at the University Hospital Cologne, the Department of Neurosurgery offers comprehensive counseling and an individualized approach to the treatment of specific tumors, vascular and cerebrospinal diseases.
The main focuses of the department include the treatment of various brain diseases and diseases of the spine. Both experience and competence of the neurosurgical university hospital allow the specialists of the department to offer patients a solution of their problems at the highest possible level.
The range of medical services of the department includes:
Degenerative diseases of the spinal cord
Peripheral nerve disorders
Neuro-oncology
Cerebrovascular diseases
Pediatric neurosurgery
Pituitary tumors
Hydrocephalus
Photo of the doctor: (c) Pan Klinik
Department of Neurosurgery.
PAN Clinic Cologne:

Request more information now.
We will be happy to answer all your questions.
---
Certificates