Department of Neurology and Epileptology (

59

)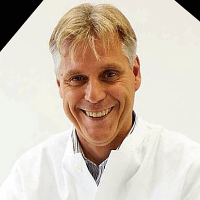 Dr. med.
André Heep
Specialized in: neurology, epileptology
About the department
The Department of Neurology and Psychiatry specializes in the diagnosis and treatment of neurological and certain psychiatric and psychosomatic diseases, including headaches, migraine, vertigo, stroke, dementia, Parkinson's disease, multiple sclerosis, depressions and anxiety disorders. An experienced team of doctors under the direction of Dr. med. André Heep attaches great importance to the establishment of personal contact with the patients, trustful relationship, as well as to a friendly and professional atmosphere.
In cooperation with other departments of the PAN Clinic on Neumarkt, the Department of Neurology and Psychiatry provides first-class specialized medical care. Through the collaboration with the Department of Neuroradiology, the department provides the quickest possible diagnosis within one center. In the field of diagnosis of memory disorders and concentration problems, the department collaborates with the Department of Neuropsychology.
The service range of the department includes:
Diagnosis and treatment of neurological, psychological and psychosomatic disorders
Diagnosis of vascular diseases and stroke risk
Electrophysiological diagnosis for the assessment of nerve damages, epilepsy and cerebral disorders, such as multiple sclerosis
Curriculum vitae
Study of medicine in Padua, Bonn, Hanover and Cologne.
Professional training in Bonn, Cologne-Merheim and Langenfeld for getting a medical specialist's degree .
Since 1999 General medical practice in neurology and psychiatry together with Dr. med. Marie-Therese Kälin.
2006 - 2013 Private general medical practice with Prof. Dr. med. Heiko Bewermeyer.
Private medical practice and provision of medical services for insured persons.
Membership in Professional Societies
Member of the Professional Association of German Neurologists (BVDN).
Member of the Federation of German Neurologists (BDN).
Member of the German Society of Neurology (DGN).
Photo of the doctor: (c) Pan Klinik
Department of Neurology and Epileptology.
PAN Clinic Cologne:

Request more information now.
We will be happy to answer all your questions.
---
Certificates