Department of Adult and Pediatric Ophthalmology (

60

)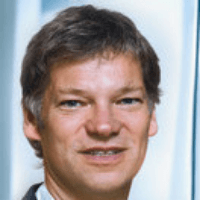 Dr. med.
Georg Gerten
Specialized in: adult and pediatric ophthalmology
About the Department of Adult and Pediatric Ophthalmology at PAN Clinic Cologne
The Department of Adult and Pediatric Ophthalmology at the PAN Clinic Cologne offers the full range of diagnostic and therapeutic services in the area of its specialization. The department's team of ophthalmologists successfully provides both conservative and surgical treatment. The doctors also hold consultations on ophthalmic diseases and visual impairments in children. The specialists of the medical facilities are distinguished by their unique experience in the use of innovative microsurgical techniques and laser technologies. The department's operating rooms have state-of-the-art equipment, which makes it possible to perform both simple and especially complex surgical procedures to correct vision. Of particular interest to the department's doctors is the surgical treatment of cataracts, refractive eye surgery and corneal surgery, including excimer and femto laser vision correction. Ophthalmic surgeons also perform eyelid surgery for ptosis and dry eye syndrome. The department annually treats more than 5,000 patients, including patients from foreign countries, which testifies to the excellent reputation of the medical center.
The department is headed by Dr. med. Georg Gerten, who has over 15 years of successful clinical experience. He is one of the pioneers in the field of modern laser surgery – femto laser vision correction (Femto Lasik), LASIK laser correction, femtosecond laser-assisted keratoplasty and other laser techniques. Throughout his clinical practice, Dr. Gerten has performed more than 20,000 surgical interventions and today enjoys a reputation as one of the best ophthalmologists in Germany. According to the Focus magazine, the specialist has been annually ranked among the best German doctors specializing in cataract and refractive eye surgery since 2013!
The most important focus of the team of the department's doctors is on the treatment of cataracts – partial or complete clouding of the eye's natural lens. Cataract is an irreversible pathological process, which can be eliminated only with the help of a surgical intervention. Drugs, intraocular injections, vitamins and other conservative treatment methods can be effective only at the early stages of the disease. Cataract surgery consists in replacing the clouded lens with an artificial one. The surgical procedure involves the use of ultrasonic phacoemulsification. The patients usually tolerate the operation quite well. The duration of the intervention is about 20 minutes. The procedure is performed under local eye drop anesthesia, which eliminates unnecessary stress on the cardiovascular system and the body as a whole, thereby ensuring high safety of the operation in patients of all age groups. The recovery after surgery takes place as soon as possible.
An integral part of clinical practice of the medical facility is laser vision correction (refractive eye surgery), which is indicated to patients with myopia, hyperopia, astigmatism and presbyopia. The department's specialists offer such modern laser techniques for restoring vision as photorefractive keratectomy (PRK), femto laser vision correction (Femto Lasik), LASIK, LASIK Xtra, LASEK, Monovision, Prelex procedures, as well as intraocular laser manipulations for the placement of intraocular lenses (multifocal, aspherical, toric, etc.). These vision correction techniques have proven to be highly effective and are also absolutely safe for patients.
The department's ophthalmologists also admit young patients with various eye diseases. The doctors devote enough time to consultations with the participation of the child and his parents. During these consultations they talk about the therapeutic options and the predicted treatment outcomes. The department mostly admits children with strabismus, visual impairments, congenital glaucoma, cataracts and ptosis. The treatment involves the use of laser technologies and microsurgical procedures.
The department's range of medical services includes:
Surgical treatment of cataracts
Surgical treatment of glaucoma
Refractive eye surgery (laser vision correction)

Photorefractive keratectomy (PRK)
Femto laser vision correction (Femto Lasik)
Laser vision correction using LASIK procedure
Laser vision correction using LASIK Xtra procedure (LASIK technique combined with crosslinking)
Laser vision correction using LASEK procedure
Laser vision correction of age-related hyperopia (presbyopia) using the Monovision technique
Prelex laser technique for artificial lens implantation
BIOPTICS laser technique
Intraocular lens implantation

Implantation of multifocal intraocular lenses
Implantation of aspherical, toric intraocular lenses with a protective blue filter
Implantation of special intraocular lenses in patients with macular degeneration
Implantation of Add-on intraocular lenses

Surgery for corneal diseases and corneal transplantation (keratoplasty)
Surgery for retinal and vitreous diseases
Treatment of age-related macular degeneration with intravitreal injections
Eyelid correction surgery (both for medical reasons and for aesthetic defects)
Strabismus correction (selection of glasses, contact lenses, surgical correction)
Conservative and surgical treatment of eye diseases in children (congenital glaucoma, strabismus, nystagmus, ptosis and other pathologies)
Other therapeutic options
Curriculum vitae of Dr. med. Georg Gerten
Dr. med. Georg Gerten received his medical education at the Universities of Bonn and Yale (USA). The specialist underwent his clinical residency for board certification in ophthalmology at the renowned University Hospitals in Bonn, Aachen and Duesseldorf.
From 1992 to 1994, he worked as a managing senior physician at the Academic Hospital of the University of Bonn in Luedenscheid. Since 1995, the doctor has become a privately practicing ophthalmic surgeon in Cologne and the head of the Department of Adult and Pediatric Ophthalmology at the PAN Clinic Cologne.
Dr. Gerten founded his Private Ophthalmology Practice Neumarkt in 2006, where surgical procedures are performed in accordance with the principles of modern microsurgery. During this time, more than 30,000 patients have already undergone successful treatment at the medical facility. The doctor is especially interested in cataract surgery, corneal surgery and refractive eye surgery.
Professional Competencies, Responsibilities, Appointments, Publications
In cooperation with the Laser Vision Correction Center in Hannover and the Technical College for Laser Medical Technologies in Remagen, Dr. Gerten carries out various research projects. At the moment, the specialist heads the most famous research project "Laser therapy for age-related hyperopia" funded by the German Federal Ministry of Education and Research (BMBF).
Dr. Georg Gerten is a co-author of numerous articles in various fields of ophthalmology.
Dr. Gerten has earned an excellent reputation in the international medical arena, and therefore he regularly speaks at congresses and symposia. He conducts advanced training courses for ophthalmologists (DOC, DOG, ARVO, ESCRS) and is a reviewer in various scientific associations.
Since 2016, the specialist has been the President of the Organization of Specialized German Clinics for Laser Surgery of the Eye and Refractive Surgery (VSDAR).
Photo of the doctor: (c) PAN Klinik
Department of Adult and Pediatric Ophthalmology.
PAN Clinic Cologne:

Request more information now.
We will be happy to answer all your questions.
---
Certificates