Department of Otolaryngology (

62

)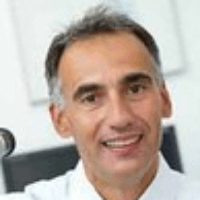 Dr. med.
Emil Zenev
Specialized in: otolaryngology
About the department
The Department of Otolaryngology at the PAN Clinic offers top-class treatment methods. With the state-of-the-art methods and devices, such as ENT navigational system (the first in North Rhine-Westphalia), the highly-qualified physicians under the direction of Dr. med. habil. Emil Zenev deal not only with general otolaryngology but also perform ear microsurgery, navigation surgery of paranasal sinuses and salivary glands. In addition, the Department of Otolaryngology has its own Sleep Laboratory where it is possible to diagnose snoring, as well as to provide its surgical treatment.
The service range of the department includes:
Navigation surgery
Ear microsurgery
Nose and paranasal sinus surgery
Laser and radiofrequency surgery
Plastic surgery
Laser surgery
Diagnosis and treatment of snoring
Salivary gland surgery
Midface reconstruction
Thyroid surgery
Curriculum vitae
1981 Certificate of maturity (Abitur).
1981 - 1983 Military service.
1983 - 1990 Studied Medicine at the Higher Medical School of Sofia with the state examination and approbation.
1986 Trimester in the First Medical Faculty of Moscow, advanced training at the Department of Cardiosurgery.
1990 - 1991 Doctor-assistant of Otolaryngology, Kyustendil, Bulgaria.
1991 - 1993 Doctor-assistant of Otolaryngology, University Hospital of Sofia.
1993 - 1995 Assistant Doctor, University Clinic of the Free University of Berlin, Benjamin Franklin.
1995 - 2000 The Head of the Department at he the Potsdam clinic, Free University of Berlin.
1995 Examination for the doctor-otolaryngologist, the medical chamber of Brandenburg.
1999 Defense of the thesis with an evaluation of "magna cum laude" - "very good" on the topic "Bipolar thermotherapy of hyperplasia of the" nasal concha".
2000 - 2002 Senior doctor-otolaryngologist at the Bad Lipspringe clinic.
2002 Passing the (optional) exam for a specialist surgeon, the Westfalen-Lippe medical chamber in Münster.
2005 Examination for the specialisation "Plastic surgery and reconstructive surgery" in the Department of Otolaryngology, Head and Neck Surgery, the medical chamber of Munich.
2002 - 2006 Head of the Department of Otolaryngology Clinic Augsburg at the University Hospital of the Ludwig-Maximilian Munich University.
2007 Defense of doctoral thesis at the University of Sofia: "Surgical treatment of fractures in the middle zone of the face and skull base - Current problems in the treatment of laterobasal and medio-facial fractures, as well as the use of navigation surgery in skull trauma".
Since 2007 Partner in the Otolaryngology practice of the PAN clinic in Cologne.
Since 01.04.2009 The owner of private practice of the PAN-Clinic am Neumarkt.
Photo of the doctor: (c) Pan Klinik
Department of Otolaryngology.
PAN Clinic Cologne:

Request more information now.
We will be happy to answer all your questions.
---
Certificates