Department of Adult and Pediatric Otolaryngology (

62

)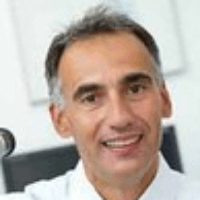 Dr. med.
Emil Zenev
Specialized in: adult and pediatric otolaryngology
About the Department of Adult and Pediatric Otolaryngology at PAN Clinic Cologne
The Department of Adult and Pediatric Otolaryngology at the PAN Clinic Cologne offers all the options of modern medicine for conservative and surgical treatment of acute and chronic diseases of the ears, nose, pharynx and larynx, as well as vertigo, tinnitus and voice disorders. In addition, the department's otolaryngologists are competent in plastic and aesthetic surgery on the head and neck. The department admits both adults and young patients. Many therapeutic procedures and operations are performed on an outpatient basis, without hospitalization and long hospital stay. The doctors working in the department are distinguished by their exceptional professionalism and they are deservedly proud of their excellent clinical results. Their primary interest is the surgical treatment of ENT diseases provided with the use of the very latest surgical techniques, including minimally invasive surgery, microsurgery, navigation surgery, endoscopic and laser procedures. In addition to the high level of medical care, the specialists make every effort to create a pleasant atmosphere in the department, in which the patient will feel as comfortable as possible. The Chief Physician of the department is Dr. med. Emil Zenev.
An important focus of the department's doctors is on ear surgery and surgery to improve hearing. The doctors often admit patients with severe hearing loss who require partially implantable hearing aids or cochlear implantation. The department's physicians prefer SOUNDBRIDGE® and BONEBRIDGE® partially implantable hearing aids, which have proven themselves worldwide. The placement of such implants is indicated for the patients with severe hearing loss, when the use of conventional external hearing aids is ineffective. The SOUNDBRIDGE® and BONEBRIDGE® partially implantable hearing aids guarantee excellent quality of hearing, preservation of ear receptors and nerve endings. They have a long service life (more than 20 years) and are comfortable to wear, so patients can be sure of a successful treatment outcome. In case of severe types of sensorineural hearing loss, the team of the department's otolaryngologists performs cochlear implantation. The medical facility uses in its clinical practice SYNCHRONY® cochlear implant, which is the most advanced hearing aid available today. In addition to the fact that this implant allows the patient to return hearing and is of the highest quality, its fundamental innovation is the ability for the patient to undergo high-resolution MRI scanning. MRI is usually prohibited in patients with cochlear implants. Due to the high risks to the patient's health, the implant is removed prior to the procedure.
The department also successfully performs nasal and paranasal sinus surgery. The most popular surgical procedures are septorhinoplasty and septoplasty. Both interventions are performed for nasal septum reshaping, including for a deviated septum. The department often performs surgery to remove nasal polyps and tumors. The use of minimally invasive, microsurgical and endoscopic techniques allows the doctors to perform the operations practically without traumatizing healthy tissues, which significantly reduces the period of postoperative recovery for the patient and reduces the severity of pain.
The therapeutic offer in the field of surgical treatment of pathologies of the throat and other organs of the neck includes adenectomy (also in children), tonsillotomy, tonsillectomy, neck dissection, surgery to remove neck cysts and fistulas, operations on the salivary glands and thyroid gland. In addition, the medical facility deals with treatment of obstructive sleep apnea by implanting the innovative Inspire device. The system consists of a breath sensor and a stimulating electrode, which is activated by a small generator. The functioning of the device is controlled using a special remote controller. The Inspire system has been clinically tested and proven to be effective in the treatment of obstructive sleep apnea. The service life of the device is more than 10 years. The treatment using the Inspire system is indicated for patients with severe sleep disorders. It is an excellent alternative to CPAP therapy.
The department's diagnostic and therapeutic options include:
Diagnostics

Diagnostics of hearing loss and ear diseases

Microscopy (for example, in case of exostosis, tympanic membrane perforation, otitis media, etc.)
Pure-tone audiometry
Speech audiometry
Tympanometry for the assessment of tympanic membrane mobility
Assessment of the stapedius reflex
Assessment of brain stem activities
Otoacoustic emission (otoacoustic test)

Diagnostics of nasal and paranasal sinus diseases

Rhinoscopy and nasal endoscopy (for example, in case of deviated nasal septum, nasal polyps, tumors, foreign bodies, etc.)
4-phase rhinomanometry

Diagnostics of the throat and neck

Ultrasound examinations (for example, in case of diseases of the salivary glands, mumps, pathological changes in the soft tissues of the neck, etc.)

Diagnostics of allergies

Prick tests
Nasal provocation tests for upper respiratory diseases
RAST test

Vertigo diagnostics
Snoring diagnostics

Therapy

Conservative treatment

Drug therapy
Acupuncture (for example, in case of allergies, sudden hearing loss, tinnitus, dizziness)

Surgical treatment

Ear surgery and surgery to improve hearing

Cochlear implantation
Aesthetic external ear surgery
Removal of exostoses of the external auditory canal
Surgery for defects of the tympanic membrane and auditory ossicles (type I, II and III tympanoplasty)
Implantation of bone-anchored hearing aids
Middle ear surgery in case of chronic inflammation and middle ear injuries
Eustachian tube balloon dilation in case of its stenosis (including in young children)
Surgery for inner ear ossification
Surgery for restoring middle ear ventilation (paracentesis)
Eardrum reconstruction surgery (myringoplasty)
Tympanostomy tube placement
Stapedoplasty to improve hearing in otosclerosis

Nasal and paranasal sinus surgery

Functional and aesthetic surgery on the internal and external nasal structures (septorhinoplasty)
Maxillary sinus surgery
Turbinate reduction surgery
Septum straightening surgery (septoplasty)

Surgery on the throat and other organs of the neck

Surgical removal of neck cysts and fistulas
Laryngoscopy
Surgery for laryngeal diseases
Neck dissection
Surgery to remove tonsils in children (adenotomy)
Surgery on the palatine tonsils (tonsillotomy and tonsillectomy)
Thyroid surgery
Surgery on the salivary glands
Surgical treatment of snoring and obstructive sleep apnea, including implantation of the innovative Inspire system

Plastic and aesthetic facial and neck surgery
Surgery for improving voice
Endoscopic interventions

Ear microscopy
Tympanoscopy
Pharyngoscopy
Rhinopharyngoscopy
Epipharyngoscopy
Sinuscopy
Laryngoscopy
Tracheoscopy
Bronchoscopy

Reconstructive and aesthetic facial surgery
Skull base and midface surgery
Laser surgery

Other diagnostic and treatment methods
Curriculum vitae of Dr. med. Emil Zenev
Higher Education and Professional Career
1983 - 1990 Study of Medicine, State Examination and Admission to Medical Practice, Medical University, Sofia.
1986 Trimester at the Faculty of Medicine in Moscow, advanced training in the Department of Cardiac Surgery.
1990 - 1991 Assistant Physician, Department of Otolaryngology, Hospital in Kyustendil, Bulgaria.
1991 - 1993 Assistant Physician, Department of Otolaryngology, University Hospital Sofia.
1993 - 1995 Assistant Physician, Charite University Hospital, Campus Benjamin Franklin.
1995 - 2000 Acting Head of the Department at the Hospital Potsdam, Free University of Berlin.
1995 Board Certification in Otolaryngology, State Medical Association of Brandenburg.
1999 Doctoral thesis defense with honors. Subject: "Bipolar thermotherapy for nasal concha hyperplasia".
2000 - 2002 Senior Physician, Department of Otolaryngology at the Hospital Bad Lippspringe.
2002 Board Certification (optional) in special ENT surgery, Medical Association of Westphalia-Lippe in Muenster.
2005 Board Certification in Plastic and Reconstructive ENT Surgery, Head and Neck Surgery, Munich Medical Association.
2002 - 2006 Managing Senior Physician, Department of Otolaryngology at the Academic Hospital Augsburg of Ludwig Maximilian University of Munich.
2007 Habilitation at the University of Sofia. Subject: "Surgical treatment of midface and skull base fractures – relevant problems in the treatment of latero-basal and midfacial fractures, as well as the use of navigation surgery in skull traumatology".
Since 2007 Partner in ENT Practice at the PAN Clinic Cologne.
Since 01.04.2009 Head of the Department of Adult and Pediatric Otolaryngology at the PAN Clinic Cologne.
Photo of the doctor: (c) PAN Klinik
Department of Adult and Pediatric Otolaryngology.
PAN Clinic Cologne:

Request more information now.
We will be happy to answer all your questions.
---
Certificates