Department of Vascular Medicine and Surgery (

68

)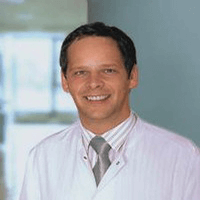 Dr. med.
Stefan Schulte
Specialized in: vascular medicine, surgery
About the department
The Department of Vascular Medicine and Surgery at the PAN Clinic offers medical care, advanced diagnostic methods, comprehensive therapy and follow-up care. In cooperation with the partners, the competent team under the direction of Dr. med. Stefan Schulte will develop the best customized treatment plan corresponding to the latest medical standards. Many years of experience in open and minimally invasive surgical procedures for the treatment of both veins and arteries allow the department to provide high quality medical care.
The service range of the department includes:
Vascular diagnosis
Thrombosis treatment
Infusion therapy for the treatment of circulatory disorders
Vascular surgery
Varicose veins

Minimally invasive varicose vein surgery, laser therapy, radio wave therapy
Sclerotherapy, microsclerotherapy, microfoam sclerotherapy
Implantation of catheter systems (e.g. port)

Surgery on the carotid artery, abdominal cavity and lower limb arteries

Open surgery
Minimally invasive catheter surgery: balloon dilation, stents, stent prostheses

Dialysis shunt surgery
Vascular dysplasia
Nerve stimulation for the treatment of circulatory disorders
Curriculum vitae
Professional background
1987 – 1995 Study of Human Medicine at the University of Cologne.
1995 – 2002 Postgraduate training in Surgery and Vascular Surgery under the auspices of Prof. Dr. S. Horsch, Department of Surgery (General Surgery, Vascular Surgery and Traumatology), Hospital Porz am Rhein.
1997 License to practice medicine.
1998 Doctorate.
2000 Board certification in Surgery.
2002 – 2007 Senior Physician at the Hospital Porz at the Rhein, Department of Surgery, last positions: Leading Senior Physician and Head of the Department of Vascular Surgery.
2003 Sub-specialization Vascular Surgery.
2006 – 2011 License to conduct advanced training in Vascular Surgery.
2007 – 2011 In-patient physician of the MediaPark-Clinic at the Center for Vascular Medicine and Vascular Surgery.
1/2012 Opening of the Vascular Center Cologne Am Neumarkt at the PAN Clinic Cologne.
Practice Areas
Vascular diagnostics.
Thrombosis management.
Minimally invasive varicosurgery (laser techniques, radio wave therapy).
Arterial vascular surgery of the cervical, abdominal and femoral arteries.
Minimally invasive catheter techniques on the arteries (balloon dilatations, stents, stent prostheses).
Member of Medical Societies
German Society of Surgery (DGC).
German Society of Vascular Surgery (DGG).
European Society for Vascular Surgery (ESVS).
International Society for Vascular Surgery (ISVS).
International Society of Endovascular Specialists (ISES).
International Neuromodulation Society (INS).
Scientific and Public Activities
Provisional General Secretary of the German League for the Control of Vascular Diseases e.V.
Organization of Vascular Surgery Congresses (Congress Secretary).
Organization and moderation of workshops on vascular surgery.
Supervision of international clinical trials.
Numerous publications and scientific lectures, co-author of monographs.
Collaboration in the creation of medical guidelines.
Photo of the doctor: (c) Pan Klinik
Department of Vascular Medicine and Surgery.
PAN Clinic Cologne:

Request more information now.
We will be happy to answer all your questions.
---
Certificates