Private Hospital Obach Solothurn
Department of Orthopedics and Traumatology (

274

)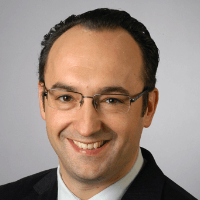 Prof. Dr. med.
Victor Valderrabano
Specialized in: orthopedics, traumatology
About the department
Orthopedic physician deals with treatment of diseases, injuries and malformations of the musculoskeletal system. The most common surgeries include:
Hip and knee joint replacement
Arthroscopic procedures on various joints
Procedures on the hands and feet
Reconstruction of the ligament on the knee and ankle joints
Shoulder surgery
Curriculum vitae
Ausbildung und Werdegang
2009-2014 Chefarzt Orthopäd. Uni-Klinik Basel, Universitätsspital Basel
2009 Professor Orthopädie-Traumatologie, med. Fakultät, Universität Basel
2006 Habilitation/Venia Docendi (Privatdozent) Orthopädie-Traumatologie, med. Fakultät, Universität Basel
2003 - 2005 "Philosophy Doctor /PH.D." in Biomechanics, Human Performance Laboratory, Kinesiology, University of Calgary, Canada
1999 - 2005 Weiterbildung Facharzt Orthopäd. Chirurgie und Traumatologie des Bewegungsapparates FMH, Universitätsspital Basel, Spital Davos, Orthopedics, Department University of Calgary
1996 - 1997 "Doktor in Medizin", med. Fakultät Zürich, Universität Zürich
1993 - 1999 Humanmedizinstudium, Universität Zürich
Weitere Zusatzausbildungen
2002-2003 Sportsmedizin SGSM
2005 Teaching Certificate of the University of Calgary, Canada
Grosse Anzahl Orthopädisch-Traumatologischer Technikkurse
Photo of the doctor: (c) Privatklinik Obach
Department of Orthopedics and Traumatology.
Private Hospital Obach Solothurn:

Request more information now.
We will be happy to answer all your questions.
---