Rambam Health Care Campus Haifa
Department of Cardiac Surgery (

302867

)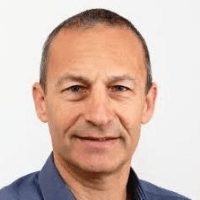 Prof. Dr. med.
Gil Bolotin
Specialized in: cardiac surgery
About the Department of Cardiac Surgery at Rambam Health Care Campus Haifa
The Department of Cardiac Surgery at the Rambam Health Care Campus Haifa offers the full range of open and sparing minimally invasive heart interventions. A highly qualified team of professionals takes care of the patients' health. They have in their arsenal operating rooms with state-of-the-art equipment. The department is headed by Prof. Dr. med. Gil Bolotin. He is a highly competent cardiac surgeon who is well-known in Israel and far beyond it.
The most popular interventions include coronary artery bypass grafting, heart valve reconstruction and replacement surgery and a combination of these two types of interventions. The priorities of the department's specialization also include surgical correction of congenital heart defects, treatment of arrhythmias, cardiac aneurysms, cardiac remodeling procedures in patients with congestive heart failure.
The department aims to provide medical services in accordance with the very latest achievements in the area of its specialization. It uses state-of-the-art technologies and new surgical techniques, including off-pump coronary artery bypass grafting and new surgical methods for congestive heart failure, including reconstruction of the left ventricle. A number of procedures are performed using minimally invasive techniques. The decision to apply this or that technique is made by surgeons according to the results of the comprehensive preoperative diagnostics. The final decision is made individually for each patient.
It should be noted that the medical facility is the second Heart Surgery Center in the world, which performed a hybrid operation to treat atrial fibrillation.
The department's surgical service range includes:
Coronary artery bypass grafting, including on a beating heart and using minimally invasive techniques
Direct coronary artery bypass grafting
Heart valve replacement and reconstruction surgery
Angioplasty
Comprehensive treatment of aortic aneurysms
Surgical treatment of congenital heart defects
Hybrid treatment method for arrhythmias
Surgical treatment of coronary heart disease
Surgical treatment of heart failure
Surgical treatment of atherosclerosis
Surgical treatment of mitral valve defects (innovative MitraClip technique)
Surgical treatment of cardiomyopathies
Surgical treatment of aortic dissection
Surgical treatment of aortic aneurysm
Surgical closure of the prosthetic fistula
Transcatheter aortic valve implantation (TAVI)
Artificial heart implantation
Other medical services
Curriculum vitae of Prof. Dr. med. Gil Bolotin
Dr. Gil Bolotin is a graduate of the Faculty of Medicine at the Hebrew University in Jerusalem. He completed his clinical training at the Department of Cardiothoracic Surgery at the Carmel Medical Center in Haifa. In addition, the doctor was awarded a doctorate degree from the University of Maastricht, Netherlands. Dr. Bolotin underwent training in mitral and robotic surgery (Fellowship in North Carolina (2002 - 2003)), as well as in heart transplant, implantation of assist devices for atrial fibrillation (Visiting Professor at the University of Chicago (2003 - 2004)). He also served as a Visiting Professor in the Department of Cardiothoracic Surgery, Academic Hospital Maastricht, Maastricht, Netherlands (2006 - 2007).
Dr. Bolotin's main research and clinical interests include heart valve repair and replacement, aortic surgery, surgical treatments for heart failure, robot-assisted and minimally invasive cardiac surgery, surgical treatments for atrial fibrillation.
Photo of the doctor: (c) Rambam Health Care Campus Haifa
Department of Cardiac Surgery.
Rambam Health Care Campus Haifa:

Request more information now.
We will be happy to answer all your questions.
---
Certificates