Rambam Health Care Campus Haifa
Department of Orthopedic Surgery (

302871

)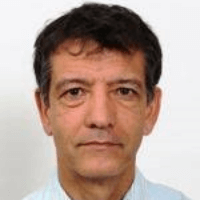 Prof. Dr. med.
Doron Norman
Specialized in: orthopedic surgery
About the Department of Orthopedic Surgery at Rambam Health Care Campus Haifa
The Department of Orthopedic Surgery at the Rambam Health Care Campus Haifa specializes in the diagnostics and treatment of the full range of diseases and injuries of the musculoskeletal system, including rehabilitation measures. The specialists demonstrate excellent results in hand surgery, reconstruction and lengthening of the lower limbs, arthroscopy, treatment of cancers, sports injuries, shoulder and hip diseases, spinal diseases, etc. The department has the status of one of the leading Trauma Centers in the country. The department is headed by Prof. Dr. med. Doron Norman.
The department has received international recognition for top-class medical services, patient care, as well as for the development of excellent rehabilitation programs, scientific and educational activities. The orthopedic surgeons of the medical facility prefer minimally invasive treatments, which can reduce pain and facilitate the recovery process.
In the field of clinical research, special attention is paid to monitoring during the operations, which helps the doctors to improve results and increase the effectiveness of surgical interventions. The department has an extensive training program, which is implemented in collaboration with the Ruth and Bruce Rappaport Faculty of Medicine and aimed at the improvement of the quality of education in orthopedics.
The surgical spectrum of the department includes:
Arthroscopy
Tissue sampling (biopsy) in suspected musculoskeletal cancers
Injection therapy for joint and tendon pain syndromes
Intramuscular and subcutaneous injections
Knee replacement surgery
Hip replacement surgery
Shoulder replacement surgery
Minimally invasive knee surgery
Reconstructive surgery to correct congenital malformations of the upper limbs
Hallux valgus correction
Surgical treatment of tennis elbow
Surgical treatment of acromioclavicular joint lesions
Surgical treatment of curved limbs
Surgical treatment of shoulder fractures
Treatment by means of external fixation systems
Surgery for intervertebral disc diseases (discectomy/laminectomy)
Lower limb amputations (above and below the knee)
Nerve ending decompression
Surgical treatment of dislocations
Surgical treatment of ligament ruptures
Vertebroplasty
Nucleoplasty
Surgical correction of scoliosis
Minimally invasive spinal surgery (posterior lumbar fusion, transforaminal lumbar interbody fusion)
Other therapeutic options
Curriculum vitae of Prof. Dr. med. Doron Norman
Dr. Doron Norman is the Chief Physician of the Department of Orthopedic Surgery at the Rambam Health Care Campus Haifa. He is also a Clinical Lecturer at the Technion (Rut and Rappaport Faculty of Medicine, Israel Institute of Technology).
Dr. Norman's main interest is orthopedic trauma surgery, including complex fractures of the lower (hip, knee, tibia, foot and ankle) and upper (shoulder, arm, forearm, wrist) limbs, complicated elbow injury and elbow arthroplasty.
Dr. Norman received his doctorate from the Rappaport Faculty of Medicine, and was trained in Orthopedic Surgery at Rambam. He completed a fellowship in Orthopedic Surgery at the Royal National Orthopedic Hospital in Stanmore, UK, and in Bochum, Germany.
Dr. Norman is one of the founders of Voyant Health, where, as the company's VP of clinical applications, he is responsible for guiding the development of Voyant Health products and their clinical applications. Recognized as a leader in his field, he teaches courses internationally on treating complex fractures.
From 2008 till 2014, Dr. Norman served as Chairman of the Israel Orthopedic Trauma Society.
Photo of the doctor: (c) Rambam Health Care Campus Haifa
Department of Orthopedic Surgery.
Rambam Health Care Campus Haifa:

Request more information now.
We will be happy to answer all your questions.
---
Certificates