Rambam Health Care Campus Haifa
Department of Urology (

302875

)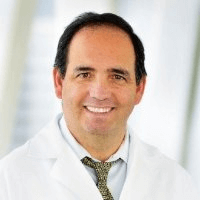 Prof. Dr. med.
Gilad Amiel
About the Department of Urology at Rambam Health Care Campus Haifa
The Department of Urology at the Rambam Health Care Campus Haifa offers the full range of medical services for the diagnostics and treatment of urinary tract diseases in men and women, as well as reproductive disorders in men. The department also has the most modern equipment and imaging technologies for the provision of high-quality surgical treatment of all urological pathologies. The health of patients is in the hands of the highly qualified doctors who keep pace with the innovations in medicine and apply their knowledge and skills for the effective treatment of ailments, even the most severe ones. The department is headed by Prof. Dr. med. Gilad Amiel.
The department's urologists mostly diagnose and treat patients with prostate cancer or benign prostatic hyperplasia, kidney stone disease, congenital malformations of the urinary tract. It is worth noting that the department's specialists have extensive experience in such endoscopic procedures as percutaneous nephrolithotomy and ureteroscopy using the very latest endoscopes, laser devices and imaging systems. The Dornier HM3 device, which is the most effective urological lithotripter, can also be used to treat urological diseases. If possible, minimally invasive treatment methods are preferred. However, in some cases, the traditional open surgery, which is also part of the service range of the department, remains the optimal treatment method. In addition, special attention is paid to the treatment of patients with benign diseases of the prostate gland. The operations to treat benign diseases are performed using resectoscopes, which minimize complications after transurethral resection of the prostate. The department also carries out a biopsy and diagnostics of prostate cancer using a special sonar system. This disease can be treated using various surgical techniques. In many cases, the doctors also resort to brachytherapy (internal radiation).
The department specializes in the diagnostics and treatment of the following urological pathologies:
Cancers

Prostate cancer
Testicular cancer
Kidney cancer
Bladder cancer
Malignant urinary tumors

Benign prostatic hyperplasia
Urethral stricture
Peyronie's disease
Urinary incontinence
Kidney stone disease
Erectile dysfunction
Male infertility
Prostatitis
Congenital urinary malformations
Kidney anomalies
Abnormalities of the reproductive organs
Inflammatory urological diseases
Varicocele
Phimosis
Other diseases
The department's range of medical services includes:
Diagnostic options

Cystoscopy
Urography
Electromyography (EMG) of the pelvic floor muscles
Selective angiography
Neurophysiological examinations
Doppler ultrasound examination
Nocturnal penile tumescence test (measurement of penile rigidity using the RigiScan device)

Therapeutic options

Stone fragmentation in the case of kidney stone disease

Extracorporeal shock wave lithotripsy
Ureteroscopy
Percutaneous nephrolithotomy

Bladder reconstruction

Formation of urostomy (ileal conduit)
Sigmo-rectal pouch for urinary diversion
Formation of artificial bladder from the small intestine

Cystectomy (bladder removal surgery)
Nephrectomy (kidney removal surgery)
Open prostatectomy (prostate removal surgery)

Retropubic approach
Suprapubical approach

Brachytherapy (modern high-tech method of radiation therapy, in which the source of radiation is placed in the immediate vicinity of the prostate)
Transurethral resection of the prostate
Robotic surgery (Da Vinci surgical system)

Other diagnostic and treatment methods
Curriculum vitae of Prof. Dr. med. Gilad Amiel
Dr. Amiel is a graduate of the Ben-Gurion University Medical School in Beer-Sheva and is a Captain in the Israeli Defense Forces. He completed a residency in Urology at the Bnai-Zion Medical Center in Haifa, during which he dedicated two years to basic science research (1998 - 2000). He also served as a Research Fellow at the Laboratory for Tissue Engineering and Cellular Therapeutics, Department of Urology at the Children's Hospital, Harvard Medical School in Boston (under the supervision of Dr. Anthony Atala).
Upon completion of his urologic residency in Israel in 2003, Dr. Amiel pursued a clinical and research fellowship in Urologic Oncology and Minimally Invasive Surgery at the Scott Department of Urology, Baylor College of Medicine in Houston, Texas (2004 - 2006). At Baylor, he established a Tissue Engineering Laboratory that focuses on translational research in genitourinary reconstruction. Thereafter, Dr. Amiel joined the Faculty at Baylor in 2007 and was an Associate Professor, Director of Education and the Director of the Laboratory for Genitourinary Tissue Engineering in the Scott Department of Urology at Baylor.
In February 2015, Dr. Amiel accepted the position of the Chief Physician of the Department of Urology at the Rambam Health Care Campus Haifa. He also maintains a position of Associate Professor at the Scott Department of Urology, Baylor College of Medicine. Dr Amiel recently received the Clinical Research Institute of Rambam (CRIR) grant and is currently establishing the Laboratory for Genitourinary Reconstruction at the Clinical Research Institute at Rambam.
Dr. Amiel's clinical practice consists of urologic oncology and genitourinary reconstruction. He performs robotic, laparoscopic and open surgery for bladder, kidney, prostate, testis and penile cancer, including robotic partial nephrectomy, robotic cystectomy, complex reconstructive urinary operations. After performing over 150 robotic cystectomy cases at Baylor College of Medicine, he established the first Robotic Cystectomy Program in Israel at Rambam and performed almost 30 cases as of December 2015. Dr. Amiel's basic research focuses on genitourinary reconstruction utilizing biological matrices and adipose stem cells. His clinical research projects focus on the treatments for bladder cancer, prostate cancer and cancer education.
Dr. Amiel received several teaching and education awards and until recently (10.2015) served as the President of the American Association for Cancer Education (AACE). He currently serves as the Chairman of the Advisory Board to the AACE. Prof. Amiel is also a Member of the American Urological Association (AUA), Urology Research Foundation (URS), Bladder Cancer Advocacy Network (BCAN), Tissue Engineering and Regenerative Medicine International Society (TERMIS), Israel Medical Association (IMA) and several other organizations. He is the Associate Editor of the Journal of Cancer Education and a Reviewer for several other journals. He received thus far 16 grants, including a NIH-SBIR Grant (over 3 million dollars), and was PI or Co-Investigator in numerous clinical trials. He has co-authored over 60 peer-reviewed publications and book chapters.
Photo of the doctor: (c) Rambam Health Care Campus Haifa
Department of Urology.
Rambam Health Care Campus Haifa:

Request more information now.
We will be happy to answer all your questions.
---
Certificates