Rambam Health Care Campus Haifa
Department of Rheumatology (

302887

)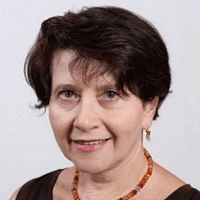 Prof. Dr. med.
Alexandra Balbir
Specialized in: rheumatology
About the Department of Rheumatology at Rambam Health Care Campus Haifa
The Department of Rheumatology at the Rambam Health Care Campus Haifa provides all medical services for the diagnostics and treatment of the full range of rheumatic diseases, including inflammatory joint diseases, connective tissue diseases, dystrophic and metabolic joint pathologies. The department also has extensive experience in the treatment of patients with collagenoses and rheumatic lesions of the heart, lungs and digestive system. The department carries out intra-articular injections, as well as individually selects physiotherapy and ergotherapy regimes. The Chief Physician of the department is Prof. Dr. med. Alexandra Balbir.
The department's doctors provide the emergency diagnostics of joint and tendon diseases using a portable ultrasound device. In addition, the department has rich experience in the use of biological drugs. It conducts all types of treatment using anti-TNF drugs, MabThera, Actemra, Abatacept, Benlysta and intravenous immunoglobulin.
Preference is given to multidisciplinary approach to treatment, which involves the cooperation of a rheumatologist, a nurse with special training in rheumatology, a clinical research coordinator, a physiotherapist, an occupational therapist, a social worker and a psychologist. This approach is particularly successful in patients suffering from systemic rheumatic diseases.
The department is part of the Faculty of Medicine at the Technion, where the doctors from Israel and other countries undergo internships. The medical facility has received national recognition in the area of its specialization and is the training center for therapists, family doctors, as well as interns. Moreover, the department takes part in numerous research projects on scleroderma, inflammatory joint diseases, ultrasound examinations of the musculoskeletal system and the use of biological drugs.
The key fields of the department's clinical practice include:
Diagnostics and treatment of rheumatoid arthritis
Diagnostics and treatment of ankylosing spondylitis
Diagnostics and treatment of arthropathia psoriatica
Diagnostics and treatment of connective tissue diseases (systemic lupus erythematosus, systemic scleroderma, vasculitis, myositis, Sjogren's syndrome)
Diagnostics and treatment of autoimmune inflammatory diseases (Behcet's disease, familial Mediterranean fever)
Diagnostics and treatment of degenerative joint diseases
Diagnostics and treatment of metabolic diseases (gout, pseudogout)
Diagnostics and treatment of pain syndromes (enthesopathy, regional pain syndromes, fibromyalgia)
Diagnostics and treatment of osteoporosis
Diagnostics and treatment of rheumatic lesions of the lungs, heart and gastrointestinal tract
Diagnostics and treatment of other diseases
Curriculum vitae of Prof. Dr. med. Alexandra Balbir
Prof. Alexandra Balbir has been the Chief Physician of the Department of Rheumatology at the Rambam Health Care Campus Haifa since 2007. She immigrated to Israel from Ukraine in 1989 and completed her residency in Internal Medicine (1990 - 1994) in the Department of Internal Medicine at B'nai Zion Hospital (she specialized in Rheumatology at Rambam (1994 - 1997)) and has been a Senior Rheumatologist since 1997. In 2000, she had a fellowship in the Section for Connective Tissue Diseases at the Royal Free Hospital in London. Dr. Balbir is a Clinical Assistant Professor at the Rappaport Faculty of Medicine of the Technion (Israel Institute of Technology), where her lectures and bedside teaching are highly appreciated by students.
Prof. Balbir is a Member of the Executive Committee of the Israeli Society of Rheumatology. She is also a Member of international organizations, including ACR and EULAR. She is an Active Member of the Scleroderma Research Group (EUSTAR) and a Member of the EULAR Target US initiative. Dr. Balbir maintains the largest Israeli scleroderma registry and operates a Scleroderma Clinic and a Multidisciplinary Fibrovascular Clinic for patients with respiratory problems and rheumatic diseases. She has published articles in the field of scleroderma, myositis, vasculitis, rheumatoid arthritis, biological therapies. Prof. Balbir has organized several US courses for Israeli rheumatologists, and every two years she organizes an International Rheumatology Scientific Conference.
Photo of the doctor: (c) Rambam Health Care Campus Haifa
Department of Rheumatology.
Rambam Health Care Campus Haifa:

Request more information now.
We will be happy to answer all your questions.
---
Certificates