Rambam Health Care Campus Haifa
Department of Gastroenterology (

302891

)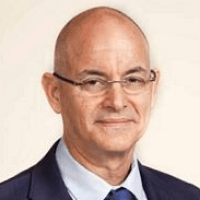 Prof. Dr. med.
Yehuda Chowers
Specialized in: gastroenterology
About the department
The Department of Gastroenterology at the Rambam Health Care Campus Haifa offers the full range of high-quality services for the diagnostics and treatment of patients with pathologies of the gastrointestinal tract, liver, biliary tract and pancreas. Itperforms a wide range of invasive and non-invasive treatment and diagnostic procedures, as well as various types of endoscopic examinations. All diagnostic and therapeutic measures are carried out using state-of-the-art technical equipment, which makes them as effective as possible. The department is one of the best medical facilities in the area of its specialization not only in Israel, but also in the international arena. The department is headed by Prof. Dr. med. Yehuda Chowers.
It is worth noting that the department is actively involved in international clinical trials of new and experimental drugs. The doctors of the medical facility participated in the development of the PillCam™ video capsule for the examination of the small intestine, as well as of the esophagus and colon. This capsule was first used in clinical practice in Israel. According to rough estimates, about 700,000 patients have already undergone this diagnostic procedure.
The main diagnostic options of the department include:
Endoscopic retrograde cholangiopancreatography (for the diagnostics and treatment of diseases of the pancreas and bile duct)
Endoscopic examination of the upper gastrointestinal tract (gastroscopy)
Endoscopic examination of the lower gastrointestinal tract (sigmoidoscopy, colonoscopy)
Percutaneous endoscopic gastrostomy
Video capsule endoscopy
Liver biopsy

Conventional liver biopsy (puncture, percutaneous)
Laparoscopic liver biopsy
Transjugular liver biopsy

Other diagnostic methods
The department's range of medical services includes:
Diagnostics and treatment of Crohn's disease

Diagnostics

Colonoscopy, virtual colonoscopy
Gastroscopy
Fecal occult blood test
Barium enema or irrigoscopy
Biopsy
Blood test for C-reactive protein and antibodies
CT scan (computed tomography)
MRI (magnetic resonance imaging)

Therapy

Anti-inflammatory drug therapy
Immunosuppressive therapy
Antibiotic therapy
Surgical treatment

Diagnostics and treatment of hemorrhoids

Conservative treatment
Surgical treatment

Ligation of hemorrhoidal vessels by means of latex rings
Transanal hemorrhoidal dearterialization
Hemorrhoidectomy (surgical removal of enlarged hemorrhoids)

Diagnostics and treatment of anal fissures

Conservative treatment

Ointments
Injection therapy

Surgical resection

Sphincterotomy
Fissurectomy

Diagnostics and treatment of hepatitis C

Diagnostics

Blood test
Tests to assess the number of viruses in the blood and identification of the genotype of the virus carried by the patient
Tests to assess liver function (liver tests)
Liver ultrasound
Liver biopsy

Therapy

Treatment with pills
Percutaneous injection therapy
Combination of the two above-mentioned methods
Liver transplantation

Diagnostics and treatment of cirrhosis

Diagnostics

Biochemical profile, including viral hepatitis markers
Liver ultrasound scanning or computed tomography (CT)
Liver biopsy

Therapy

Immunomodulatory therapy for viral hepatitis
Therapy using steroid drugs or other immunosuppressants for the treatment of autoimmune diseases, which cause liver damage
Diuretic therapy for ascites
Hepatoprotective therapy
Plasmapheresis procedures
Anti-itch medications
Zinc medications (in its deficiency)
Vaccination against hepatitis A, influenza and pneumococcal infection
Prevention and treatment of osteoporosis
Drugs for the control of portal hypertension
Paracentesis for ascites (puncture of the abdominal wall for the removal of liquid from the abdominal cavity)
Emergency treatment of haemorrhages
Liver transplantation

Diagnostics and treatment of reflux esophagitis

Diagnostics

Advanced blood count
Esophagogastroduodenoscopy
X-ray of the esophagus using contrast medium (barium)
Acidity testing in the stomach and esophagus
Manometry (esophageal pressure measurement)

Therapy

Comprehensive treatment aimed at the elimination of symptoms, prevention of complications and elimination of the main causes of the disease (diet, antacids)
Surgical treatment (endoscopic minimally invasive techniques)

Diagnostics and treatment of gastroesophageal reflux disease (surgical treatment)
Diagnostics and treatment of cholelithiasis
Diagnostics and treatment of peptic ulcer
Diagnostics and treatment of gastritis
Diagnostics and treatment of intestinal diverticulosis
Diagnostics and treatment of gastrointestinal cancers

Esophageal cancer
Bowel cancer
Colon cancer
Rectal cancer
Stomach cancer
Pancreatic cancer
Liver cancer
Gallbladder cancer

Diagnostics and treatment of other diseases, other diagnostic and treatment methods
Curriculum vitae
Prof. Yehuda Chowers is the Chief Physician of the Department of Gastroenterology at the Rambam Health Care Campus Haifa and the Professor in the Technion Faculty of Medicine.
Prof. Chowers got his doctorate in Medicine from Ben-Gurion University. He conducted his postdoctoral fellowship in the Laboratory of Mucosal Immunology at the University of California in San Diego.
Prof. Chowers has many honors and awards, for example, the Advanced AGA Research Training Award of the American Gastroenterology Association. He is a two-time winner of Chaim Sheba Medical Center's Award for Excellence in Research.
Prof. Chowers is a Member of the European Crohn's and Colitis Organization (ECCO), the American Gastroenterology Association, the Israel Gastroenterology Association, and the Israel Medical Association. He was a Member of the ECCO Scientific Committee and the Assigned Representative of ECCO to the European Gastroenterology Association Scientific Committee. He serves in the Editorial Board of Alimentary Pharmacology & Therapeutics. He was an Associated Editor for the Journal of Crohn's and Colitis, and a Member of the Editorial Board for Gut.
Prof. Chowers' research interests are focused on personalized therapy of inflammatory bowel diseases based on understanding drugs mechanisms of action, immunogenicity and therapeutic drug monitoring of biologics, and the interplay between bacteria and the mucosal immune system. Additional research is performed to understand the mechanisms of radiation induced bowel injury and means to prevent it.
He has co-authored over 160 papers in professional journals, including basic research, clinical research articles, guidelines, case reports and review papers. Prof. Chowers has been a Lead Presenter and a Guest Speaker at conferences worldwide. He served on the organizing committees for a number of professional international conferences.
Photo of the doctor: (c) Rambam Health Care Campus Haifa
Department of Gastroenterology.
Rambam Health Care Campus Haifa:

Request more information now.
We will be happy to answer all your questions.
---
Certificates