University Hospital RWTH Aachen
Department of Dermatology and Allergology (

26097

)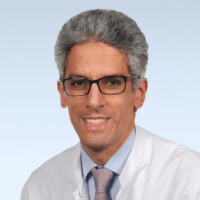 Prof. Dr. med.
Amir Yazdi
Specialized in: dermatology, allergology
About the Department of Dermatology and Allergology at University Hospital RWTH Aachen
The Department of Dermatology and Allergology at the University Hospital RWTH Aachen treats all skin diseases and is one of the leading medical facilities of this kind in Germany. The department's doctors specialize in the treatment of inflammatory skin diseases (for example, psoriasis, eczema), allergies, skin infections, diseases of the mucous membranes, nails and hair. The key focus of the department's work is the treatment of skin tumors. In addition, the department's dermatologists have unique experience in the treatment of rare skin diseases. The department is headed by Prof. Dr. med. Amir Yazdi.
The department positions itself as maximum care medical facility, in which all classical and advanced methods of diagnostics and therapy are available. The primary task of each employee is the effective treatment, which meets the very latest medical standards.
The department is proud of its outstanding achievements in the field of skin cancer treatment. After consultation with the doctor, the patient is prescribed a series of necessary diagnostic tests, which will help to determine the patient's health status and make an accurate diagnosis. Based on the results obtained, the doctors develop an individual treatment concept. If surgical intervention is necessary, great attention is paid not only to the therapeutic result, but also to the aesthetic aspect, especially in the case of skin tumors of the face, neck, etc.
The department also has a well-developed field of ​​aesthetic dermatology. In addition to laser services, it offers various general aesthetic procedures, for example, botulinum toxin A and hyaluronic acid injections, fruit peeling. The laser procedures are carried out within the interdisciplinary Center for Laser Medicine.
In the field of allergology, all the necessary diagnostic and therapeutic measures are carried out in order to provide medical care for the patients suffering from allergies to pollen, ticks, animal hair, food intolerance, drug allergies and occupational allergies. The spectrum is complemented by the treatment of atopic diseases, such as hay fever, allergic asthma, allergic conjunctivitis, eczema, urticaria, mastocytosis and insect venom allergy. The diagnostic options cover all types of prick tests, intracutaneous and epicutaneous skin tests, as well as tests for light-dependent allergies (photoprovocation) and inpatient provocative tests. After a thorough diagnostics, the doctors prescribe an optimal therapy (treatment with pills, ointments, etc.).
The service range of the department includes:
Dermatosurgery

Basal cell carcinoma resection
Squamous cell carcinoma surgery
Malignant skin melanoma resection
Surgery to treat rare malignant skin tumors
Treatment of сhronic wounds

Aesthetic dermatology

Laser procedures
Injections of hyaluronic acid fillers and botulinum toxin A
Fruit peeling

Diagnostics and treatment of skin tumors

Planning and performance of surgery to resect tumor and sentinel lymph nodes
Treatment of malignant skin tumors in accordance with the recommendations of professional societies (especially malignant melanoma, basal cell carcinoma, squamous cell carcinoma, skin lymphoma)
Light video microscopy in patients with high risk for dysplastic nevus syndrome
High-dose and low-dose adjuvant therapy using interferon alpha in malignant melanoma
Checkpoint inhibitor therapy (immunotherapy), antibody therapy, targeted therapy, chemotherapy and PUVA therapy (on both an outpatient and inpatient basis)
Additional treatment methods, such as chemoprevention with retinoids, photodynamic therapy (PDT), laser therapy, sensitization in skin melanoma metastases, the use of local modulators of immunity and differentiation, such as imiquimod or diclofenac
Interdisciplinary medical care (psychosomatics, pain therapy, surgery, radiation therapy, stereotactic surgery, palliative care)
Treatment within the clinical trials

Laser therapy (within the specialized interdisciplinary center)

Actinic keratoses and actinic cheilitis
Scars
Hirsutism
Benign vascular changes
Viral skin lesions
Skin pigmentation
Benign tumors and organoid nevi
Inflammatory dermatoses
Aesthetic procedures (skin resurfacing, skin rejuvenation)
Botulinum and hyaluronic acid injections in combination with ablative and non-ablative laser therapy
Peeling using fruit acid and salicylic acid in scars, acne
Photodynamic therapy with preliminary fractional ablative laser therapy

Diagnostics and treatment of allergies

Pollen allergy
Tick allergy
Insect venom allergy
Animal hair allergy
Drug allergy
Food intolerance
Occupational allergies
Hay fever
Allergic asthma
Allergic conjunctivitis
Eczema
Urticaria
Mastocytosis

Other medical services
Curriculum vitae of Prof. Dr. med. Amir Yazdi
Prof. Yazdi began his career as a Research Fellow at the University Hospitals in Munich and Tuebingen. This was followed by a scholarship from the German Research Foundation and the Marie Curie Scholarship at the Institute of Biochemistry, University of Lausanne, Switzerland. Since 2010, he worked in various positions, and recently held the position of the Leading Senior Physician in the Department of Dermatology at the University Hospital Tuebingen, which is the largest dermatological medical facility in Germany. The clinical interests of Dr. Yazdi include the diagnostics and treatment of allergies, ultramodern imaging-guided surgical interventions, drug therapy, innovative treatment methods for patients with malignant and inflammatory skin diseases.
Photo of the doctor: (c) Uniklinik RWTH Aachen
Department of Dermatology and Allergology.
University Hospital RWTH Aachen:

Request more information now.
We will be happy to answer all your questions.
---
Certificates