University Hospital RWTH Aachen
Department of Pediatric and Adolescent Medicine (

26105

)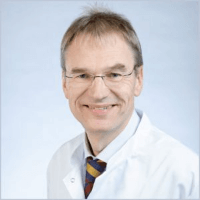 Prof. Dr. med.
Norbert Wagner
Specialized in: pediatric and adolescent medicine
About the Department of Pediatric and Adolescent Medicine at University Hospital RWTH Aachen
The Department of Pediatric and Adolescent Medicine at the University Hospital RWTH Aachen provides all modern methods of diagnostics and treatment of various diseases in children and adolescents. The department focuses on neonatology, pediatric neurology, pediatric hematology, oncology and stem cell transplantation. In addition, the outpatient clinic admits small patients with diseases of the endocrine organs, gastrointestinal tract, kidneys and urinary tract, as well as with urological problems, pulmonological, immunological, allergic and rheumatic pathologies. The department is headed by Prof. Dr. med. Norbert Wagner.
The highly qualified team of doctors takes care of the health of young patients. They make every effort in order to restore children's health. The department's outstanding medical service is awarded with the prestigious Ausgezeichnet. FÜR KINDER certification for children's medical facilities. Also, the department has wonderful children's infrastructure, including modern game rooms, patient rooms made in children's design. The department's doctors get along well with children and do everything possible to make the therapeutic process as comfortable as possible.
The service range of the department includes:
Neonatology

Treatment of newborns with severe diseases, such as heart defects, respiratory failure, asphyxiation, infections, seizures, metabolic disorders, etc.

Neuropediatrics

General neurological disorders in children
Convulsive disorders (epilepsy)
Neuromuscular diseases
Inflammatory diseases of the nervous system (for example, multiple sclerosis)
Cerebral vascular diseases
Hydrocephalus
Neurometabolic disorders
Brain malformations
Headaches

Pediatric hematology, oncology and bone marrow transplantation

Treatment of children and adolescents with all benign and malignant blood diseases, tumors, blood-clotting disorders and vascular malformations

Pediatric endocrinology and diabetology

Treatment of children with hormonal disorders, type 1 and type 2 diabetes mellitus

Pediatric gastroenterology

Treatment of children with chronic abdominal pain, gastrointestinal developmental disorders, gastrointestinal motility disorders, chronic gastrointestinal diseases (inflammatory bowel disease, celiac disease, gastroesophageal reflux, etc.), liver diseases

Pediatric urology

Treatment of children with all diseases of the kidneys and urinary tract, particularly, hydronephrosis, vesicoureteral reflux, urethral valves, genital malformations (hypospadias, epispadias), undescended testes, phimosis, disorders of the urinary bladder emptying, urinary tract infections, genitourinary stones

Pediatric nephrology

Treatment of children with polycystic kidney disease, kidney dysfunction due to malformations (urethral valves, reflux), kidney inflammation (glomerulonephritis), hypertension, etc.

Pediatric pulmonology, allergology and immunology

Treatment of children with congenital and acquired diseases of the respiratory and immune systems, allergies, impaired immune regulation and immunodeficiencies

Pediatric rheumatology

Treatment of children with juvenile idiopathic arthritis, systemic lupus erythematosus and dermatomyositis

Other medical services
Photo of the doctor: (c) Uniklinik RWTH Aachen
Department of Pediatric and Adolescent Medicine.
University Hospital RWTH Aachen:

Request more information now.
We will be happy to answer all your questions.
---
Certificates