University Hospital RWTH Aachen
Department of Radiation Oncology and Radiotherapy (

278199

)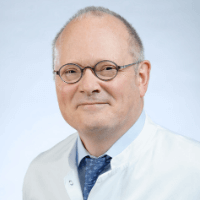 Prof. Dr. med.
Michael Johannes Eble
Specialized in: radiation oncology, radiotherapy
About the Department of Radiation Oncology and Radiotherapy at University Hospital RWTH Aachen
According to the Focus magazine, the Department of Radiation Oncology and Radiotherapy at the University Hospital RWTH Aachen ranks among the top German medical facilities in the field of its specialization!
The department offers all types of modern radiation therapy for the treatment of various oncological pathologies. The use of the very latest imaging techniques in the treatment planning allows to reduce the incidence and severity of side effects. All therapeutic procedures meet all relevant national and international protocols. The department is headed by Prof. Dr. med. Michael Johannes Eble.
Particular importance in the department is paid to intraoperative irradiation using miniature linear accelerators, as well as fractionated stereotactic radiation therapy and radiosurgery (Gamma Knife treatment) for brain tumors. Another treatment priority is radiation therapy for prostate cancer using implantation of radioactive microsources ("seeds"). Radiation therapy requires high dose of radiation for successful prostate cancer treatment. When inserting radioactive microsources into the tissue, the radiation dose can be maximally focused and increased at the same time. The department has been carrying out this type of therapy since 1999, therefore, the doctors have rich clinical experience in this field. Iodine-125 is used (half-life is 60 days) as radionuclide. The implantation is carried out under the control of imaging devices.
The department's team of doctors makes every effort to ensure the highest quality of medical service. The department's therapeutic options include innovative cancer strategies. Thus, the department provides differentiated and the most effective radiation therapy, whereas due attention is also paid to radiation protection. In addition, the department's doctors are highly competent, as well as surround patients with care, understanding and respect.
The therapeutic services of the department include:
Stereotactic radiation therapy/head and body radiosurgery
Intensity-modulated radiation therapy
Differentiated radiation therapy for prostate cancer
Combined radiation therapy and chemotherapy
Intraoperative radiation therapy
Implantation of radioactive microsources for prostate cancer treatment
Other types of radiation therapy
Photo of the doctor: (c) Uniklinik RWTH Aachen
Department of Radiation Oncology and Radiotherapy.
University Hospital RWTH Aachen:

Request more information now.
We will be happy to answer all your questions.
---