University Hospital RWTH Aachen
Department of Adult and Pediatric Traumatology, Reconstructive Surgery (

278202

)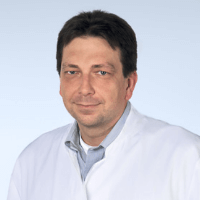 Prof. Dr. med.
Frank Hildebrand
Specialized in: adult and pediatric traumatology, reconstructive surgery
About the Department of Adult and Pediatric Traumatology, Reconstructive Surgery at University Hospital RWTH Aachen
The Department of Adult and Pediatric Traumatology, Reconstructive Surgery at the University Hospital RWTH Aachen offers the full range of medical services for the patients with musculoskeletal injuries and bone fractures. The department is headed by Prof. Dr. med. Frank Hildebrand.
The department's surgeons masterfully carry out operations for the treatment of all injuries of the spine, pelvis and limbs, including minimally invasive arthroscopic operations and replacement surgery of the shoulder, hip and knee joints. Another successful field of ​​the department's work is corrective surgery, as well as complex operations in bone defects, pseudoarthrosis and infectious lesions. The long experience of doctors and the availability of modern therapeutic techniques allow to cope with particularly difficult clinical cases.
The department has the status of the Maximum Care Trauma Center and holds the leading positions in its area of specialization in Germany. The department annually provides medical care to more than 10,000 patients after accidents and performs more than 3,000 operations.
The service range of the department includes:
Pelvic and hip surgery

Diagnostics and treatment of pelvic injuries, including sports injuries in this area
Diagnostics and treatment of pelvic injuries in elderly patients
Diagnostics and treatment of pelvic tumors
Treatment of late effects of injuries

Minimally invasive surgery
Intraoperative 3D navigation, including surgical navigation

Bone deformity correction

Minimally invasive interventions using modern fixation systems

Treatment of children with musculoskeletal diseases and injuries, including complex reconstruction of the limbs in various deformities
Sports traumatology and minimally invasive joint surgery

Shoulder and shoulder joint injuries

Shoulder dislocation and shoulder instability
Rotator cuff tear
Acromioclavicular joint injuries

Knee and knee joint injuries

Meniscus tear
Anterior cruciate ligament injury
Patellar dislocation

Ankle injuries

Ligament tear and sprain
Achilles tendon rupture

Foot and ankle surgery

Achilles tendon rupture
Talus fracture
Calcaneal fracture
Metatarsal and toe fractures

Spinal surgery

Spinal injuries
Osteoporotic vertebral fractures
Spinal injuries in ankylosing spondylitis
Tumorous spinal lesions
Inflammatory spinal diseases

Minimally invasive surgery
Surgical navigation
Operations using 3D X-ray device
Kyphoplasty/vertebroplasty
Endoscopic interventions for vertebral body replacement (minimally invasive techniques)

Other medical services
Photo of the doctor: (c) Uniklinik RWTH Aachen
Department of Adult and Pediatric Traumatology, Reconstructive Surgery.
University Hospital RWTH Aachen:

Request more information now.
We will be happy to answer all your questions.
---