University Hospital RWTH Aachen
Department of Nephrology, Hypertensiology, Rheumatology and Immunology (

278203

)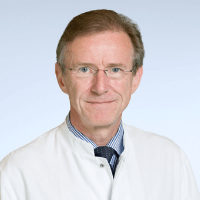 Prof. Dr. med.
Jürgen Floege
Specialized in: nephrology, hypertensiology, rheumatology, immunology
About the department
The Department of Nephrology, Hypertensiology, Rheumatology and Immunology at the University Hospital RWTH Aachen offers the full range of diagnostic and therapeutic services in these medical fields. The department specializes in the treatment of kidney diseases, arterial hypertension, rheumatic diseases and immune system pathologies. One of the key foci of the department's work is the treatment of kidney failure (dialysis procedures, kidney transplantation). Dialysis is carried out both on an inpatient and day patient basis. The department is headed by Prof. Dr. med. Jürgen Floege.
The department has 48 beds. The dialysis is carried out at a special station equipped with 12 beds. The department annually performs more than 16,000 hemodialysis procedures, 2,000 continuous dialysis procedures, about 300 plasmapheresis procedures and 200 immunoadsorption procedures. In addition, the department is equipped with advanced ultrasound equipment for the most accurate diagnostics (B-mode ultrasound, color duplex sonography, continuous wave Doppler ultrasound, contrast-enhanced ultrasound, ultrasound-guided puncture).
The department's spectrum of medical services includes:
Diagnostics and treatment of hypertension
Diagnostics and treatment of all kidney diseases
Diagnostics and treatment of rheumatic diseases and pathologies of the immune system with a special focus on

Immunosuppressive therapy
Membrane plasma separation
Cryofiltration
Cascade plasma filtering

Diagnostics and treatment of endocrine diseases, especially diseases of the adrenal glands, kidneys, parathyroid glands
Medical care in late complications of diabetes mellitus (diabetic nephropathy)
Diagnostics and treatment of bone metabolic disorders
Diagnostics and treatment of acute and chronic kidney failure (more than 1,000 procedures of acute dialysis annually)
All types of renal replacement therapy

Hemodialysis
Hemofiltration
Hemodiafiltration
Chronic peritoneal dialysis on an outpatient basis
Continuous cyclic peritoneal dialysis
Citrate hemodialysis
Citrate hemofiltration
Hemoperfusion
Plasma separation
Immunoadsorption
Cryofiltration

Kidney transplantation (in collaboration with the Department of General, Abdominal and Transplant Surgery)
Intensive care, including the apparative treatment of exogenous and endogenous poisoning, hemoperfusion, continuous venovenous hemofiltration, mechanical ventilation
Dialysis access formation (within the specialized interdisciplinary center)
Interdisciplinary service for patients with kidney and heart diseases
24-hour kidney disease care service
Other diagnostic and therapeutic options
Curriculum vitae
Professor Jürgen Floege received his clinical training at the Hannover Medical School. His particular interest in renal diseases developed during various research periods in Physiology, Pharmacology, Nephrology and Pathology at the Hannover Medical School (Germany), the Albert Einstein College of Medicine (New York) and the University of Washington (Seattle, USA). He is the Head of the Department of Nephrology, Hypertensiology, Rheumatology and Immunology at the University Hospital RWTH Aachen, Germany (since 1999).
Professor Floege is a former Vice Dean in RWTH Aachen, Executive Council Member of the International Society of Nephrology (ISN) and the European Renal Association (ERA-EDTA), as well as a current Member of the Executive Board of KDIGO. He is a Distinguished Fellow of the ERAEDTA, past President of the German Society of Nephrology, as well as an Honorary Member of the Japanese, Polish, Portugese, Serbian and Slowakian Societies of Nephrology. Together with Professors Richard Johnson and John Feehally he edits the best-selling textbook "Comprehensive Clinical Nephrology". Finally, Professor Floege is a Co-Editor of the ERA-EDTA Journal Nephrology Dialysis Transplantation and a Member of the Editorial Board of Journal of the American Society of Nephrology, Kidney International, Nature Reviews Nephrology, Journal of Nephrology and others.
Research interests encompass both basic research aimed at the study of progression of renal diseases, in particular, renal fibrosis, as well as clinical research in immune-mediated renal diseases, in particular, IgA-nephropathy, as well as bone and mineral disorders, cardiovascular disease in uremic patients.
His scientific work encompasses about 500 original papers, reviews and editorials, as well as 40 book chapters.
Photo of the doctor: (c) Uniklinik RWTH Aachen
Department of Nephrology, Hypertensiology, Rheumatology and Immunology.
University Hospital RWTH Aachen:

Request more information now.
We will be happy to answer all your questions.
---