University Hospital RWTH Aachen
Department of Diagnostic and Interventional Neuroradiology (

590757

)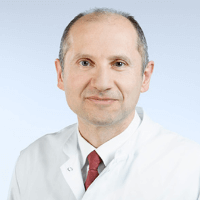 Prof. Dr. med.
Martin Wiesmann
Specialized in: diagnostic and interventional neuroradiology
About the department
The Department of Diagnostic and Interventional Neuroradiology at the University Hospital RWTH Aachen offers all the options of imaging diagnostics, as well as imaging-guided treatment of the nervous system (brain and spinal cord). The Chief Physician of the department is Prof. Dr. med. Martin Wiesmann.
The department is equipped with the state-of-the-art systems for computed tomography, magnetic resonance imaging, digital subtraction angiography. With the help of these techniques, the doctors can clearly image the structure of the brain and spinal cord, assess the cerebral blood flow and nerve cell function. The patient care is provided in collaboration with specialists from the related fields, such as neurologists, neurosurgeons, vascular surgeons, otolaryngologists, etc.
The department's doctors are distinguished by high professionalism, vast experience, which in combination with progressive technical base help to achieve excellent results. The great advantage of the department is also active research activities with productive results, which are introduced into clinical practice.
The main focuses of the department's clinical practice include:
Diagnostics

Computed tomography
Digital subtraction angiography of the cervical and cerebral vessels
Magnetic resonance imaging
Myelography
X-ray examinations

Interventional therapy

Procedures for the treatment of vascular stenoses and obstruction

Thrombectomy
Stent angioplasty

Procedures for vascular defect closure

Embolization of vascularized tumors, arteriovenous and spinal vascular malformations
Endovascular aneurysm treatment

CT-guided spinal interventional procedures

Other diagnostic and therapeutic services
Photo of the doctor: (c) Uniklinik RWTH Aachen
Department of Diagnostic and Interventional Neuroradiology.
University Hospital RWTH Aachen:

Request more information now.
We will be happy to answer all your questions.
---
Certificates