Treatment of myopia with photorefractive keratectomy (PRK) (program ID:

282734

)
University Hospital RWTH Aachen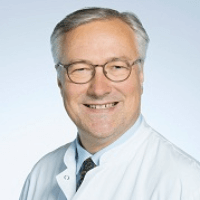 Head Physician
Prof. Dr. med.
Peter Walter
Specialized in: adult and pediatric ophthalmology
Department of Adult and Pediatric Ophthalmology
Program includes:
Initial presentation in the clinic
clinical history taking
review of medical records
physical examination
laboratory tests:

complete blood count
biochemical analysis of blood
indicators of inflammation
indicators blood coagulation

ophthalmologic examination:

slit-lamp examination
optical coherence tomography OCT
pupil function tests
ocular motility test
ophthalmoscopy
perimetry (visual field test)
computer perimetry
visometry (without correction and with correction)
keratometry
pachymetry
refractometry (objective, subjective, cycloplegic)
autorefractometry
non-contact tonometer
biomicroscopy

services of chief physician and all leading experts
preparation according to preoperative standard
photorefractive keratectomy (PRK)
explanation of future recommendations
Service
Price:
Type of program :
Expected duration of the program:
You may also book

Price:
About the department
The Department of Adult and Pediatric Ophthalmology at the University Hospital RWTH Aachen offers the full range of diagnostic and therapeutic services for the patients with eye diseases. The specialists of the department provide medical care in case of rare pathologies, such as tumors, eye injuries and macular degeneration, which causes blindness in old age. The department is headed by Prof. Dr. med. Peter Walter.
The department houses a modern Eye Bank, thanks to which the department has all the resources for successful corneal transplantation. The department's doctors have excellent qualifications and rich experience, which in combination with the advanced infrastructure contributes to the provision of first-class medical care.
The main clinical focuses of the department include:
Diagnostics and treatment of age-related macular degeneration
Diagnostics and treatment of diabetic retinopathy
Eyelid and lacrimal duct surgery

Blepharoplasty
Ptosis correction in adults and children
Entropion сorrection
Ectropion correction
Eyelid retraction correction
Resection of benign and malignant tumors of the eyelids, lacrimal ducts
Reconstructive surgery (for example, reconstructive surgery on the eyelids after burns, reconstruction of the lacrimal ducts in stenosis)

Diagnostics and treatment of orbital diseases

Endocrine orbitopathy
Orbital tumors

Strabismus correction in children and adults
Eye muscle surgery in adults and children
Correction of congenital and acquired nystagmus
Diagnostics and treatment of paresis of the oculomotor muscles
Diagnostics and treatment of cataracts
Diagnostics and treatment of glaucoma
Diagnostics and treatment of Leber's hereditary optic neuropathy
Diagnostics and treatment of macular hole
Diagnostics and treatment of retinal detachment
Retinal transplantation (since the beginning of 2012, the department has been using the ARGUS II Retinal Prosthesis System in blind patients with retinitis pigmentosa, which helps blind people to see large objects)
Other medical services
Photo of the doctor: (c) Uniklinik RWTH Aachen
---
About hospital
Accommodation in hospital
Myopia
Program [Description]
Treatment of myopia with photorefractive keratectomy (PRK)
Hospital: University Hospital RWTH Aachen
Type:
Duration:
Price:
date_range
There are 71 myopia treatment hospitals on Booking Health website
Show all clinics
Certificates