Department of Rheumatology (

113979

)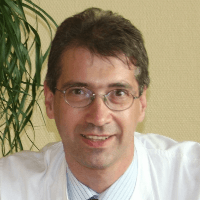 Dr. med.
Hans Joachim Bergerhausen
Specialized in: rheumatolgy
About the Department of Rheumatology at Sana Hospital Duisburg
The Department of Rheumatology at the Sana Hospital Duisburg provides both comprehensive diagnosis and treatment of rheumatic diseases, which can affect not only joints, but also internal organs. The department is headed by Dr. med. Hans Joachim Bergerhausen.
The Department of Rheumatology is especially focused on the treatment of such diseases as rheumatoid arthritis, Behcet's disease and scleroderma. To provide local treatment of the inflamed joints, the department offers cortisone injections or chemical obliteration of the synovial membrane. In cooperation with the Department of Nuclear Medicine, there is provided radiosynoviorthese of all inflamed joints. The range of medical services of the department is complemented by physical therapy methods, occupational therapy, pain therapy, as well as psychological and social support services.
The department offers both diagnosis and treatment of the following diseases:
Pulmonary heart disease and diseases of pulmonary circulation
(Congenital) rheumatic diseases
Arthropathies
Autoimmune diseases
Spinal and back deformities
Endocrine disorders of nutrition and metabolism
Diseases of the arteries, arterioles and capillaries
Muscle diseases
Diseases of the synovial joint membrane and tendons
Diseases of the veins, lymphatic vessels and nodes
Kidney diseases
Osteopathies and chondropathies
Rheumatic diseases
Spondylopathies
Systemic connective tissue diseases
Urticaria and erythema
Photo of the doctor: (c) Sana Kliniken Duisburg
Department of Rheumatology.
Sana Hospital Duisburg:

Request more information now.
We will be happy to answer all your questions.
---
Certificates