Department of Radiology and Neuroradiology (

320282

)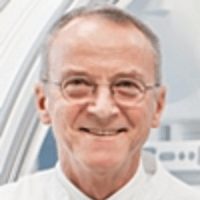 Prof. Dr. med.
Friedhelm Brassel
Specialized in: radiology, neuroradiology
About the department
The Department of Radiology and Neuroradiology is equipped with the state-of-the-art medical equipment, such as MRI, CT, standard and interventional X-ray. The activities of the department are directed both at separate areas of neuroradiology and pediatric radiology.
The main focuses of the department include:
Endovascular treatment of brain aneurysms, cerebral and spinal vascular malformations, for example, arteriovenous malformations
Diagnosis and treatment of cerebrovascular diseases in infants and children
Endovascular treatment and surgical preparatory treatment of head / neck and body tumors
Elimination of narrowing in the arteries supplying cerebral circulation and stenting
Recanalization of cerebral vessels in acute stroke
Interventional treatment of soft tissue angiomas and venous malformations of the head, neck, body and extremities
Noninvasive imaging of blood vessels and vascular diseases by means of MRI and CT
CT- and MRI-guided punctures of massive lesions, tissue sampling, neurolysis, periradicular therapy and drainage
The service range of the department includes:
CT scan
Imaging of all areas of the body, including CT angiography (neurovascular and oncological focus)
Special examinations for stroke patients
CT-based exercises
MRI
Imaging of all areas of the body, including imaging of blood vessels (neurovascular and oncological focus)
Special programs for examining stroke patients
Special presentation of the brain and spinal cord
Examination of the liver and biliary tract, as well as the pancreatic duct (MRCP) and the small intestine (MR-Sellink)
Examination of children and infants in collaboration with the Department of Pediatrics
X-ray
Contrast-enhanced X-ray examinations of the entire gastrointestinal tract and vertebral canal (myelography)
X-ray diagnostics of the entire skeletal and musculoskeletal system with rheumatological and traumatic focus
Photo of the doctor: (c) Sana Kliniken Duisburg
Department of Radiology and Neuroradiology.
Sana Hospital Duisburg:

Request more information now.
We will be happy to answer all your questions.
---
Certificates