Department of Orthopedics and Trauma Surgery (

34

)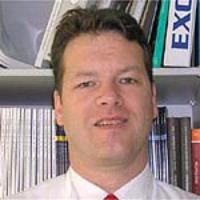 Dr. med.
Christian Rülander
Specialized in: orthopedics, trauma surgery
About the Department of Orthopedics and Trauma Surgery at Sana Hospital Duisburg
The Department of Orthopedics and Traumatology at the Sana Hospital Duisburg is a maximum care medical center, which specializes in trauma surgery and joint replacement surgery, in particular, in knee and hip replacement. There are annually performed from 50 up to 100 operations to implant knee joint and about 100 hip replacements, especially in elderly patients. Hip replacement is preferably performed by means of conservative standard methods. The department is headed by Dr. med. Christian Rülander.
The physicians of the department have a long experience, especially in knee and hip replacement. Through the use of sparing techniques, in many cases, joint function can be restored without any prosthetics. If surgery is necessary, the department uses computer navigation to make a precise planning and axial correction. In addition, standard surgery also includes revision operations in case of loose prostheses and unstable joints in order to replace some components or to make a total prosthesis replacement. The department uses the most advanced minimally invasive techniques to perform arthroplasty.
In the field of physiotherapy, the employees of the department provide medical care to inpatients and use specific exercise programs, neurophysiological treatment, walking training, manual lymphatic drainage, classical massage and electrotherapy to regain or maintain mobility and self-care ability.
In addition, the department offers comprehensive round-the-clock medical care for patients with severe injuries and polytrauma. An additional focus is placed on pediatric and geriatric trauma surgery. The department also specializes in the treatment of sports injuries.
The main focuses of the Department of Orthopedics and Trauma Surgery are:
Spinal fractures
Prevention of prosthesis implantation
Traumatology: injuries after an accident / sports injuries
Polytrauma
Osteochondral autograft transplantation (OATS)
Knee replacement (total endoprosthesis)
Hip replacement (total endoprosthesis)
Geriatric trauma surgery
Arthroscopy
Outpatient surgery
Pediatric trauma surgery
Photo of the doctor: (c) Sana Kliniken Duisburg
Department of Orthopedics and Trauma Surgery.
Sana Hospital Duisburg:

Request more information now.
We will be happy to answer all your questions.
---
Certificates