Department of Vascular Surgery (

36

)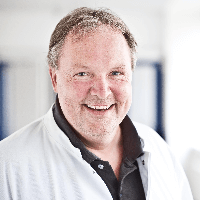 Dr. med.
Holger Matzdorf
Specialized in: vascular surgery
About the Department of Vascular Surgery at Sana Hospital Duisburg
The Department of Vascular Surgery at the Sana Hospital Duisburg specializes in the diagnosis and treatment of vascular diseases. The most important clinical focus of the department is placed on the treatment of carotid artery stenosis. The department is headed by Dr. med. Holger Matzdorf.
The department pays particular attention to the surgical treatment of the enlarged aorta, as well as blood vessels in the arms and legs e.g. in nicotine gangrene or diabetic foot. The Department of Vascular Surgery offers, in particular, special treatment methods, such as interventional endovascular procedures (balloon catheterization, stenting), minimally invasive varicose vein surgery (VNUS procedure, laser treatment), vacuum therapy for wounds (chronic wounds) and fibrinolysis (clot dissolution).
The main treatment focuses of the department are:
Carotid artery stenosis surgery
Aortic surgery
Bypass surgery in the treatment of nicotine gangrene and diabetic foot
Varicose vein surgery
Treatment of venous thrombosis of the limbs
Implantation of defibrillators, pacemakers and port systems
Bypass surgery for dialysis access
Photo of the doctor: (c) Sana Kliniken Duisburg
Department of Vascular Surgery.
Sana Hospital Duisburg:

Request more information now.
We will be happy to answer all your questions.
---
Certificates