Department of Gastroenterology and Hepatology (

38

)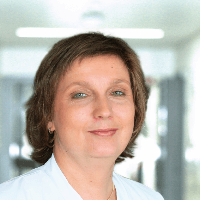 Dr. med.
Barbara Strey
Specialized in: gastroenterology, hepatology
About the Department of Gastroenterology and Hepatology at Sana Hospital Duisburg
The Department of Internal Medicine II (Gastroenterology and Hepatology) at the Sana Hospital Duisburg, headed by Dr. med. Barbara Strey, specializes in the prevention, diagnosis and treatment of diseases of the digestive system. As the Gastroenterology Center, the department offers patients a wide and highly specialized spectrum of modern diagnostic and therapeutic methods.
The field of gastroenterology is primarily focused on the ultrasound examinations, secondly, on the endoscopic examinations of the abdominal cavity. The department has endoscopic video equipment with a high-resolution technique and a video capsule endoscopy. The Department of Internal Medicine II offers all common diagnostic and treatment methods. Through the use of anesthesia and sedation, endoscopic examinations do not make any special load on the patient's body nowadays.
Hepatology is an important focus of the department. Within the outpatient counseling, the doctors of the department treat patients with chronic hepatitis B and C and use all the tested methods of drug treatment. Considerable importance is ascribed to malignant tumors of the digestive system. The department deals with the treatment of patients with tumors of the gastrointestinal tract, liver/bile ducts and pancreas (in close cooperation with the team of the Departments of Abdominal Surgery and Oncology). In the case of stenoses caused by tumors, the specialists of the department implant the so-called self-expandable metallic stents (SEMS), endoscopically, if necessary.
Even at the time of highly specialized technical medicine, a person with their individual problems, fears and wishes is the main object of activities of all employees of the department. The physicians are willingly involved in these issues and try to consider them in order to develop an optimal diagnostic and treatment plan for the patient.
The service range of the department covers both diagnosis and treatment of the following diseases:
Reflux disease
Gastritis and peptic ulcer disease
Diagnosis and endoscopic treatment of bowel polyps
Primary diagnosis of gastrointestinal tumors
Chronic inflammatory bowel diseases (Crohn's disease, ulcerative colitis)
Food intolerance (lactose, fructose, sorbitol etc.)
Bacterial intestinal dysbiosis
Severe infectious bowel diseases
Diseases of the bile-excretory ducts
Acute and chronic pancreatitis
Primary diagnosis of tumors of the pancreas and bile-excretory ducts
Diagnosis and treatment of kidney diseases

Hepatitis B and C
Autoimmune liver diseases
Fatty liver diseases
Toxic and hereditary liver diseases

Cirrhosis and its complications
Preliminary diagnosis before liver transplantation
Metabolic disorders (diabetes)
Photo of the doctor: (c) Sana Kliniken Duisburg
Department of Gastroenterology and Hepatology.
Sana Hospital Duisburg:

Request more information now.
We will be happy to answer all your questions.
---
Certificates