Department of Cardiology, Pulmonology and Intensive Care Medicine (

39

)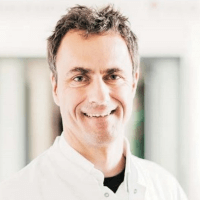 Dr. med.
Oliver Volk
Specialized in: cardiology, pulmonology, intensive care medicine
About the department
The Department of Internal Medicine I (Cardiology, Pulmonology and Intensive Care Medicine) at the Sana Hospital Duisburg deals with the treatment of patients with diseases of the heart and lungs. The patients with general internal diseases receive treatment in the interdisciplinary Intensive Care Unit. The department is headed by Dr. med. Oliver Volk.
In the field of cardiology, the department mainly treats patients with diseases, such as heart failure, coronary heart disease, heart arrhythmia, myocardial infarction, vascular diseases, heart defect, hypertension and inflammation of the pericardium. The department has 34 beds, including telemetry for a continuous cardiac rhythm monitoring. The noninvasive imaging methods include echocardiography, Doppler/duplex ultrasound of the veins and arteries, as well as modern tomography techniques. The invasive diagnosis and treatment are carried out in the department's own Cardiac Catheterization Laboratory.
In the field of pulmonology, the department focuses not only on the treatment of acute and chronic lung diseases (such as pneumonia, asthma, COPD, sarcoidosis), but also on the diagnosis and treatment of lung tumors of any type (e.g. bronchogenic carcinoma and pleural mesothelioma), which are provided in close collaboration with the Department of Oncology. To this end, the department has various diagnostic and therapeutic options, including pulmonary function tests by means of a total body plethysmography, diffusion measurement, blood gas test and allergy testing.
The Department of Internal Medicine I maintains close cooperation with various departments of the hospital, as well as with regional health care facilities. The first priority always lies on a holistic treatment and a comprehensive patient care.
The department offers treatment of a wide range of heart diseases:
Acute coronary syndromes
Coronary heart diseases
Cardiac arrhythmias (e.g. atrial fibrillation)
Heart valve diseases (e.g. aortic valve stenosis, mitral insufficiency)
Arterial hypertension
Syncopes
Sleep medicine (e.g. sleep-related breathing disorders)
The range of medical services of the Department of Cardiology, Pulmonology and Intensive Care Medicine includes:
ECG at rest, continuous ECG and ECG at load
Daily monitoring of blood pressure
Telemetry
Echocardiography
Transesophageal echocardiography
Diagnostic and therapeutic coronary arteriography
Pacemaker implantation
Monitoring of 1-,2- and 3 chamber pacemakers
Monitoring of defibrillator system
Polysomnography
Tomography
Photo of the doctor: (c) Sana Kliniken Duisburg
Department of Cardiology, Pulmonology and Intensive Care Medicine.
Sana Hospital Duisburg:

Request more information now.
We will be happy to answer all your questions.
---
Certificates