Department of Adult and Pediatric Orthopedics, Trauma Surgery, Spinal Surgery, Foot Surgery and Hand Surgery (

126

)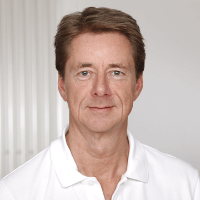 PD Dr. med.
Sebastian Rütten
Specialized in: adult and pediatric orthopedics, trauma surgery, spinal surgery, foot surgery, hand surgery
About the Department of Adult and Pediatric Orthopedics, Trauma Surgery, Spinal Surgery, Foot Surgery and Hand Surgery at St. Anna Hospital Herne
According to the Focus magazine, the Department of Adult and Pediatric Orthopedics, Trauma Surgery, Spinal Surgery, Foot Surgery and Hand Surgery at the St. Anna Hospital Herne ranks among the top German medical facilities specializing in the surgical treatment of spinal and hip joint diseases!
The department carries out high-precision diagnostics and comprehensive treatment of the full range of musculoskeletal diseases. The department admits patients of middle and elderly age, as well as children of all age groups. The department's medical team consists of 60 employees and specializes in the conservative and surgical treatment of diseases and injuries of the spine, knee, hip, elbow, shoulder joints, foot and hand pathologies. More than 25,000 inpatients and about 30,000 outpatients undergo treatment here every year. The department is the largest and the best highly specialized medical facility of this kind in the country, which is confirmed by certificates from the German Spine Society, the German Society for Trauma Surgery and the German Society for Orthopedics and Orthopedic Surgery. The department is headed by PD Dr. med. Sebastian Rütten.
The primary focus of the medical facility is the surgical treatment of spinal diseases and injuries, as well as pain management for chronic back pain. First of all, the department's specialists consider conservative treatments, as well as interventional procedures, while surgery is the last-line therapy. The department's doctors have vast clinical experience – about 15,000 interventional procedures are performed here annually for the treatment of chronic back pain and more than 3,000 surgical interventions on the spine. Medical services are provided for both adults and children. The doctors of this specialization most often deal with spinal disc herniation, spinal stenosis, spinal instability, spondylolisthesis, myelopathies, scoliosis, pathological kyphosis, spinal fractures, spondylodiscitis, rheumatic spinal lesions and other pathologies. Spinal surgeons have a perfect command of all modern techniques, including endoscopic, microsurgical, minimally invasive and open techniques. In addition, the department performs stabilizing and reconstructive spinal surgeries. The operation is quite often complemented by conservative treatment methods: intake of painkillers and anti-inflammatory drugs, naturopathy methods, acupuncture, therapeutic exercises, physiotherapy procedures, etc.
The department also offers services for knee and hip replacement surgery – it is certified in accordance with the requirements of the German Society for Orthopedics and Orthopedic Surgery. Partial and total joint replacement surgery with an endoprosthesis are performed using minimally invasive techniques, which helps to relieve postoperative pain syndrome and to quickly recover the patient. In most cases, surgeons use special navigation systems to position the artificial joint with millimeter precision. Prior to the surgical intervention, a prosthesis is individually selected for the patient. Whenever required, a customized prosthesis can be implanted to the patient.
The department is distinguished by its special competence in the treatment of Perthes disease. Pathology is associated with an impairment of the blood supply to the femoral head and without timely treatment may lead to irreversible deformation of the hip joint. An X-ray scan is a must at the stage of treatment planning. Depending on the particular clinical indications, conservative treatment can be carried out up to the age of 4 years. However, children under 4 years with Perthes disease (Catterall grade III and IV) often require surgery. When a child with grade III or IV according to the Catterall classification reaches the age of 7 years, even surgery does not always give the desired result. Conservative methods involve the wearing of orthoses, plaster casts, splints and other devices. The surgical treatment of Perthes disease in the department is based on 3D hip osteotomy.
Of particular interest in the field of foot surgery is the treatment of Hallux valgus and Hallux rigidus, hammer and claw toes, metatarsalgia, heel spur, Achilles tendon rupture. The surgical treatment is carried out with the use of sparing low-traumatic techniques, and therefore the recovery process after the operation takes place as soon as possible.
The healthcare facility has also demonstrated good success rates in the treatment of hand diseases and injuries. The department performs surgical interventions to eliminate hand instability after severe injuries, operations for the treatment of rheumatic hand lesions, carpal tunnel syndrome, Dupuytren's contracture, and rhizarthrosis. The surgeons most often use sparing arthroscopic techniques.
The department's main clinical activities include:
Diagnostics and treatment of spinal diseases

Chronic back pain
Spinal disc herniation
Spinal stenosis
Spinal instability
Spondylolisthesis
Myelopathy
Transverse paralysis
Spinal fractures and other injuries
Spinal deformities (kyphosis and scoliosis)
Spinal tumors and metastases
Infectious spinal lesions
Rheumatic spinal lesions
Spinal diseases and injuries in children and adolescents: scoliosis, kyphosis, congenital growth disorders, inflammatory diseases, tumors and metastases

Diagnostics and treatment of hip diseases

Hip arthrosis
Hip dysplasia, including in children
Avascular necrosis of the femoral head
Perthes disease in children

Diagnostics and treatment of knee diseases

Knee arthrosis
Cartilage defects
Correction of axial deformities of the lower extremities in children
Meniscus injuries
Cruciate ligament injuries

Diagnostics and treatment of shoulder diseases

Impingement syndrome
Rotator cuff tear
Calcific tendonitis
Shoulder dislocation and instability
Shoulder arthrosis
Shoulder fractures

Diagnostics and treatment of elbow diseases

Epicondylitis
Tennis elbow
Golfer's elbow
Cubital tunnel syndrome
Elbow arthrosis
Traumatic injuries of tendons and ligaments in the elbow joint

Diagnostics and treatment of foot diseases

Hallux valgus
Hallux rigidus
Metatarsalgia
Hammer and claw toes
Heel spur
Achilles tendon rupture

Diagnostics and treatment of hand diseases

Hand injuries and their complications
Arthrosis and rhizarthrosis
Carpal tunnel syndrome
Dupuytren's contracture

Other medical services
The department's therapeutic options include:
Conservative treatment methods

Drug therapy
Injection therapy
Infusion therapy
Naturopathy methods
Acupuncture
Therapeutic exercises
Physiotherapy
Isokinetic exercises

Surgical treatment methods

Arthroscopic procedures
Joint replacement surgery, including revision one
Endoscopic spinal surgery
Microsurgical interventions
Minimally invasive surgery
Open surgery

Other treatment methods
Photo of the doctor: (c) St. Anna Hospital Herne
Department of Adult and Pediatric Orthopedics, Trauma Surgery, Spinal Surgery, Foot Surgery and Hand Surgery.
St. Anna Hospital Herne:

Request more information now.
We will be happy to answer all your questions.
---
Certificates