Department of General and Abdominal Surgery (

127

)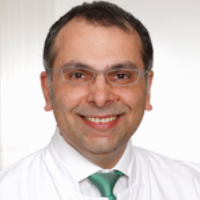 Dr. med.
Nurettin Albayrak
Specialized in: general surgery, abdominal surgery
About the department
The Department of General and Visceral Surgery at the St. Anna Hospital in Herne under the lead of Dr. med. Nurettin Albayrak offers the full range of surgical treatment. Specialized surgeons perform all surgical procedures on internal organs as well as in case of fractures and ensure a competent treatment of the respective clinical picture.
The main focus of the visceral surgery at Dr. med. Nurettin Albayrak is on cancer treatment (oncological treatment). In the course of oncological treatment the Department of General and Abdominal works in a close cooperation with colleges from the Department of Gastroenterology in order to best possible and transparent treatment of patients.
Apart from that, during diagnosis and treatment oncological patients of the Department benefit from the interdisciplinary treatment planning and coordination at the Cancer Center of the St. Anna Hospital in Herne. Here, teams of the Intestinal Cancer Center Herne, Centers for Abdominal Medicine and Pancreatic Cancer collaborate with all other oncological experts.
The range of medical services of Department of General and Abdominal Surgery at the St. Anna Hospital in Herne includes i.a.:
Liver, gallbladder and pancreas surgery
Minimally invasive laparoscopic operations
Minimally invasive endoscopic operations
Surgical intensive medicine
Emergency medicine
Surgery of the gastrointestinal tract
Tumor surgery
Esophageal surgery
Port implantations
Removal of metal/foreign bodies
Treatment of decubitus ulcers
Diagnosis and treatment of venous diseases and consequences
Endocrine surgery
Diagnosis and treatment of other injuries
The team around Dr. med. Nurettin Albayrak has a particular expertise in the field of minimally invasive operations. The main priorities of the Department include minimally invasive laparoscopic operations.
Minimally invasive treatment techniques are administered in the following cases:
Removal of the gall bladder
Removal of parts of the large intestine, cecum, liver, spleen and pancreas
Hernia repair
Hiatal hernia repair
Laparoscopic stomach surgery
Lysis of adhesions
Department of General and Abdominal Surgery.
St. Anna Hospital Herne:
Request more information now.
We will be happy to answer all your questions.
---
---
Certificates