Department of Gynecology, Obstetrics, Breast Center (

130

)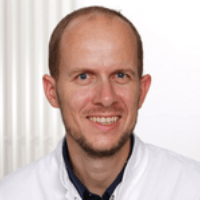 Dr. med.
Harald Krentel
Specialized in: gynecology, obstetrics, breast diseases
About the department
The Department of Gynecology, Obstetrics and Breast Diseases at the St. Anna Hospital, headed by Dr. med. Harald Krentel, specializes on treatment of endometriosis, childlessness, myomas, ovarian cysts and other benign diseases, treatment of urinary incontinence and pelvic floor disorders, as well as treatment of malign diseases of the uterus, vagina and vulva. The treatment of breast cancer is carried out within the Breast Center.
One of the main focuses of the Department of Gynecology and Obstetrics at the St. Anna Hospital is minimally invasive gynecological surgery. The laparoscopic and hysteroscopic interventions are standard procedures which allow to achieve optimal operation results without an abdominal incision. Through the use of the latest tools, high-resolution 3D-optics and an outstanding professional expertise, the specialists of the Department are able to avoid in most cases large wounds and scars as well as related pains.
In all these fields of operative gynecology, the endoscopic operation techniques are preferred in the Department, so that more than 90% of all interventions can be performed in a minimally invasive technique. The chief physician, Dr. med. Harald Krentel, and his colleagues are certified in accordance with the guidelines of the study group for Gynecologic Endoscopy (AGE).
The Breast Center comprises the specialized Departments of the St. Anna Hospital Herne and the Marien Hospital Herne – Universitätsklinikum der Ruhr-Universität Bochum. The goal of the network is to ensure the best possible treatment of all patients. A particular importance is attached to the treatment of breast cancer. Through an integrated therapy concept, each patient is provided with the best treatment plan, developed in a close cooperation with various medical specialties (senology, radiology, radiotherapy, pathology, oncology, physiotherapy). Apart from that, the Breast Center also offers treatment of benign changes of the female breast.
The Department of gynecology and obstetrics at the St. Anna Hospital under the lead of Dr. med. Harald Krentel specializes on treatment of the following diseases:
Urogynecology (Urinary incontinence / descending pelvic floor)
Malign diseases

Uterus cancer (Endometrial cancer)
Cervical cancer (Cervical carcinoma)
Ovarian cancer
Fallopian tube cancer
Malign diseases of the external genitalia

Benign diseases of the uterus

Endometriosis
Adenomyosis
Myomas
Ovarian tumors

Child-planning therapy
Clinical Endometriosis Center
Breast Center

Treatment of malign and benign changes of the breast
Photo of the doctor: (c) St. Anna Hospital Herne
Department of Gynecology, Obstetrics, Breast Center.
St. Anna Hospital Herne:

Request more information now.
We will be happy to answer all your questions.
---
Certificates