St. Lukas Clinic Solingen
Department of Neurology and Epileptology (

303042

)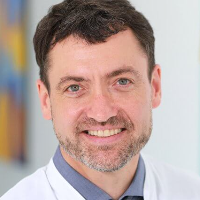 Prof. Dr. med.
Marcel Dihné
Specialized in: neurology, epileptology
About the Department of Neurology and Epileptology at St. Lukas Clinic Solingen
The Department of Neurology and Epileptology at the St. Lukas Clinic Solingen offers the full range of modern diagnostic and therapeutic options for patients with pathologies of the central and peripheral nervous system, including neuromuscular diseases. One of the department's key activities is the treatment of stroke. Patients receive medical care in a state-of-the-art Stroke Unit, the quality of which work is recognized by the prestigious LGA InterCert certification. The Stroke Unit has 12 beds with advanced monitoring systems for recording vital functions. In addition, the department offers the services of specialized outpatient clinics, for example, an outpatient clinic for botulinum toxin therapy, an outpatient clinic for multiple sclerosis. An integral part of work of the department's neurologists is the provision of medical care to patients with epilepsy. All the department's doctors are highly professional experts and make every effort to ensure that the treatment meets the needs and expectations of the patient. The Head Physician of the department is Prof. Dr. med. Marcel Dihné.
Along with the treatment of neurodegenerative diseases, movement disorders and dementia, the department deals with the therapy of pathologies of muscles (myopathies), synapses and peripheral nerves, as well as lesions of the anterior horns of the spinal cord. The department has a well-equipped electrophysiology laboratory where physicians can perform evoked potential tests, neurography and myography. In cooperation with the experts from related medical fields, special genetic tests, muscle and nerve ending biopsy are carried out.
The specialists in the field of epileptology are responsible for the treatment of various types of epilepsy, syncopes and other disorders of consciousness. The medical facility carries out differential diagnostics of epileptic seizures and seizures of another genesis, as well as clarifies the causes of the development of epilepsy. The EEG laboratory has a mobile digital measuring system, as well as a mobile device for continuous EEG monitoring and several computerized systems.
The key area of the department's work is also the treatment of inflammatory diseases of the central nervous system. The most common chronic inflammatory disease of the central nervous system is multiple sclerosis. To confirm the diagnosis, clinical neurological tests, computed tomography, neurophysiological studies and cerebrospinal fluid analysis are used. Inpatient therapy is based on high-dose cortisone pulse therapy, symptomatic treatment (for example, treatment of spasticity, fatigue), as well as physiotherapy and occupational therapy. Outpatient treatment is also possible.
A special focus of the department's experts is on stroke therapy. For this purpose, the department has a high-tech Stroke Unit awarded by the LGA Intercert certificate for its outstanding quality of medical care. The doctors of the Stroke Unit annually provide medical care to more than 1,500 patients with strokes of varying severity. Intracranial and extracranial duplex sonography, dopplerography, laboratory tests, electrophysiological studies, CT, MRI, including CT and MRI angiography are used to diagnose stroke and assess the volume of cerebral hemorrhage. After staying in the Stroke Unit, the patient is transferred to a regular patient room, where the necessary therapeutic measures continue and rehabilitation procedures begin.
The team of the department's neurologists has a successful experience in the field of botulinum toxin therapy. This type of treatment allows the patients to achieve excellent results for neurological pathologies accompanied by spasticity. In particular, these are stroke patients. Other indications for Botox injections include torticollis, facial hemispasm, blepharospasm, hyperhidrosis, hypersalivation, etc. Botulinum toxin therapy is carried out in a specialized outpatient clinic, which was established in cooperation with the University Hospital Duesseldorf. The effect of botulinum toxin therapy lasts up to three months, after which the drug can be injected again. In the course of treatment, doctors use high-quality botulinum toxin type A drugs approved by the specialized organizations.
The department's key clinical focuses include:
Diagnostics and treatment of stroke
Diagnostics and treatment of Parkinson's disease
Diagnostics and treatment of multiple sclerosis
Diagnostics and treatment of epilepsy
Diagnostics and treatment of sciatic nerve pathologies
Diagnostics and treatment of malignant brain tumors
Diagnostics and treatment of neurological disorders accompanied by dizziness and impaired eye movement
Diagnostics and treatment of various forms of dementia
Diagnostics and treatment of other neurological disorders
Curriculum vitae of Prof. Dr. med. Marcel Dihné
Professional Career
Since June 2013 Head Physician of the Department of Neurology and Epileptology at the St. Lukas Clinic Solingen.
May 2011 - May 2013 Senior Physician, Head of the Research Group, Hertie Institute for Clinical Brain Research, University Hospital Tuebingen.
June 2004 - April 2011 Assistant Physician, Senior Physician and Head of the Research Group, Department of Neurology at the University Hospital Duesseldorf.
Higher Education and Postgraduate Training
May 2011 - May 2013 Training in Neuroscience: epileptology, autoimmune encephalitis, status epilepticus, induced pluripotent stem cells; Hertie Institute for Clinical Brain Research, Department of Neurology, University Hospital Tuebingen.
June 2004 - April 2011 Training in Neurology: clinical neurology, neurological intensive care, neural circuits; Heinrich Heine University Duesseldorf.
November 2001 - June 2004 Training in Neuroscience: stem cells, neuronal regeneration; Center for Molecular Neurobiology Hamburg (ZMNH).
June 1998 - October 2001 Study of Neurology, University Hospital RWTH Aachen.
October 1991 - May 1998 Study of Human Medicine, RWTH Aachen University.
Clinical Interests
Stroke.
Epilepsy.
Inflammatory diseases of the nervous system.
Parkinson's disease.
Multiple sclerosis.
Photo of the doctor: (c) St. Lukas Klinik GmbH
Department of Neurology and Epileptology.
St. Lukas Clinic Solingen:

Request more information now.
We will be happy to answer all your questions.
---
Certificates