St. Lukas Clinic Solingen
Department of Adult and Pediatric Surgery (

303043

)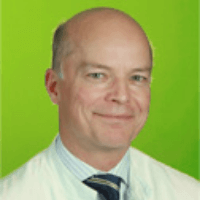 Dr. med.
Markus Meibert
Specialized in: adult and pediatric surgery
About the department
The Department of Adult and Pediatric Surgery at the St. Lukas Clinic Solingen offers the full range of surgical treatment of pathologies, including sparing minimally invasive surgery. The department's areas of specialization include general, abdominal surgery, traumatology, hand surgery and pediatric surgery. It also has special experience in the field of hernia repair (certification of the German Hernia Society). If clinically indicated, surgical treatment can be performed on an outpatient basis. Whenever possible, the surgeons of the department prefer sparing minimally invasive interventions.
The department is headed by Dr. med. Markus Meibert. The specialist has rich clinical experience and is a member of the Professional Association of German Surgeons.
Abdominal surgery focus is responsible for hernia repair (inguinal hernias and anterior abdominal wall hernias), thyroid, stomach, liver, colon and rectum, gallbladder diseases. The scope of tasks also includes planned interventions to resect benign and malignant diseases of the pancreas and esophagus. In many cases, operations can be performed using minimally invasive technique.
An important area of ​​the department's work is the surgical treatment of gastroesophageal reflux disease, in which the acid contents of the stomach enter the esophagus. Heartburn and belching are the most common symptoms of this pathology. The most common cause of the development of the disease is diaphragmatic hernia. In most cases, the doctors perform minimally invasive operations using special tools and a miniature camera. This type of surgery has several advantages, in particular the absence of pain syndrome, small postoperative scars and a short hospital stay.
The department is a recognized Center for Cancer Surgery. The doctors are also increasingly using minimally invasive techniques to treat malignancies. Particular focus is on surgery to treat intestinal, cecal, pancreatic, liver and esophageal tumors. Oncological diseases require a careful diagnostics before treatment planning. The achievement of the best result requires close cooperation of all specialists involved in the treatment, ranging from radiologists and pathologists to specialists in the field of internal medicine, oncologists, radiation therapists, surgeons and gynecologists. The treatment tactics are developed individually for each patient, as part of interdisciplinary tumor boards.
In addition to the treatment of adults, an important department's focus is surgical procedures in children. The specialists of the department apply special approaches in the treatment of children. Along with knowledge of organ systems, the pediatric surgeons understand the growth and maturation of children. In addition, young patients require a special approach and understanding of their needs, fears. Surgery in children can also be performed on an outpatient basis, for example, in the treatment of diseases of the genitourinary tract, injuries.
The main clinical focuses of the department include:
Hernia surgery

Shouldice hernioplasty (with and without special meshes)
Endoscopic interventions to treat hernias

Thyroid surgery
Stomach surgery
Liver surgery
Colorectal surgery (diverticulosis, ulcerative colitis, Crohn's disease)
Gallbladder surgery
Pancreatic surgery
Esophageal surgery
Surgical treatment of peritoneal carcinomatosis
Traumatology (professional, sports and other types of injuries)

Conservative and surgical treatment of tendon, joint injuries and bone fractures
Shoulder tendon reconstruction
Total hip replacement surgery
Knee arthroplasty

Cancer surgery (special focus on the treatment of intestinal, rectal, pancreatic, liver and esophageal cancers)
Minimally invasive surgery

Esophageal diverticulum removal
Dilatation in esophageal stenosis
Antireflux surgery
Stomach interventions to treat morbid obesity
Partial stomach removal
Liver cyst removal
Partial liver resection
Spleen cyst removal
Splenectomy (spleen removal)
Small bowel surgery
Removal of tumors with localization in the retroperitoneal space
Diagnostic procedures for suspected cancer
Surgery to treat rectal prolapse

Pediatric surgery

General interventions
Surgery to treat urinary tract diseases in boys
Treatment of injuries in children

Other surgical options
Photo of the doctor: (c) St. Lukas Klinik GmbH
Department of Adult and Pediatric Surgery.
St. Lukas Clinic Solingen:

Request more information now.
We will be happy to answer all your questions.
---
Certificates