St. Mauritius Therapieklinik Meerbusch
Department of Neuropediatrics (

292223

)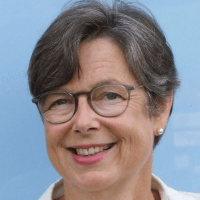 PD Dr. med.
Kristina Müller
Specialized in: neuropediatrics
About the department
The Department of Neuropediatrics at the St. Mauritius Therapieklinik Meerbusch offers the full range of modern rehabilitation measures for children and adolescents with congenital and acquired pathologies of the nervous system. Children can undergo all phases of neurological rehabilitation, ranging from the early phase immediately after treatment in the Intensive Care Unit to the phase of reintegration into the school environment. The department provides the possibility of admission of children with their parents. The department is made in a special design for children, which significantly facilitates the treatment process and makes it much more pleasant for children. The department is headed by PD Dr. med. Kristina Müller.
The department's medical team consists of specialists in pediatric and adolescent medicine, neuropediatricians, physiotherapists, psychologists, neuropsychologists, speech therapists, as well as rehabilitation therapists specializing in physical therapy, occupational therapy, medical pedagogy, art therapy and music therapy. The highly qualified team of nursing staff takes care of young patients. Both preschool and school teachers also teach children here. All doctors work closely together, while a treatment plan is developed individually for each patient, which allows the specialists to obtain optimal and stable results.
The goal of all rehabilitation programs implemented in the department is to restore the functions of the central nervous system in children. In this regard, the therapeutic regimen is based on current advances in neurobiology. With the help of intensive care adapted to everyday life, the doctors achieve functional recovery of various parts of the central nervous system in the case of congenital pathologies or after diseases. The age of the child and his development are always taken into account during the development of the treatment regimen.
The development of an individual and effective rehabilitation program requires the comprehensive diagnostics. The department has such diagnostic options as EEG, MRI, gait analysis, recording of evoked potentials, posturography, Doppler scanning, endoscopic and neuropsychological tests, speech diagnostics and other techniques. The obtained results allow the doctors to obtain a complete picture of the state of the child's nervous system.
The department specializes in the comprehensive rehabilitation of young patients with such neurological disorders:
Consequences of traumatic brain injuries
Consequences of brain hypoxia
Complications after the surgical removal of brain tumors
Consequences of a stroke
Consequences of cerebral hemorrhages (for example, in intracranial venous malformations)
Consequences of spinal cord injuries
Neurological complications after cancer (for example, CNS irradiation, chemotherapy)
Effects of inflammatory diseases of the central and peripheral nervous system
Condition after status epilepticus
Condition after epilepsy surgery
Complications of cerebral palsy
Complications of cerebral palsy after orthopedic interventions (for example, in hip dysplasia)
Complications of congenital abnormalities of the nervous system (for example, spina bifida, hydrocephalus)
Neuromuscular and neurometabolic diseases
Other pathological conditions of the nervous system
Photo of the doctor: (c) St. Mauritius Therapieklinik
Department of Neuropediatrics.
St. Mauritius Therapieklinik Meerbusch:

Request more information now.
We will be happy to answer all your questions.
---
Certificates