Diagnosis and conservative treatment of rheumatism (rheumatic fever) (program ID:

336415

)
St. Vincentius Hospital Karlsruhe-Academic Hospital of the University of Freiburg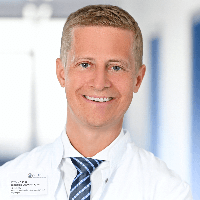 Head Physician
Prof. Dr.
Claudius Jacobshagen
Specialized in: ardiology, angiology, intensive care medicine
Department of Cardiology, Angiology and Intensive Care Medicine
The program includes:
Initial presentation in the clinic
clinical history taking
review of medical records
physical examination
laboratory tests:

complete blood count
general urine analysis
biochemical analysis of blood
inflammation indicators (CRP, ESR)
indicators blood coagulation
immune status

x-ray examination of joints
resting ECG
echocardiography
consultation of related specialists
symptomatic specific treatment
the cost of essential medicines and materials
nursing services
control examinations
full hospital accommodation
developing of further guidance
Service
Price:
Type of program :
Expected duration of the program:
You may also book:

Price:
About the department
The Department of Cardiology, Angiology and Intensive Care Medicine at the St. Vincentius Hospital-Academic Hospital of the University of Freiburg provides modern diagnostics and treatment of all forms of acquired and congenital heart diseases. Here, more than 3,500 coronary angiography procedures, over 1,400 coronary dilatation procedures, 750 electrophysiological examinations and 300 implantations of a pacemaker and defibrillator are performed annually. The head the department is Prof. Dr. Claudius Jacobshagen.
The department conducts treatment of coronary heart disease, acute myocardial infarction, congenital and acquired myocardial diseases and heart valve defects, diagnosis and treatment of cardiac arrhythmias, circulatory disorders of peripheral vessels and vessels supplying the brain.
The department has three modern stations for cardiac catheterization. In addition, it is equipped with the latest navigation systems for the diagnosis and treatment of cardiac arrhythmia. The department has 82 beds, an intensive care unit, an intermediate medical unit and a chest pain unit (Chest-Pain-Unit). The department specialists perform all non-invasive cardiac diagnostic procedures, as well as cardiac catheterization procedures are performed for acute cardiac interventions 24 hours a day, 7 days a week. In cooperation with the Department of Radiology, patients are provided with CT and MRI of the heart.
It should be noted that the department takes part in research activities: national and international studies, activities for the development of cardiology, participation in symposiums on electrophysiology, which is held every two years under the patronage of the German Cardiology Society.
The spectrum of medical services of the department:
Cardiovascular diseases and heart valve diseases
Cardiac catheterization and coronary angiography
Dilation of coronary vessels with stent implantation ("coated" and "uncoated")
Biopsy of the heart muscle with inflammatory diseases and heart rhythm disorders
Valvuloplasty of the mitral valve
Percutaneous catheter replacement of the aortic valve (transapical, transfemoral) in cooperation with the Department of Cardiac Surgery
Treatment of circulatory disorders of peripheral vessels (percutaneous transluminal angioplasty, etc.)
Implantation of the carotid stent with narrowing of the vessels supplying the brain
Heart rhythm disturbances and clinical electrophysiology
Diagnosis of congenital and acquired cardiac arrhythmias ((electrophysiological examination of the heart)
Ablation therapy of cardiac arrhythmia (obliteration) using modern methods (radio-frequency alternating current, "cold", etc.)
Modern methods of cartography (CARTO, etc.)
Ablation in atrial fibrillation (paroxysmal, persistent), congenital defects in the conductive pathways (AVURT, atrioventricular valve), atrial flutter, ventricular tachycardia
Implantation of pacemakers, defibrillators and cardiac resynchronization systems in the cardiac catheterization laboratory
Photo of the doctor: (c) ViDia Kliniken Karlsruhe
---
About hospital
Accommodation in hospital
Rheumatism (rheumatic fever)
Program [Description]
Diagnosis and conservative treatment of rheumatism (rheumatic fever)
Hospital: St. Vincentius Hospital Karlsruhe-Academic Hospital of the University of Freiburg
Type:
Duration:
Price:
date_range
There are 93 rheumatism (rheumatic fever) treatment hospitals on Booking Health website
Show all clinics