University Hospital Giessen UKGM
Department of Pediatric Cardiology (

113959

)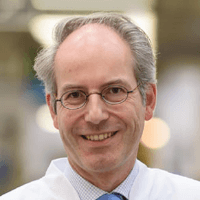 Prof. Dr. med.
Christian Jux
Specialized in: pediatric cardiology
About the Department of Pediatric Cardiology at University Hospital Giessen UKGM
The Department of Pediatric Cardiology at the University Hospital Giessen UKGM specializes in the diagnostics and treatment of all types of congenital and acquired cardiovascular diseases in newborns, children and adolescents. In addition, the department is a supra-regional Adult Congenital Heart Disease Center (medical care is provided on an inpatient and outpatient basis). The department pays special attention to the treatment of congenital heart defects using open surgery or interventional procedures, medical and electrophysiological treatment of arrhythmias, and severe types of heart failure. The department is one of the leading centers in Europe specializing in heart transplantation in children. The department is headed by Prof. Dr. med. Christian Jux.
The department has two operating rooms, in which doctors annually perform more than 500 operations to treat congenital heart defects in children of all age groups. The surgical treatment is carried out in close collaboration with pediatric cardiac surgeons. The spectrum is also complemented by interventional catheter procedures and hybrid interventions. In addition, the department is equipped with state-of-the-art diagnostic equipment, for example, a 3 Tesla MRI (more than 800 examinations annually), cardiac catheterization laboratory (more than 600 examinations and therapeutic procedures), and 3D rotational angiography device.
The department has many specialized outpatient clinics, in particular, outpatient clinics for pulmonary hypertension, cardiac arrhythmias, conditions after heart transplantation and Fontan procedure, etc. The department receives about 8,000 young patients on an outpatient basis annually.
The key surgical intervention in the department is heart transplantation. In total, this operation has been performed 75 times in Giesse since 1988. The frequency of such interventions is about 8-10 cases per year. In the overwhelming majority of cases (56 out of 75), the patients were children who were younger than one year old at the time of the operation. Thus, the University Hospital Giessen UKGM holds a leading position in Europe in the field of heart transplantation in infants.
The department's range of medical services includes:
Invasive diagnostic and treatment techniques

Diagnostic services

Left and right heart catheter examinations (access through the thigh, axillary region, shoulder, neck, infraclavicular region)
Electrophysiological examinations
Intravascular ultrasound examinations
Myocardial biopsy
Lung biopsy

Therapeutic services

Atrioseptostomy (Rashkind procedure)
Atrial septal dilatation (including pulmonary hypertension therapy)
Angioplasty
Drug and mechanical thrombectomy
Electrical and pharmacological cardioversion
Balloon dilatation of the heart valves

Pulmonary valve (including critical pulmonary valve stenosis)
Aortic valve (including critical stenosis of the aortic valve)
Mitral valve
Tricuspid valve

Balloon dilatation (stent implantation) in vascular stenosis

Congenital and acquired pulmonary stenosis
Patent ductus arteriosus
Aortic isthmus stenosis
Coronary artery stenosis (including intracoronary thrombolysis)
Stenosis of the pelvic arteries, lower limbs, kidneys and supra-aortic vessels

Occlusal techniques using spirals and probes

Patent ductus arteriosus
Atrial and interventricular septal defects
Open oval window
Coronary arterial fistulas
Peripheral and pulmonary arteriovenous fistulas

Treatment of arrhythmias

High-frequency ablation
Pacemaker implantation
Implantation of automatic defibrillators

Thrombus fragmentation
BROVIAC catheters (for example, in the treatment of primary pulmonary hypertension)

Non-invasive diagnostic and treatment techniques

Diagnostic services

ECG, including Holter ECG, stress ECG
24-hour blood pressure monitoring
Cardiac ultrasound/echocardiography with color Doppler ultrasonography
Transesophageal echocardiography
Echocardiography, including stress echocardiography
Vascular ultrasound (dopplerography, color duplex sonography)
X-ray examination of the lungs and heart
Pulse oximetry
Orthostatic test
Monitoring of work of pacemakers, defibrillators
Pulmonary function tests
Computed tomography (CT) and magnetic resonance imaging (MRI)
Laboratory tests

Therapeutic services

Congenital and acquired heart defects
Heart failure
Myocarditis and endocarditis
Cardiomyopathies
Kawasaki syndrome and other vascular diseases
Arterial hypertension
Pulmonary hypertension
Arrhythmias
Syncope, orthostatic/vasovagal dysregulation

Other medical services
Curriculum vitae of Prof. Dr. med. Christian Jux
Since April 2017, Prof. Dr. med. Christian Jux has been the Head of the Department of Pediatric Cardiology at the University Hospital Giessen UKGM. He also holds the position of W3 Professor in Pediatric and Adolescent Medicine with a focus on Pediatric Cardiology at the Justus Liebig University Giessen. Previously, he headed the Department of Pediatric Cardiology at the University Hospital Muenster, including teaching activities in the Department of Cardiology.
The doctor studied Human Medicine, Philosophy and Medical Ethics at the University of Göttingen, at the Faculty of Medicine at the King's College London and at the Faculty of Medicine at the University of Toronto (1987 - 1994). In 1996, he received his doctorate at the Heidelberg University as part of scholarship from the German Research Foundation. The habilitation followed in 2007. Prior to the appointment as Head of the Department of Pediatric Cardiology at the University Hospital Giessen UKGM, Prof. Jux worked in the hospitals of Heidelberg, Hanover, Göttingen and Bad Oeynhausen. Since 2008 till 2013, he worked as Senior Physician and Head of the Cardiac Catheterization Laboratory at the Pediatric Heart Center in Giessen. Then he was appointed as Head of the Department of Pediatric Cardiology at the University Hospital Muenster.
The main fields of the doctor's clinical activities include catheter treatment of heart pathologies in newborns, children and adults with congenital heart defects, as well as intensive care in children.
The research interests of Prof. Jux are focused on the development and clinical application of new cardiac catheterization techniques. He took part in the development of new implants. He also studies the functioning of cardiovascular implants in a growing body. Prof. Jux also participates in fundamental research. In the next few months, it is planned to establish the Research Laboratory for Pediatric Cardiology in Giessen, which will conduct experimental trials in growth and metabolic processes during prenatal and postnatal periods of development.
Photo of the doctor: (c) UKGM - Universitätsklinikum Gießen und Marburg GmbH
Department of Pediatric Cardiology.
University Hospital Giessen UKGM:

Request more information now.
We will be happy to answer all your questions.
---
Certificates