University Hospital Giessen UKGM
Department of Neuroradiology (

590796

)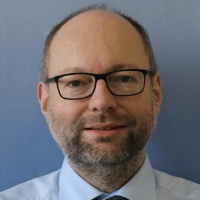 Prof. Dr. med.
Tobias Struffert
Specialized in: neuroradiology
About the department
The Department of Neuroradiology at the University Hospital Giessen UKGM offers the full range of imaging studies and interventional procedures for patients with diseases of the nervous system. Medical care is provided in close collaboration with specialists in the field of neurology and neurosurgery, which creates optimal conditions for comprehensive treatment. The therapeutic options of the department include innovative methods of treating vascular malformations in the head and spine, cervical artery and carotid stenosis and cerebral aneurysms. The department is headed by Prof. Dr. med. Tobias Struffert.
The department specializes in examinations of the nervous system. To do this, the department has state-of-the-art 128-slice computed tomography system by Siemens, three MRI devices (1.5 Tesla and 3 Tesla), including devices for functional MRI, diffusion tensor tomography and spectroscopy, as well as an ultramodern digital subtraction angiography system.
One of the department's priorities is the treatment of cerebral aneurysms. Depending on the results of the diagnostic tests, the patient will be prescribed such effective interventional procedures as coiling and clipping.
The department's spectrum of medical services includes:
Diagnostic options

Computed tomography (CT), including preoperative planning, emergency diagnostics of patients with skull and spinal injuries, strokes, brain hemorrhages, tumors or injuries in the face and neck
Magnetic resonance imaging (MRI), including special studies of the brain and spine, diagnostics of stroke, cancer, degenerative and inflammatory changes (for example, multiple sclerosis) and vascular changes, as well as intervertebral disc herniation, spinal canal tumors and spinal injuries
Digital subtraction angiography (imaging of the vessels in the brain and spinal cord, as well as vessels of the soft tissues in the neck and face)

Therapeutic options

Coiling for the treatment of cerebral aneurysms
Clipping for the treatment of cerebral aneurysms
CT-guided minimally invasive pain therapy (for example, nerve root infiltration in the lumbar and cervical spine, facet joint block)

Other diagnostic and therapeutic procedures
Curriculum vitae
Prof. Tobias Struffert is the Head and Professor of the Department of Neuroradiology at the University Hospital Giessen UKGM. The doctor studied Human Medicine at the University of Muenster (from 1991 to 1997). In 1998, he received his doctorate, whereas in 2010 he had his habilitation. He worked as a Physician at the University Hospital Aachen. Since 2000, he also served as a Physician at the University Hospital Saarland. Since 2006, he worked at the University Hospital Erlangen. In 2004, Dr. Struffert had his board certification in the field of Diagnostic Radiology and in 2006 in Neuroradiology. In 2009, he became a Specialist in Medical Quality Management. In 2013, the doctor was awarded with the Kurt Decker Prize.
Photo of the doctor: (c) UKGM - Universitätsklinikum Gießen und Marburg GmbH
Department of Neuroradiology.
University Hospital Giessen UKGM:

Request more information now.
We will be happy to answer all your questions.
---