University Hospital Giessen UKGM
Department of Nuclear Medicine (

590802

)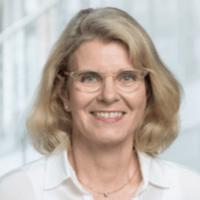 Dr. med.
Dagmar Steiner
Specialized in: nuclear medicine
About the Department of Nuclear Medicine at University Hospital Giessen UKGM
The Department of Nuclear Medicine at the University Hospital Giessen UKGM offers the full range of accurate diagnostics and modern treatment using therapeutic radioisotopes. The department is equipped with state-of-the-art medical equipment for scintigraphy, as well as the combined PET-CT method. The doctors of the department have excellent qualifications in the field of radioiodine therapy for thyroid diseases. Despite the high-tech infrastructure, the focus of all the efforts of the medical team is a person with his individual needs and wishes. The department is headed by Dr. med. Dagmar Steiner.
The doctors of the department are experts in conducting examinations using positron emission tomography (PET) in combination with computed tomography (CT). Currently, this study is the most advanced diagnostic imaging method for cancer. It allows not only to imagine the organs and anatomical structures of the human body, but also provides comprehensive information about the metabolic processes that occur in them. The method can be used not only to identify pathological changes, but also to plan the operation, localize the lesion for biopsy. In addition, the PET-CT method is used to examine patients with cardiac and neurological problems. It also serves to monitor the effectiveness of therapeutic measures (surgical treatment, chemotherapy, radiation therapy).
The department's range of medical services includes:
Diagnostic examinations

Scintigraphy

Thyroid scintigraphy
Parathyroid scintigraphy
Dynamic renal scintigraphy
Static renal scintigraphy
Inhalation lung scintigraphy
Perfusion lung scintigraphy
Skeletal scintigraphy (also 3-phase technique)
Search for bleeding source
Scintigraphy for detection of inflammatory processes in the human body
Sentinel lymph node scintigraphy
Somatostatin receptor scintigraphy
MIBG scintigraphy
Salivary gland scintigraphy
Myocardial scintigraphy

Diagnostics using the combined PET-CT technique in the case of suspected

Endocrine and neuroendocrine tumors
Gastrointestinal tumors
Gynecological tumors
Head and neck tumors
Cancer of unknown primary
Lung tumors
Malignant lymphomas
Skin tumors
Bone and soft tissue tumors
Brain tumors
Tumors in children
Urological tumors

Therapeutic procedures

Radioiodine therapy for the treatment of thyroid diseases

Other medical services
Photo of the doctor: (c) UKGM - Universitätsklinikum Gießen und Marburg GmbH
Department of Nuclear Medicine.
University Hospital Giessen UKGM:

Request more information now.
We will be happy to answer all your questions.
---