University Hospital Giessen UKGM
Department of General, Abdominal, Thoracic and Transplant Surgery (

69

)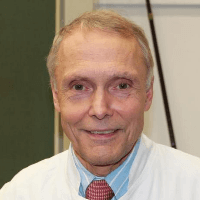 Prof. Dr. med. Dr. h.c.
Winfried Padberg
Specialized in: general, abdominal, thoracic, transplant surgery
About the Department of General, Abdominal, Thoracic and Transplant Surgery at University Hospital Giessen UKGM
The Department of General, Abdominal, Thoracic and Transplant Surgery at the University Hospital Hiessen UKGM offers all the options of surgical treatment in its areas of specialization, including endocrine surgery and obesity surgery. Of particular interest is the treatment of cancer pathologies. The department is certified by the German Cancer Society as a Center Bowel, Pancreatic and Stomach Cancers. The surgical treatment is carried out by highly qualified surgeons who have a perfect command of both classic and advanced surgical techniques. Whenever possible, operations are performed using sparing minimally invasive techniques. The department is headed by Prof. Dr. med. Dr. h.c. Winfried Padberg.
The department employs a specialized medical team for endocrine surgery. The doctors of this focus deal with the surgical treatment of all diseases of the thyroid gland, parathyroid glands, thymus, adrenal glands and pancreas. Most endocrine surgical procedures are performed using minimally invasive techniques. For example, this applies to thyroid interventions. After such operations the patient has an inconspicuous scar 15-20 mm long on his neck. In addition, the offered service spectrum also includes a minimally invasive axillo-bilateral-breast approach (ABBA method), which does not leave scars on the neck.
Another department's priority is transplant surgery. Surgical options include lung transplantation (unilateral and bilateral) and kidney transplantation. The main indications for lung transplantation are chronic obstructive pulmonary disease (COPD), pulmonary fibrosis and cystic fibrosis. Lung transplantation has been performed in the department since 1999. Currently, the surgeons of the department perform about 15 such operations annually. The intervention is performed using thoracotomy (incision of the chest wall), without connecting the patient to the heart-lung machine. Kidney transplantation is performed in chronic kidney failure. Such operations have been performed in the department since 1993. During this time the department has performed more than 500 kidney transplants. The department is the leader in the Federal State of Hesse in the number of operations performed, the percentage of survival after transplantation, as well as in the number of kidney transplants from a living donor.
The specialists in the field of abdominal surgery are responsible for the surgical treatment of patients with diseases of the entire digestive tract (esophagus, stomach, small and large intestine, rectum, liver and pancreas). In addition, the surgeons specialize in the treatment of inguinal and umbilical hernias. With appropriate indications, minimally invasive operations are performed. The spectrum is also complemented by surgical interventions through the natural orifices of the body – natural orifice transluminal endoscopic surgery (NOTES).
It is worth noting that the department includes the Center for Hyperthermic Intraperitoneal Chemotherapy (HIPEC). The doctors of the center treat peritoneal carcinomatosis. The combination of hyperthermic intraperitoneal chemotherapy with surgical treatment can also be used for colorectal cancer, abdominal pseudomyxoma, mesothelioma, gastric cancer and ovarian cancer. The decision on this type of treatment is made at interdisciplinary tumor boards with the participation of surgeons, therapists, oncologists and other experts.
The department's range of surgical services includes:
Bariatric surgery (surgical treatment of morbid obesity)

Sleeve gastroplasty
Gastric bypass surgery
Gastric banding

Endocrine surgery

Thyroid surgery
Parathyroid surgery
Thymus surgery
Adrenal surgery
Pancreatic surgery

Diagnostic and therapeutic endoscopic procedures (as part of the multidisciplinary Center for Endoscopy)

Diagnostics

Esophagogastroduodenoscopy
Ileocolonoscopy

ZOOM endoscopy
Chromoendoscopy

Video capsule endoscopy

Capsule endoscopic examination of the small intestine

Balloon enteroscopy

Diagnostic examination of the small intestine
Biopsy, polyp removal
Hemostatic interventions

Endosonography of the upper and lower gastrointestinal tract, including endosonography-guided biopsy and drainage
Rectoscopy and proctoscopy, including hemorrhoids treatment

Therapy

Endoscopic hemostasis

Clipping
Latex ligation
Injection therapy
Fibrin glue therapy
Thermal techniques

Endoscopic resection

Polypectomy
Endoscopic mucosal resection
Endoscopic submucosal dissection
Endoscopic papillectomy

Recanalization procedures

Bougieurage
Balloon dilatation
Stent implantation (self-expanding polymer and metal stents, bioresorbable stents)
Thermal methods (argon plasma coagulation, thermal probe)

Closure procedures

Endoluminal vacuum therapy
Stenting

Therapeutic endoscopic retrograde cholangiopancreatography

Papillotomy, bougienage, lithotripsy
Pancreatic duct dilatation, stone removal, cyst drainage, pancreatic necrectomy
Bile duct and pancreatic stenting

Special procedures

Diverticulectomy
Implantation and removal of an intragastric balloon in obesity

Foreign body removal from the upper and lower gastrointestinal tract

Thoracic surgery

Surgical treatment of lung cancer

Organ-preserving resections (for example, segmental resection)
Radical dissection of the lymph nodes
Minimally invasive surgical procedures (video-assisted thoracic surgery, video-assisted mediastinal lymphadenectomy)
Extended resections for locally advanced tumors
Operations as part of multimodal, as well as neoadjuvant therapy

Lung metastasis surgery

Sarcomas
Germ cell tumors
Colorectal cancer
Kidney cancer
Melanoma

Surgical treatment of rare thoracic tumors

Pleural mesothelioma (with intraoperative hyperthermic chemoperfusion)
Thymus and other mediastinal tumors
Thoracic tumors and breast cancer with chest wall infiltration

Special thoracic surgery

Interventions on the trachea and upper respiratory tract
Interventional tracheobronchoscopy: recanalization, stent implantation, treatment of bleeding from the respiratory tract
Minimally invasive thymus resection in myasthenia gravis
Minimally invasive diaphragm plication for symptomatic high standing of the diaphragm dome
Minimally invasive removal of sympathetic nerve endings in hyperhidrosis
Minimally invasive correction of pectus excavatum

General thoracic surgery

Minimally invasive surgery for pneumothorax
Pleural empyema treatment
Minimally invasive surgery for recurrent pleural and pericardial effusions
Mediastinoscopic and thoracoscopic diagnostics, for example, to detect enlarged hilar lymph nodes, interstitial lung changes, pleural effusion

Transplant surgery

Kidney transplantation
Lung transplantation

Cancer surgery

Thyroid cancer
Lung cancer
Esophageal carcinoma
Stomach cancer
Liver cancer (metastases, primary liver tumors)
Biliary tract, pancreatic cancer
Colorectal cancer
Retroperitoneal tumors
Soft tissue cancer
Skin cancer (malignant melanoma)

Coloproctology

Chronic inflammatory bowel disease
Crohn's disease
Ulcerative colitis
Hemorrhoids
Anal fistulas
Anal abscesses
Constipation
Anal incontinence

Abdominal surgery

Gastric surgery

Peptic ulcer interventions
Reconstructive interventions

Operations on the gallbladder and bile ducts

Cholecystectomy
Choledochotomy
Biliary-digestive anastomoses

Liver surgery

Hemangioma removal
Treatment of focal nodular hyperplasia
Adenoma removal
Liver cyst removal
Hepatocellular carcinoma surgery
Cholangiocellular carcinoma surgery
Metastasis surgery
Thermal ablation

Pancreatic surgery

Treatment of acute hemorrhagic necrotic pancreatitis
Drainage surgery for chronic pancreatitis
Pancreatic pseudocyst drainage

Small and large intestine surgery

Surgery for intestinal obstruction
Adhesiolysis
Appendectomy
Peritonitis treatment
Catheter placement for permanent ambulatory peritoneal dialysis

Hernia repair

Incisional hernia
Inguinal/femoral hernia
Umbilical hernia
Hydrocele

Surgery for inflammatory bowel diseases (ulcerative colitis and Crohn's disease)

Hyperthermic Intraperitoneal chemotherapy (HIPEC)
Other medical services
Curriculum vitae of Prof. Dr. med. Dr. h.c. Winfried Padberg
10.1973 - 05.1980 Study of Human Medicine at the University of Bonn. One-year practice at the Maltese Clinic of Bonn, optional subject: Gynecology and Obstetrics.
25.07.1979 American exam ECFMG (Educational Commission for Foreign Medical Graduates).
02.05.1980 Admission to medical practice.
12.12.1980 Doctoral thesis defense, Department of Ophthalmology, University Hospital Bonn. Subject: "Eyes and age – the study of monocular excursions, the width of the fusion and the fusion ability with aniseikonia in 70 subjects of all age groups".
01.07.1980 - 30.06.1981 Residency at Ravenswood Hospital Medical Center, University of Illinois, Chicago.
18.06.1981 American Exam FLEX (Federal Licensing Exam) in Chicago.
01.10.1981 - 31.12.1984 Start of specialized medical training at the Center for Surgery, Anesthesiology and Urology, Department of General and Thoracic Surgery at the University Hospital Giessen. Exchange work, Department of Cardiothoracic Surgery and Department of Traumatology.
09.09.1982 American exam VQE (Visa Qualifying Examination).
01.01.1985 - 31.12.1986 A two-year scholarship from the German Research Foundation as a Research Fellow in surgery at the Surgical Research Lab of Harvard Medical School and at the Brigham Women's Hospital at Harvard University, Boston.
Since 01.01.1987 Research Fellow at the Surgery Center, Department of General and Thoracic Surgery, University Hospital Giessen. Continuing professional medical training with rotation in the Department of Urology (4 months) and the Department of Neurosurgery (1 month).
Since 01.04.1989 Senior Physician of the Department of General and Thoracic Surgery.
Since 01.07.1989 Head of the Laboratory of Transplant Immunology at the Department of Surgery.
29.09.1989 Ludwig Rhen Award from the Association of Surgeons of the Middle Rhine in Zurich for the work: "Immunological tolerance in organ transplantation".
01.10.1989 Start of a Research Project under the auspices of the German Research Foundation and with its material support on the subject: "Development of immunological tolerance in different immunosuppressive models".
06.12.1989 Board certification in Surgery.
06.12.1989 Habilitation in Surgery. Subject: "Acquired antigen-specific immunological tolerance in organ transplantation: efficacy and mechanism of action, as well as immunosuppressive synergism when using Cyclosporin A and antibodies to interleukin-2 receptors".
01.02.1991 PD title with a lecture on the occasion of taking up a post on the subject: "Development and current status of kidney transplantation".
10.05.1991 Walter Brendel Prize of the European Society for Surgical Research (ESSR) in Salzburg for the work: "Immunosuppression with low doses of cyclosporin A in rat bone marrow allotransplantation".
06.12.1991 Schunk Prize in Medicine, Department of Medicine, Justus Liebig university Giessen for work in the field of "immunological activation" and for "new methods of immunosuppression after transplantation".
Since 01.03.1991 Second Senior Physician of the Department of General and Thoracic Surgery.
Since 01.07.1992 Leading Senior Physician in charge of transplant medicine and personal issues.
Since 04.1994 Board Member of the Faculty of Medicine and Member of the Committee on Educational Work.
03.11.1994 Admission to the list of candidates for the post of C4 Professor in General Surgery at Ernst Moritz Arndt University of Greifswald.
22.04. - 31.06.1996 Internship at the Humboldt University of Berlin at the Faculty of Medicine of the Virchow Hospital, Department of General, Abdominal and Transplant Surgery.
25.04.1996 Specialization in the field of Abdominal and Thoracic Surgery.
16.09.1996 Extraordinary Professorship.
01.05.1998 Leading Senior Physician in the Department of General and Thoracic Surgery.
28.09. - 10.10.1998 Internship at the University Hospital Vienna, Department of Cardiothoracic Surgery.
01.10.1999 Permission to conduct advanced training courses in Thoracic Surgery.
28.02. - 03.03.2000 Internship at the University Hospital Bern, Department of General, Abdominal and Transplant Surgery.
01.04.2000 - 28.02.2003 Head of the Department of General, Abdominal, Thoracic and Pediatric Surgery, Hospital in Steinenberg, Academic Hospital of the University of Tuebingen.
Since 0.03.2003 Head of the Department of General, Abdominal, Thoracic and Transplant Surgery at the University Hospital Giessen UKGM.
Photo of the doctor: (c) UKGM - Universitätsklinikum Gießen und Marburg GmbH
Department of General, Abdominal, Thoracic and Transplant Surgery.
University Hospital Giessen UKGM:

Request more information now.
We will be happy to answer all your questions.
---
Certificates