Chronic lymphocytic leukemia (CLL) diagnosis (program ID:

133767

)
University Hospital Giessen UKGM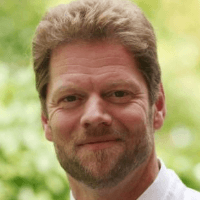 Head Physician
Prof. Dr. Dr. med.
Friedrich Grimminger
Specialized in: oncology, hematology, palliative care
Department of Oncology, Hematology and Palliative Care
The program includes:
Initial presentation in the clinic
clinical history taking
review of medical records
physical examination
laboratory tests:

complete blood count
general urine analysis
biochemical blood test
inflammation markers (CRP, ESR)
blood coagulation analysis (aPTT, PT, INR)
differential blood count

ultrasound of the abdomen
CT/MRI scan (if clinically indicated, additional cost is 650/1200 €)
aspiration biopsy of bone marrow (if clinically indicated, additional cost is 2500 €)

immunohistochemical study
cytogenetic analysis (Philadelphia chromosome detection)

nursing services
tumor board: consultation of specialists in
hematology, radiology, radiation therapy
treatment by chief physician and all leading experts
explanation of individual treatment plan
Required documents:
Medical records
MRI/CT scan (not older than 3 months)
Bone marrow biopsy results (if available)
Service
Price:
Type of program :
Expected duration of the program:
You may also book:

Price:
About the department
The Department of Oncology, Hematology and Palliative Care at the University Hospital Giessen UKGM offers all the options of modern medicine for the treatment of patients with the pathologies in these fields. Specialization covers the treatment of cancer of the internal organs, blood cancer, symptomatic treatment of progressive incurable diseases. Other focuses of the department are intensive care medicine and special pain therapy. To achieve successful and long-term results, the clinical practice is based on the use of effective classic and innovative treatment methods. The department is headed by Prof. Dr. Dr. med. Friedrich Grimminger.
The department's oncologists take care of the health of patients with malignant diseases of all organs. The department is part of the Interdisciplinary Cancer Center, within which all experts from related fields work for the benefit of patients. The individual and optimal treatment regimens are developed at interdisciplinary tumor boards. The treatment is carried out in accordance with national and international protocols of professional societies. The patients with terminal stages of the disease are provided with all the necessary palliative care measures, which helps to alleviate symptoms and improve the quality of life.
Another department's priority is the treatment of patients with malignant diseases of the hematopoietic and lymphatic systems. Of particular interest is the treatment of malignant lymphomas, acute and chronic leukemias and myeloproliferative disorders. The spectrum is also complemented by therapy for blood-clotting disorders, such as immune thrombocytopenia.
The department's range of medical services includes:
Diagnostics and treatment of oncological diseases of internal organs

Respiratory system cancers

Lung cancer
Pleural cancer

Gastrointestinal cancers

Bowel cancer
Rectal cancer
Esophageal carcinoma
Stomach cancer
Pancreatic cancer
Liver cancer

Head and neck tumors

Primary brain tumors
Tumors of the lips, mouth and oropharynx
Laryngeal cancer
Thyroid cancer

Gynecological tumors

Breast cancer
Ovarian cancer
Uterine cancer
Cervical cancer

Urological tumors

Prostate cancer
Kidney cancer
Bladder cancer

Rare tumors

Diagnostics and treatment of hematological diseases

Acute lymphocytic leukemia
Acute myeloid leukemia
Amyloidosis
Aplastic anemia
Chronic lymphocytic leukemia
Chronic myeloid leukemia
Essential thrombocythemia
Hairy cell leukemia
Hemoglobinopathies
Hemolytic anemia
Hodgkin's lymphoma
Immune thrombocytopenia
Multiple myeloma
Myelodysplastic syndrome
Non-Hodgkin's lymphoma
Polycythemia vera
Osteomyelosclerosis

Palliative care for patients at the terminal stage of cancer aimed at alleviating symptoms and improving quality of life
Other medical services
Curriculum vitae
Prof. Friedrich Grimminger studied medicine at the Justus Liebig University Giessen. He also completed a semester at the British Universities of Newcastle and Edinburgh (Chemistry and Biology). In 1989, he received his doctorate in Human Medicine, and in 1990 also received a diploma in Biology. Two years later, he had his habilitation in Human Medicine at the Justus Liebig University Giessen. In 1994, Prof. Grimminger had his board certification in Internal Medicine with a focus on Pulmonology, Oncology, Intensive Care, Palliative Care and Pain Therapy. He is a Honorary Professor at the Universities of Kent (Canterbury, UK) and Texas, USA.
Photo of the doctor: (c) UKGM - Universitätsklinikum Gießen und Marburg GmbH
---
About hospital
Accommodation in hospital
Chronic lymphocytic leukemia (CLL)
Program [Description]
Chronic lymphocytic leukemia (CLL) diagnosis
Hospital: University Hospital Giessen UKGM
Type:
Duration:
Price:
date_range
There are 63 chronic lymphocytic leukemia (cll) diagnostic hospitals on Booking Health website
Show all clinics
Certificates